Israel, Hezbollah Clash Along Border; Two Israelis, U.N. Peacekeeper Killed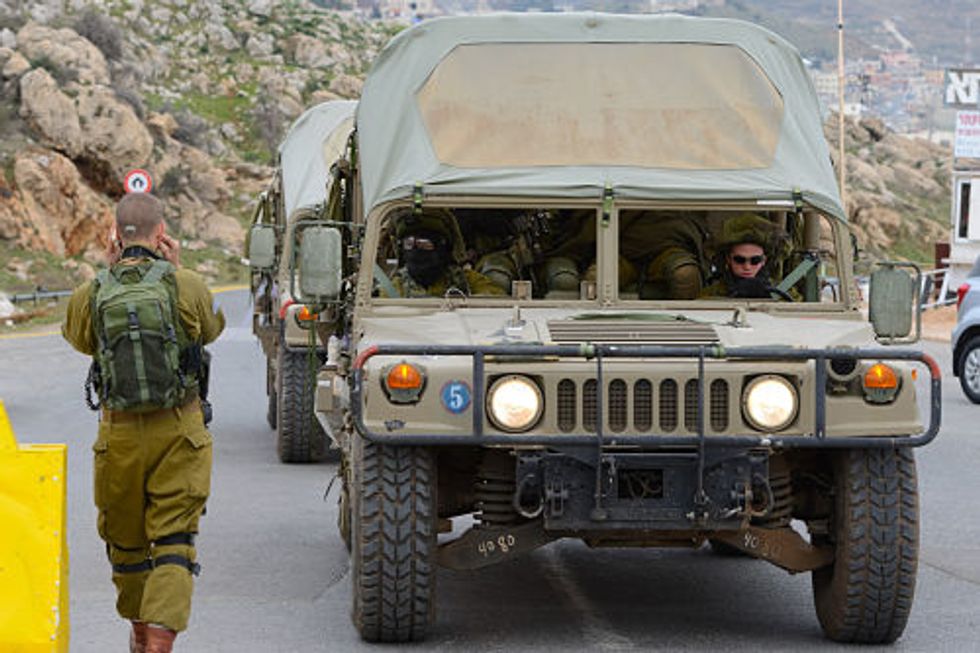 By Batsheva Sobelman, Nabih Bulos and Patrick J. McDonnell, Los Angeles Times (TNS)
JERUSALEM — The Israel-Lebanon border region was tense Wednesday after an exchange of fire involving Israel and Hezbollah, a dominant military and political force in Lebanon, left two Israeli soldiers and a U.N. peacekeeper dead.
In a statement, Hezbollah said one of its units had targeted an Israeli military convoy with an anti-tank missile fired from Lebanon. The Israeli military later confirmed that two soldiers were killed and seven wounded in the attack.
Al Manar TV, Hezbollah's media outlet, reported that a Spanish soldier participating in the United Nations peacekeeping force in southern Lebanon was killed in a retaliatory Israeli barrage on the Lebanese border area.
Andrea Tenenti, spokesperson for the United Nations Interim Force in Lebanon, confirmed that a peacekeeper was killed on Wednesday but would not identify the soldier's nationality or say how the peacekeeper perished.
"We are looking into the circumstances of the unfortunate death," Tenenti said. UNIFIL has deployed about 10,000 troops from 36 countries along the so-called Blue Line separating Israel and Lebanon.
U.N. authorities were in touch with both sides in the conflict and were urging "restraint," Tenenti said.
Hezbollah and Israel waged a one-month war in 2006, and the two remain entrenched adversaries, but the "line of withdrawal" between northern Israel and southern Lebanon has been mostly calm since then, though there have been isolated flare-ups of violence.
In the wake of Wednesday's incident, residents of Metula and other Israeli communities along the border with Lebanon have received instructions to remain indoors. Safed and other towns in the area were preparing to open public bomb shelters, and municipalities were coordinating with security authorities for the transportation of school students as parents were instructed not to pick them up themselves.
According to Israeli media, civilian airports in northern Israel were ordered closed due to heavy air force traffic. For the second time in as many days, the ski resort of Mt. Hermon was shut down and evacuated, along with nature reserves in northern Israel.
Officials in the region had been bracing for some kind of response from Hezbollah, and possibly from Iran, after a Jan. 18 airstrike in southwestern Syria killed six Hezbollah members and an Iranian commander, Gen. Mohammad Ali Allahdadi. Israel never publicly confirmed that it was behind the strike, but Israeli sources indicated later that they had been unaware that the Iranian official was present in the targeted convoy.
Observers in Israel and Lebanon said any Hezbollah response would likely be measured. The movement is already deeply mired in the war in Syria, where thousands of Hezbollah militiamen are fighting on behalf of the government of Syrian President Bashar Assad.
Hezbollah leaders would likely wish to avoid a full-scale conflict with Israel that could trigger a large-scale attack on Lebanese territory and sap domestic support in Lebanon, analysts said. However, the situation is volatile and many said they feared a misstep by either side could lead to a larger conflict.
Israeli Prime Minister Benjamin Netanyahu was holding emergency consultations with Defense Minister Moshe Yaalon at the Defense Ministry in Tel Aviv on Wednesday.
Speaking in the southern town of Sderot, Netanyahu issued a warning: "To those trying to challenge us on our northern border, I suggest looking at what happened not far from here in the Gaza Strip," he said, referring to the 50-day war Israel waged against Hamas in July and August of 2014.
Photo: Israeli soldiers are seen at the entrance of the Mount Hermon Resort after it was hit by two rockets in the Golan Heights, northern Israel, on Tuesday, Jan. 27, 2015. (Gil Eliyahu-Jinipix/Xinhua/Zuma Press/TNS)