Israel Licks Wounds As Iran Sanctions End, Looks To Future U.S. Aid
@reuters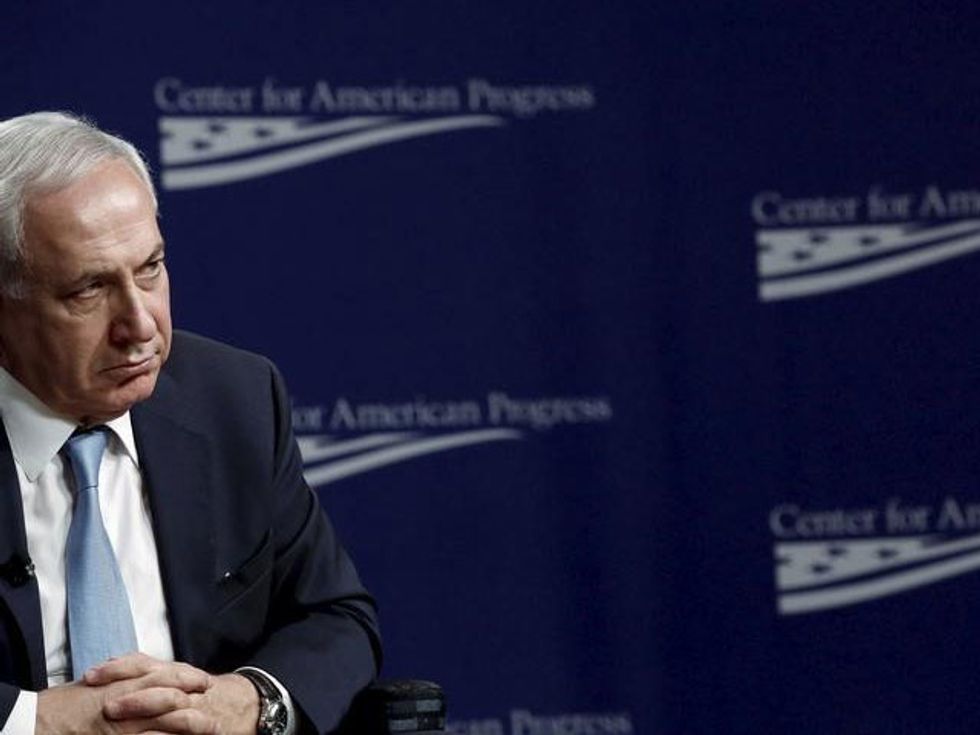 By Dan Williams
JERUSALEM (Reuters) — Israel bristled on Sunday at the lifting of international sanctions on Iran and vowed to flag up any violations of its arch-foe's nuclear restrictions while drawing on U.S. defense aid to prepare for a possible military face-off in the future.
The International Atomic Energy Agency on Saturday ruled Iran had abided by last July's deal with world powers curbing its nuclear program, spelling a windfall in sanctions relief. A parallel Iranian-U.S. prisoner exchange, devised in secrecy, drove home the adversaries' desire to reengage diplomatically.
The developments put paid to years of intensive Israeli lobbying for more comprehensive curbs on Tehran – a campaign that strained relations between Prime Minister Benjamin Netanyahu and U.S. President Barack Obama.
Netanyahu sounded unrepentant on Sunday – even as one Israeli official grudgingly commended the Iranian statecraft and a former senior adviser to the prime minister accused him of having pursued a dangerously failed strategy.
"Were it not for our efforts to spearhead the sanctions and foil Iran's nuclear program, Iran would have already had nuclear weapons long ago," Netanyahu told his cabinet.
He called on world powers to impose "harsh, aggressive sanctions" for any nuclear violations by Iran – actions which, his office said in an earlier statement, Israel would "continue monitoring and flagging up".
Ram Ben-Barak, director-general of Israel's Intelligence Ministry, predicted Iran would invest in economic recovery in the coming years while remaining able to restart its nuclear drive "overnight".
"The Iranians are celebrating, and rightly so. They managed to spin everyone around their little finger," Ben-Barak told Israel's Army Radio.
"VERY WORRIED"
"The Americans are satisfied because, in their thinking, diplomacy succeeded. But we are very, very worried and the Gulf countries are very, very worried and it is absolutely clear to everyone that this hiatus is utterly temporary," Ben-Barak said.
Israel argues that the prospect of a nuclear-armed Iran has been eclipsed, for the time being, by the threat of conflict with Lebanon's Hezbollah and other guerrillas who now stand to get increased funding from Tehran.
That, along with the sectarian strife rippling through the region, has prompted Israel to request a boost in U.S. defense aid to as much as $5 billion annually when the current package worth an average of $3 billion expires next year.
Netanyahu said those negotiations were in the final stages.
"This is important as part of the fixed policy between us and the United States, our ally, and also important in order to fend off the regional threats, chief of which is the Iranian threat, of course," he said.
U.S. officials have said the Obama administration was unlikely to fully meet the Netanyahu government's request for increased aid, though they affirmed Washington's commitment to Israel's security.
Uzi Arad, a former Netanyahu national security adviser, said Israel's naysaying on the Iran deal had eroded its leverage – especially with Obama, an outgoing Democratic president who saw the rightist premier as siding with his Republican rivals.
"The question is, do we today have an understanding with the Americans as to what should be done if there is this-or-that (nuclear) violation? I'm not so sure," Arad told Israel Radio.
"To judge by the outcome, we lost. In any event, their (Iranian) diplomacy won, and that's a pity."
Udi Segal, diplomatic affairs correspondent for Israel's top-rated television station Channel 2, said in a commentary that Israel "has no set strategy for the day after the (nuclear) deal" and was biding its time until Obama steps down next year.
"Netanyahu is convinced that this is an historic mistake, but that it will become clear only after Obama is far from the center of influence and the White House," Segal said.
(Writing by Dan Williams; Editing by Stephen Powell)
Photo: Israel's Prime Minister Benjamin Netanyahu participates in a forum hosted by the Center for American Progress in Washington November 10, 2015. REUTERS/Jonathan Ernst