Israel, Palestinians To Meet Under Settlement Cloud
@AFP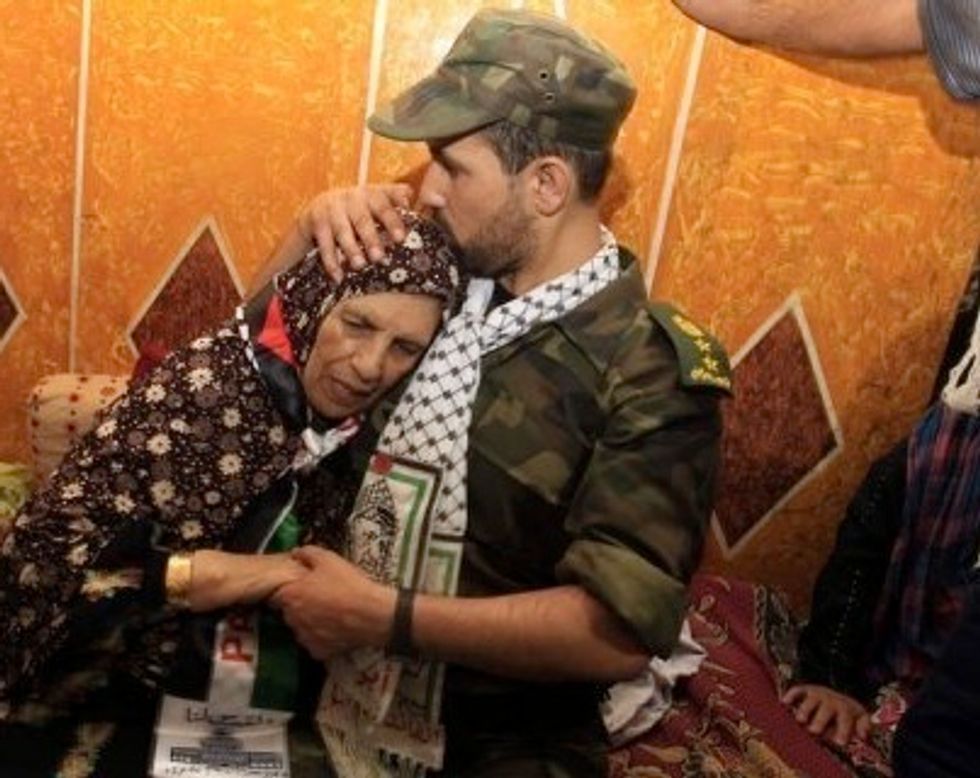 JERUSALEM (AFP) – Israeli and Palestinian negotiators were set to meet Wednesday evening in a Jerusalem hotel for a new round of direct peace talks, the first in three years.
Palestinian officials told AFP negotiators would meet at 8:00 pm (1700 GMT) in the prestigious King David hotel, although there was no Israeli confirmation.
The meeting is overshadowed by Israeli plans to build thousands of new homes on land the Palestinians claim for their future state and by open pessimism on both sides.
Israel freed 26 Palestinian prisoners Wednesday but also pledged to keep up the pace of settlement building.
Those released from jail were the first batch of 104 prisoners, most of whom had been serving life terms for killing Israelis, who are to be freed in stages depending on progress in the talks.
But as Palestinians celebrated the release Housing Minister Uri Ariel cast a pall over proceedings.
"We will build thousands of homes in the coming year in Judaea and Samaria," Ariel told public radio, using the biblical Hebrew term for the West Bank.
"No one dictates where we can build… This is just the first course," he added, hinting at more building to come.
His remarks came as the negotiating teams readied for the talks, the result of marathon efforts by US Secretary of State John Kerry, who convened an initial meeting between the sides in Washington on July 30.
Israel's settlement building in the occupied territories is considered illegal under international law
Although the overnight prisoner release was welcomed by the Palestinians, it did little to placate their anger after Israel announced plans this week to push on with 2,129 new settler homes — the vast majority in annexed east Jerusalem.
The last round of direct peace talks broke down just weeks after they were launched in September 2010 in a bitter row over settlements.
Commentators said the timing of the settlement announcements was aimed at appeasing hardliners in the right-wing coalition of Prime Minister Benjamin Netanyahu but was also something of a quid pro quo for the prisoner release.
In a bid to defuse the latest crisis, Kerry phoned Palestinian president Mahmud Abbas late on Tuesday, a senior Palestinian official told AFP.
So far, both sides have remained silent over the agenda for the negotiations. The two sides have committed themselves to give the talks at least nine months in which to reach an accord.
Israel's chief negotiator, Tzipi Livni, will sit down with Palestinian counterpart Saeb Erakat for talks presided over by US special envoy Martin Indyk.
Top-selling daily Yediot Aharonot was deeply sceptical of the chances of success.
"The issues that are at the core of the dispute are well known, as are Netanyahu's and Abu Mazen's positions," its veteran commentator Simon Shiffer wrote, using the name by which Abbas is familiarly known.
"Neither of them has any intention of budging from them. That is why what will happen in the coming months will be a repetition of what was: a war of accusations and attempts to cast responsibility for the expected failure of the talks on the other side."
"We can only hope that after this attempt, it will at least be realised that there are some disputes that cannot be resolved, and that what the sides must do is to come up with a solution for interim arrangements that set a direction and a future," he wrote.
"In other words: we must hope that in nine months, hope will be created."
Israel's hawkish Defense Minister Moshe Yaalon was also less than optimistic.
"We set ourselves nine months in which to try and reach something with the Palestinians — we've been trying for 20 years since Oslo," he said, referring to peace accords signed in September 1993.
"A note of scepticism might be detected in my words but we decided to give the negotiations a chance," he said.
The Hamas rulers of the Palestinian enclave of the Gaza Strip did not comment on the prisoner release but lashed out at Abbas's rival administration for agreeing to enter talks with Israel.
"It is a national crime which will have serious consequences for our people and their rights and unity," said spokesman Fawzi Barhum.
Overnight, Israel bombed targets in northern Gaza after militants fired rockets across the border in the first such strike in seven weeks, the army said.
Photo Credit: AFP/Said Khatib