Israel Pounds Gaza As Hamas Targets Tel Aviv, Jerusalem
@AFP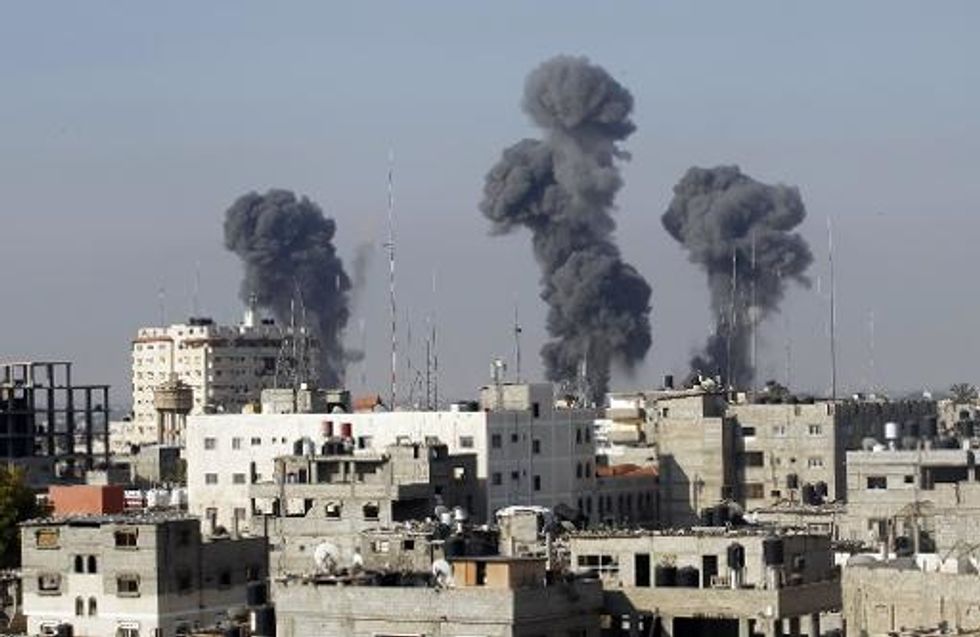 Jerusalem (AFP) – Israel significantly broadened its campaign against Gaza Wednesday after militants fired at Jerusalem and Tel Aviv in their biggest confrontation since 2012, raising fears of a major Israeli ground offensive.
It was the most serious flare-up in and around the Gaza Strip since November 2012 and came as Israel struggled to contain a wave of nationwide unrest over the grisly murder of a Palestinian teenager by Jewish extremists.
Washington, Brussels and a growing number of Arab states have demanded an immediate halt to the violence which is threatening to expand into a wider conflict in a region already bristling with tension.
Since Operation Protective Edge began in the early hours of Tuesday, Israel warplanes have bombed 430 targets in Gaza, and Hamas militants have hit back with 117 rockets, some of which struck Jerusalem and Tel Aviv and as far away as Hadera, 72 miles to the north.
So far, 32 Palestinians have been killed, among them militants but also women and children. More than 230 have been wounded.
As dawn broke, residents of the northern Beit Hanun picked through the bloodstained rubble of a house struck by a missile, killing an Islamic Jihad commander and his family.
"We didn't see the rocket that came down on us," said Yunis Hamd who lost six family members in the strike, which left a vast crater.
"It killed all of them," he told AFP.
"This is pure destruction by F-16 aircraft against children and civilians, and the whole world just sits watching," said his neighbour Yasser Abu Awda, whose house was also destroyed.
"No one says anything, not even Arabs and Muslims. We are under siege and no one cares."
So far, neither side has shown any sign of backing down, as Israel stepped up its preparations for a possible ground assault, approving the call up of 40,000 reservists.
Overnight, Israeli warplanes bombed 160 targets across Gaza, hitting concealed rocket launchers, Hamas command and control centres and many tunnels, military spokesman General Moti Almoz told army radio.
"Over the last two days we attacked a total of about 430 targets. We are at the start of the second day of an operation which is widening," he said.
Israel's security cabinet has ordered the military to "significant broaden" its assault on Hamas, a minister said on Wednesday.
"We didn't limit the campaign in terms of time, in fact we ordered the IDF (army) to significantly broaden the attacks on Hamas," Interior Minister Gideon Saar told army radio.
"We're ready for every possibility, including a ground operation if necessary, although it's not going to be the first step. But there is a readiness for that and that's why we ordered the call-up of 40,000 reserve soldiers," he said.
Early on Wednesday, another five rockets struck southern Israel, and two more were shot down by the Iron Dome anti-missile system over the Tel Aviv area, the army said, correcting earlier media reports of five.
There was also an ongoing incident in Kerem Shalom, location of the main goods crossing between Israel and southern Gaza, the army's official spokesman said, but refused to give further details.
The current round of violence began on June 12 when militants in the West Bank kidnapped and murdered three Israeli teenagers, prompting a major crackdown on Hamas, whom Israel blamed for the killings.
In response, militants in Gaza, where Hamas has its stronghold, fired a growing number of rockets over the border, prompting Israel to launch Operation Protective Edge in the early hours of July 8.
What started as an escalation along the Gaza frontier rapidly expanded as night fell on Tuesday with a barrage of rockets on central Israel, where sirens sent thousands bolting for the bomb shelters in and around Jerusalem and Tel Aviv.
Three loud explosions rang through Jerusalem and a series of flashes lit up the sky, as three rockets crashed into open areas around the city.
So far, no Israelis have been injured or killed.
The confrontation has drawn sharp condemnation from Washington and Brussels, and the Arab League has called for an urgent UN Security Council meeting on the crisis.
On Wednesday Jordan, one of just two Arab countries to have signed a peace treaty with Israel, demanded an immediate halt to Israel's "barbaric aggression" in Gaza.
Iran's foreign ministry Wednesday condemned the air raids and called on the West to urge the Jewish state to prevent a "human catastrophe".
AFP Photo/Said Khatib