Israel Warns Gazans To Flee Ahead Of Morning Attacks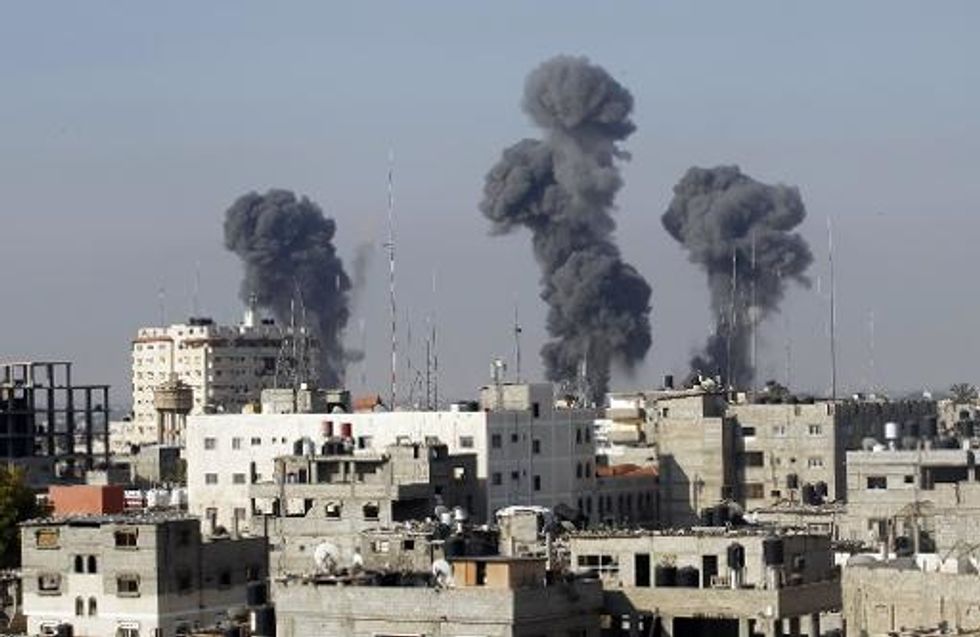 By Batsheva Sobelman, Los Angeles Times
JERUSALEM — Israel's military instructed 100,000 Palestinians to leave their homes and move south ahead of planned aerial strikes Wednesday, as its military offensive that has killed more than 200 Gazans enters its ninth day.
Israel suffered its first casualty of the conflict on Tuesday when a 37-year-old man was struck by a mortar shell near the Erez crossing between Israel and Gaza.
After a failed cease-fire Tuesday, Israel's military showered northern Gaza with leaflets from the air warning families to vacate their homes immediately for their own safety by Wednesday morning and to stay south of Jebalya until further notice. "The IDF does not want to harm you," the notice cautioned, adding that those failing to evacuate "endanger their own lives."
Previously, at least 17,000 civilians left their homes following similar warnings and took shelter in United Nations schools and other facilities. On Wednesday, many Gazans did not seem to respond to Israel's warnings, according to media reports.
Around 100,000 Palestinians live in the areas surrounding Beit Lahiya, where the army warned it would target sites and operatives it holds responsible for much of the rocket fire against Israel.
Among those reportedly warned is the al-Wafa medical rehabilitation hospital, where international activists gathered to support medical staff who say they cannot evacuate their patients.
Around 22 miles north, the Barzilai hospital in Ashkelon, Israel, moved its emergency room into a blast-proof section of the compound.
The instruction came after a late-night meeting of Israeli Prime Minister Benjamin Netanyahu's security cabinet, which approved an escalation of airstrikes and, if needed, a limited ground incursion, local media reported.
As the ultimatum expired early Wednesday, Israel bombed stretches around Beit Lahiya in the northern Gaza Strip, targeting what it said were concealed rocket launchers. Separately, three people were killed when a car was hit from the air in Khan Younis.
Gaza militants fired a tight barrage of rockets at Israel, triggering air-raid sirens throughout southern and central Israeli cities. At least four rockets were shot down over the Tel-Aviv metropolitan area, spreading shrapnel in residential suburbs. Around 1,250 rockets have been fired at Israel since last week, according to Israel's army.
Overnight, Israel bombed several targets, among them a Hamas ministry of interior building and the home of Mahmoud a-Zahar, a senior political leader of the Islamic movement.
Nine days into the military offensive Israel says it launched to halt rocket fire from Gaza into Israel, the current round of fighting — the third in five years — is already longer than the previous one that ended with a cease-fire and informal understandings between the sides in November 2012, after eight days.
Israel on Tuesday unilaterally accepted an Egyptian proposal to end the fighting, but Hamas and other militant factions in Gaza rejected the plan, and the would-be cease-fire collapsed within hours. It was reportedly still on the table Wednesday as Palestinian factions tried to better their bargaining positions and Palestinian Authority President Mahmoud Abbas arrived in Cairo for talks.
Separately, in the West Bank, Israel's military issued warrants to demolish the family homes of two Palestinians suspected of kidnapping and killing three Israeli teenagers in the West Bank last month. Israel has accused Hamas of the killing, and its crackdown on the movement in the West Bank sparked increased rocket fire from Gaza that ballooned into the ongoing battle.
AFP Photo/ Said Khatib
Interested in world news? Sign up for our daily email newsletter!