Israel Weighs Action Against Hamas Over Teens Murder
@AFP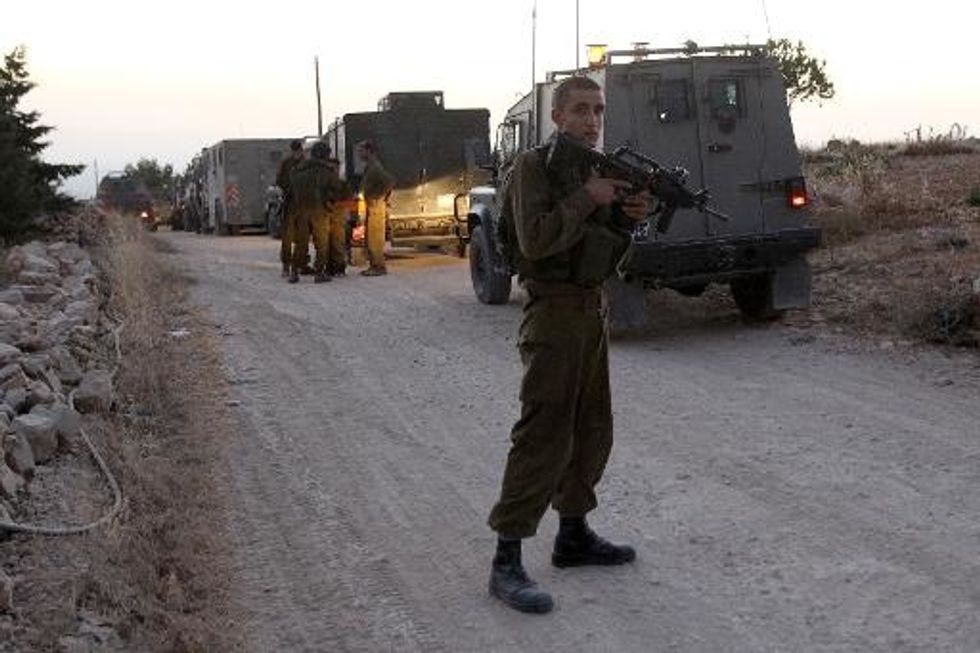 Jerusalem (AFP) – Israel vowed Tuesday to hunt down the Hamas militants it holds responsible for killing three teenagers, but was likely to carefully weigh its response to avoid triggering a regional flareup.
As further details emerged of the fate of the three abducted youngsters whose bodies were found in the southern West Bank on Monday, Israel said it would not rest until it finds their killers.
But despite extensive Israeli strikes on Gaza overnight, no one was killed, with Israel's military establishment and cabinet heavyweights backing a more measured response over isolated calls for a major operation in the Hamas power base.
The disappearance of two 16-year-olds and a 19-year-old from a roadside in the southern West Bank on June 12 and the hunt for their kidnappers had gripped the Israeli public, triggering an outpouring of public grief and anger.
The discovery of their bodies was given blanket coverage across all media.
"The bitter end" read the headline in top-selling newspaper Yediot Aharonot. "Cut down in their youth," was the top line in pro-government freesheet Israel Hayom.
"Hamas is responsible for the kidnapping and murder of the youths and we know how to settle accounts with them," said Defense Minister Moshe Yaalon.
"We will continue to hunt the killers of the youngsters, we will not rest nor will we be silent until we lay our hands on them."
There has never been any credible claim of responsibility for the teenagers' abduction and Hamas has described Israel's accusations as "stupid."
But Prime Minister Benjamin Netanyahu, who was to attend a joint funeral for the three youngsters later on Tuesday, held no doubt about who to hold responsible.
"Hamas is responsible and Hamas will pay," he told an emergency meeting of his security cabinet on Monday evening.
The joint funeral was to take place at 1430 GMT in the central Israeli town of Modiin, after separate ceremonies in the home towns of each victim.
Gilad Shaer, 16, was from Talmon settlement near the West Bank city of Ramallah; Naftali Frenkel, 16, was from Nof Ayalon, and Eyal Ifrach, 19, from Elad — both in central Israel.
The three students were shot dead shortly after they were picked up while hitchhiking on a road in the southern West Bank, according to media reports.
Their bodies were buried in a field near Halhul, just outside the flashpoint city of Hebron, 10 minutes from where they were last seen.
Monday evening's security cabinet meeting ended inconclusively, with ministers sharply at odds over the right course of action, army radio reported.
An Israeli official familiar with the content of the meeting confirmed Yaalon suggested a "measured" military response which would not lead to an escalation with Gaza, and Netanyahu was inclined to accept his position.
Yaalon also proposed turning a former West Bank army base, which is currently used as an educational institute, into a new Jewish settlement in their memory, Haaretz said in a report confirmed by the official.
The security cabinet was expected to reconvene later Tuesday, although commentators said Netanyahu was unlikely to seek a major escalation.
"The prime minister is expected to refrain from an excessively fierce reaction because of (the Muslim holy month of) Ramadan and the fear of the reactions that a large-scale military operation might elicit," Yediot said.
Hamas has warned Israel that it would "open the gates of hell" if it conducted reprisal operations against the Islamist movement.
Two Hamas men named by Israel as the prime suspects — Marwan Qawasmeh and Amer Abu Eishe — remain at large.
Palestinian witnesses said troops blew up their homes in Hebron early Tuesday.
In the hours after the teens' disappearance, Israel launched a vast search and arrest operation which saw 419 Palestinians arrested, of whom 276 are Hamas members.
Five Palestinians were killed in clashes triggered by the operation.
Simultaneously, militants in Gaza began firing a wave of rockets at southern Israel which has since escalated, prompting Israel to stage dozens of retaliatory air strikes.
Overnight, eight rockets hit the south, without causing any casualties or damage, the army said.
In response, Israeli warplanes hit 34 targets across the Gaza Strip, the military said.
Palestinian medics told AFP four people were wounded in the southern city of Khan Yunis.
A sixth Palestinian, Yusuf Abu Zagher, 18, was killed in the northern West Bank city of Jenin on Tuesday.
The Israeli army said he was a Hamas operative who had been about to hurl an explosive device at troops sent to arrest him.
AFP Photo/Hazem Bader