Israelis Vote In Tight Race As Netanyahu Fights For Survival
@AFP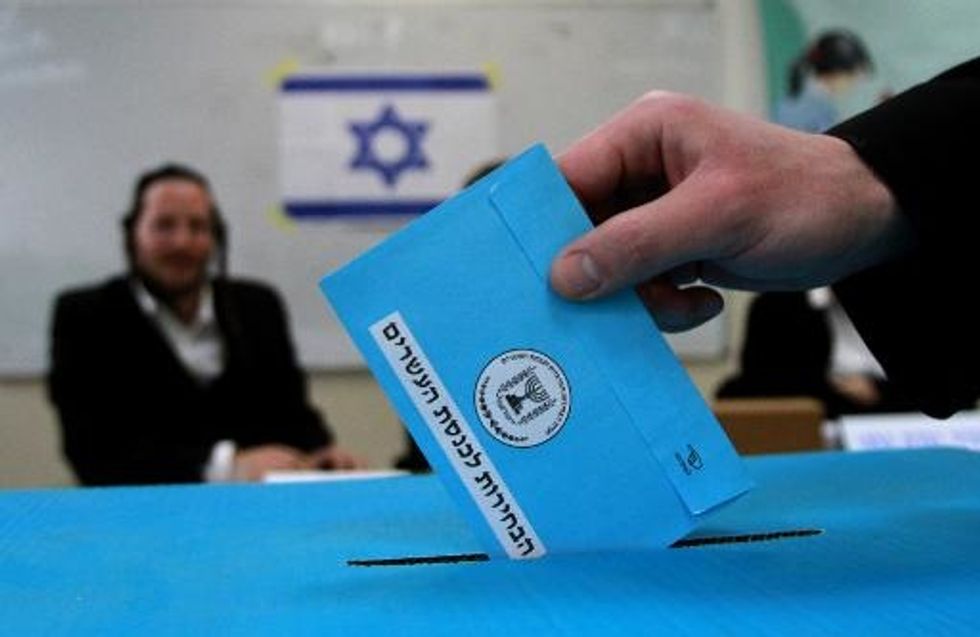 Jerusalem (AFP) – Israelis voted Tuesday in a close-fought election pitting the center-left against Prime Minister Benjamin Netanyahu who is fighting for his political survival after six years in power.
Heading to the polls on a cold, sunny day, voters cast their ballots in an election seen as a referendum on the Netanyahu years, with turnout unusually high among defiant Arab Israelis.
The last polls published on Friday indicated a narrow win for the center-left Zionist Union, with the outcome likely to determine the prospects for new Middle East peace talks and Israel's troubled relations with its U.S. ally.
In a last-ditch appeal to the far-right ahead of the vote, Netanyahu ruled out the establishment of a Palestinian state if reelected, effectively reneging on his 2009 endorsement of a two-state solution.
Some 5.8 million Israelis are eligible to vote in Tuesday's election, with 25 parties in the race for the Knesset's 120 seats.
But even if Netanyahu's right-wing Likud party does end up losing, he could return to power by virtue of Israel's complex proportional representation system.
With smaller right-wing and religious parties likely to win more seats than the left, experts say Netanyahu has a better chance of piecing together a majority of at least 61 seats needed to win backing for a coalition.
Polling stations opened at 7:00 am, with campaigners putting up party banners and bunting outside, as in Jerusalem the first voters shuffled in to place their slips in a blue ballot box.
"I'd like to see Netanyahu disappear for many, many years. The most important issue is relations with the Palestinians," said Shulamit Laron, as music blasted from a nearby shop whose walls and door were plastered with pictures of "Bibi" — the burly Israeli leader.
In the mixed Jewish-Arab port city of Haifa, around 50 people were lined up outside an Arab school to cast their vote.
"This is the first time that I've seen so many people here to vote," said Ehab Hamam, a 37-year-old Arab Israeli working in hi-tech.
"For the Arabs, voting in this election is saying to the right: We are here," he said.
"I've never seen such a long queue outside a polling station," agreed 73-year-old Gideon Leber.
Voters had until 10:00 pm to cast their ballots and nine hours into the voting, turnout stood at 45.4 percent, down slightly from at the same time during the 2013 election.
Exit polls were to be published minutes after polling stations closed.
It is Israel's third election since 2009 and the biggest challenge yet for Netanyahu, who is seeking a third consecutive term but has seen polls giving Isaac Herzog's Zionist Union a three-to-four seat lead.
But even if Herzog wins the most votes, he will face an almost impossible task to cobble together a majority without forming a unity government with Likud — an option Netanyahu has ruled out.
So far, the centrist Yesh Atid and the leftwing Meretz have agreed to back him, but the Joint List of Arab Israeli parties has ruled out joining a Herzog-led coalition.
Netanyahu has warned that a vote for the Zionist Union could endanger Israel's security and lead to the division of Jerusalem and the establishment of a Palestinian capital in the annexed eastern sector.
Ayman Odeh, head of the Joint List, said it was a "historic day" for Israel's Arab minority, which makes up 20 percent of the population and expects to win up to 15 seats — which would make it the third bloc in the Knesset.
"When we have 15 MPs we will be able to influence the decision making, no one will be able to act without the third-largest party in parliament," he told AFP.
Three hours into the voting, turnout among Arab Israelis stood at 10 percent, compared with around three percent in 2013, drawing a panicked response from Netanyahu.
"The rule of the right-wing is in danger. Arab voters are going to the polls in droves!" he said in a video on Facebook. "Go to the polling stations! Vote Likud!"
"I voted for the Arab List because solidarity between Jews and Arabs is important for me," said Karin Michael, a 40-year-old book publisher enjoying the sunshine in Tel Aviv where pavement cafés were packed.
In Jerusalem, Moshe Simchovic, a 70-year-old veteran of the 1967 and 1973 wars, also voted for the Arab List, turning up at the polling station in a traditional Palestinian headscarf.
"Israel changed after 1967, it's become fanatical and right-wing since then. Before, we were fighting for our lives but now we're the conqueror," he told AFP.
But Natalie, a voter in her early 20s, said she voted for Naftali Bennett's far-right Jewish Home party, which opposes a Palestinian state.
"He represents what I believe in: the importance of the state of Israel, and not giving any of it away to the Arabs."
Photo: An Israeli voter casts his ballot at a polling station in Bnei Brak, near the city of Tel Aviv, on March 17, 2015 (AFP/Gil Cohen Magen)