Israel's Elder Statesman Shimon Peres, Dead At 93
@reuters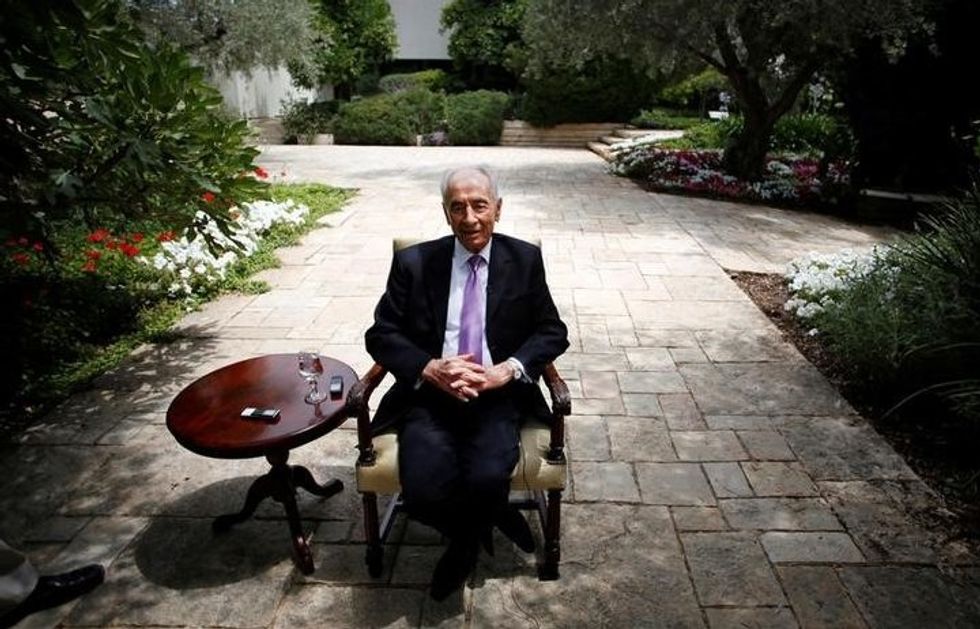 By Ori Lewis
JERUSALEM (Reuters) – Former Israeli president and elder statesman Shimon Peres, a joint winner of the 1994 Nobel Peace Prize and an influential figure in Israeli politics for 70 years, died in hospital on Wednesday aged 93, two weeks after suffering a massive stroke.
A convinced campaigner for Middle East peace who remained energetic until his final days, Peres was mourned by world leaders and praised for his tireless engagement.
U.S. President Barack Obama said: "A light has gone out".
"There are few people who we share this world with who change the course of human history, not just through their role in human events, but because they expand our moral imagination and force us to expect more of ourselves," Obama said in a statement. "My friend Shimon was one of those people."
Despite decades of rivalry with Peres, Israeli Prime Minister Benjamin Netanyahu, a right-winger who defeated the then-Labour Party leader in a 1996 election, praised him as a stalwart of the center-left and a visionary.
"There were many things we agreed upon, and the number grew as the years passed. But we had disagreements, a natural part of democratic life," Netanyahu said after holding a minute's silence at a specially convened cabinet meeting.
"Shimon won international recognition that spanned the globe. World leaders wanted to be in his proximity and respected him. Along with us, many of them will accompany him on his last journey to eternal rest in the soil of Jerusalem."
Palestinian President Mahmoud Abbas issued a statement saying he had sent a condolence letter to the family expressing his "sadness and regret" and praising Peres's "intensive efforts to reach out for a lasting peace … until the last days".
It was not clear if he would attend Peres's funeral, which will take place on Friday at Jerusalem's Mount Herzl cemetery, in a section dedicated to "Great Leaders of the Nation".
In the Gaza Strip, Sami Abu Zuhri, a spokesman for the enclave's Hamas Islamist rulers, said: "The Palestinian people are happy over the departure of this criminal, who was involved in many crimes and in the bloodshed of the Palestinian people."
Obama, Britain's Prince Charles and former U.S. president Bill Clinton are among those expected to attend, Israeli radio reported, although Israel's Foreign Ministry could not immediately confirm the attendance list.
French President Francois Hollande also confirmed he would attend, alongside his predecessor Nicolas Sarkozy.
The announcement of the death was made at the Tel Hashomer hospital by his son Chemi and son-in-law Rafi Walden.
"His life ended abruptly when he was still working on his great passion, strengthening the country and striving for peace. His legacy will remain with us all," said Walden, who was also Peres's personal physician.
Polish-born Peres, whose family moved to then British-ruled Palestine in the 1930s, was part of almost every major political development in Israel since its founding in 1948. He served in a dozen cabinets and was twice prime minister, though he never won a general election, struggling to connect with ordinary voters.
He was first elected to Israel's parliament in 1959 and barring a brief interlude in early 2006, held his seat for 48 years, until he became president in 2007.
In every role he undertook – from forging Israel's defense strategy in the 1950s to running his eponymous peace foundation – Peres was known for his energy and enthusiasm, even recording jokey YouTube videos into his 90s.
"Optimists and pessimists die the same way," he said. "They just live differently. I prefer to live as an optimist."
He shared the 1994 Nobel Peace Prize with the late former prime minister Yitzhak Rabin and late Palestinian leader Yasser Arafat for reaching an interim peace deal in 1993, the Oslo Accords, which never turned into a lasting treaty.
Rabin was assassinated in 1995 by an Israeli ultra-nationalist who opposed the interim accords, and it was Peres who took over as prime minister after Rabin's death.
Peres is widely seen as having gained nuclear capabilities for Israel by procuring the Dimona reactor from France while defense ministry director-general in the 1950s.
As defense minister, he oversaw the 1976 Israeli rescue of hijacked Israelis at Entebbe airport in Uganda.
In the Arab world, his legacy is tainted by the 1996 shelling of a United Nations compound in the village of Qana in southern Lebanon during an Israeli offensive. More than 100 civilians sheltering there were killed. Peres was prime minister at the time and Israel said its forces had been aiming at militants firing rockets nearby.
Peres was also seen to have done little to rein in the expansion of Israeli settlements on land captured during the 1967 Middle East war, even if he was not an active proponent of a policy that Obama has described as an obstacle to peace.
From 2007, when he was elected president at the second attempt, Peres played more of a ceremonial role, trying to raise Israel's profile internationally while advocating for peace through his foundation. He stepped down as president in 2014.
Despite the influence he has had on Israel's landscape, his death is not expected to have an impact on the already dim prospects for a return to peace talks with the Palestinians.
(Additional reporting by Jeffrey Heller; Writing by Ori Lewis and Luke Baker; Editing by Gareth Jones)
IMAGE: Israel's President Shimon Peres speaks during an interview with Reuters at his residence in Jerusalem, June 2013. REUTERS/Baz Ratner