Israel's Netanyahu Scrambles As Polls Show Rival's Lead Growing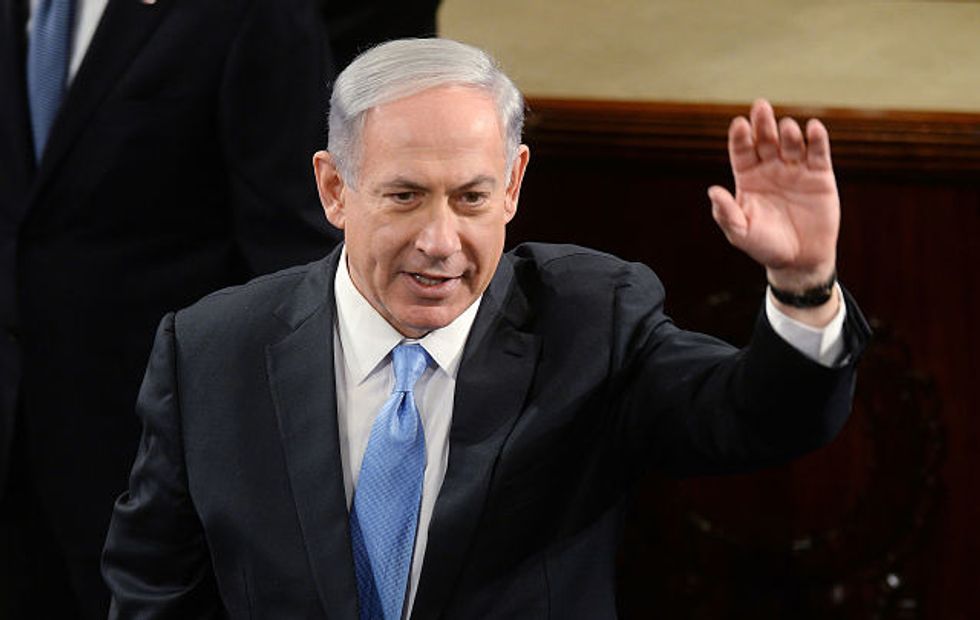 By Batsheva Sobelman, Los Angeles Times (TNS)
JERUSALEM — Four days before Israel's general election, public opinion polls on Friday pointed to a widening lead for Prime Minister Benjamin Netanyahu's main rival.
However, the polls also suggested that some 15 percent of the electorate remained undecided, and Israeli elections are known for substantial last-minute vote swings.
Netanyahu's camp appeared to take seriously his apparent electoral peril. The prime minister, who until now had made almost no campaign appearances, embarked on a blitz of media interviews and speeches.
A series of polls on Friday – the last such surveys that will appear before the vote – showed the center-left Zionist Union, headed by Isaac Herzog, with its largest lead yet, outpolling Netanyahu's conservative Likud by between two and five seats in the 120-member Knesset, or parliament. In Israel, votes are cast for parties, not individuals.
The prime minister insisted that the Israeli public still backed him, though polls pointed to more people wanting him gone than for his tenure to continue. Netanyahu said voters perhaps mistakenly believed he would agree to form a "unity" government with Herzog's bloc, a scenario the Israeli leader has ruled out.
"The majority of the public wants me as prime minister, but some think they can enjoy both worlds and vote for another national party and have me as prime minister," the Israeli leader told several news outlets. "Anyone who wants me as prime minister must vote for Likud."
Warning of his dovish rivals' supposedly soft positions on the Palestinian issue, Iran and terror, the prime minister sounded a familiar note: that the country's security belongs in his hands. But he acknowledged he risked being tossed out of office "if the national camp doesn't come to its senses and vote for Likud."
According to the polls, only half of the Likud voters of 2013 intended to vote for the party this time around.
On Friday, Netanyahu reached out to voters over Facebook, taking questions from the public on a range of issues. He claimed Herzog and opposition candidate Tzipi Livni, with whom Herzog has said he would rotate the premiership, would make concessions under international pressure that would endanger Israel's security.
"They want to capitulate; we want to stand strong," he said.
During the campaign, Herzog crisscrossed Israel with multiple daily appearances and interviews. Netanyahu largely refrained from direct campaigning, relying on his stature as the incumbent to keep him in the public eye.
After focusing on security and Iran's controversial nuclear program for much of the campaign while skirting the socioeconomic challenges that trouble many Israelis, Netanyahu acknowledged high housing costs and pledged to address the issue. According to polls, Netanyahu's party has lost considerable support to centrist parties focusing on concerns such as the cost of living.
While Netanyahu's camp sounded the alarm to regain lost support, his rival urged his own backers to keep going full steam and avoid complacency.
"The polls show the trend clearly; we're on our way to victory," Herzog said on Facebook. "But to form the next government we need a much bigger camp."
With the campaign clock ticking down, candidates and campaigners were out in force Friday, competing for attention in crowded public venues. Herzog was attending a rally in the southern city of Ashdod and an open-air market in Tel Aviv, among other stops.
Commentators noted the Zionist Union's growing lead, but warned not to count Netanyahu out.
"Nothing is final," columnist Ben Caspit wrote in Friday's editions of the Maariv newspaper. "The gap is not inerasable."
Sobelman is a special correspondent. Times staff writer Laura King in Cairo contributed to this report.
Photo: Israeli Prime Minister Benjamin Netanyahu addresses a joint session of the U.S. Congress at the Capitol on March 3, 2015 in Washington, D.C.   (Olivier Douliery/Abaca Press/TNS)