Italian Autogrill: Slow Food Done Fast — Along The Roadside
@reuters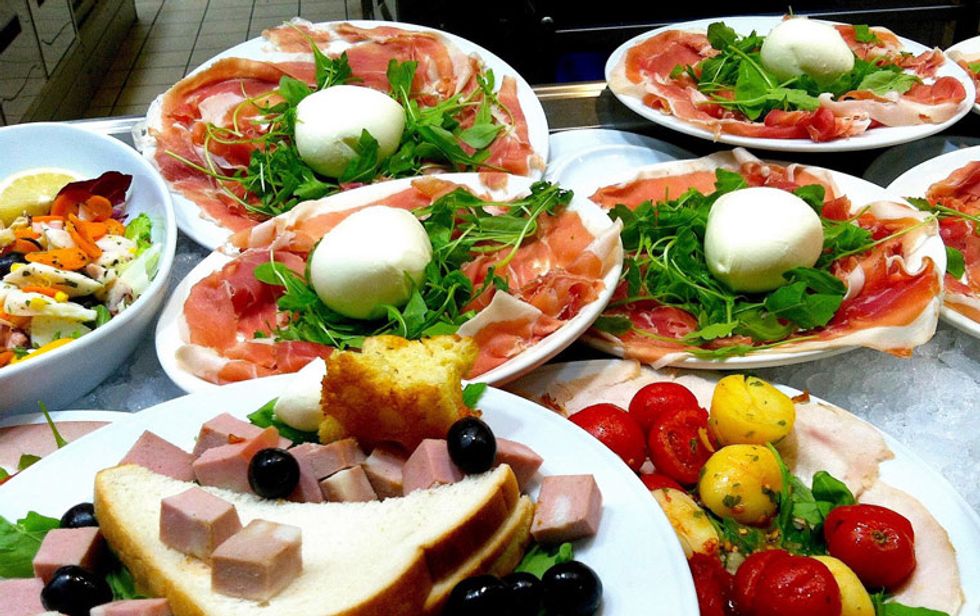 By Terra Brockman (Zester Daily)
"Great food" and "highway rest stop" are not phrases I would normally utter in the same breath. But that was before I experienced the Italian Autogrill.
At about 500 locations across Italy, you can get gas, go to the bathroom and then, very likely, have a better dining experience than at most Italian restaurants in the United States.
Perhaps you'd like to choose your steak from the glistening display of fresh meat, and tell the chef how you'd like it cooked. Or maybe the pasta station, with its many pots of boiling water waiting for your choice of pasta and sauce, is calling to you. How about a spaghetti alle vongole prepared while you wait? In those few minutes while the pasta is being cooked to perfection, and the clams are opening up in their white wine sauce, you might wander over to the antipasti station and choose a beautiful plate of prosciutto, mozzarella and arugula. Then, since you are in Italy, pick up a nice half bottle of local wine and settle in for what could very well be one of the best meals of your life.
The Autogrill offers not only great food but valuable insights into the values and priorities of a culture. Italians enjoy modern life, efficiency and convenience as much as anyone, but modernity and convenience need not compromise food. At the Autogrill, whether you go for the whole dining experience, or just grab a freshly made panino, you will get healthy, delicious food made with great ingredients and great care. It's slow food fast. Or fast food slow. Either way, the Autogrill is where the fast life of the autostrada meets the Slow Food values of quality ingredients prepared with pride.
Now, like one of Pavlov's dogs, I start salivating at the sight of the bright red swooping A of the Autogrill franchise, and make excuses to stop there more often than strictly necessary.
Capri Sandwich
Prep time: 10 minutes
Cooking time: None
Total time: 10 minutes
Ingredients
1 piece of focaccia, split in half, or 2 slices Italian, French or sourdough bread
Mayonnaise, to spread, as thickly or thinly as you like
Sprinkling of dried oregano
1 leaf of lettuce
1 thick slice of tomato
2 or 3 thin slices of prosciutto cotto
1 generous piece of fresh mozzarella, ideally from a fresh ball of mozzarella di bufala
Directions
1. Warm the bread in the toaster oven, taking it out before it's actually toasted.
2. Swipe some mayonnaise on what will become the two inside parts of the sandwich and sprinkle with oregano.
3. Assemble your sandwich, starting with lettuce on the bottom, followed by the tomato, prosciutto and mozzarella.
The antipasti station at an Autogrill in Italy. Credit: Copyright 2016 Terra Brockman