It's Good To Be ExxonMobil: Oil Giant Not Required To Pay For Arkansas Spill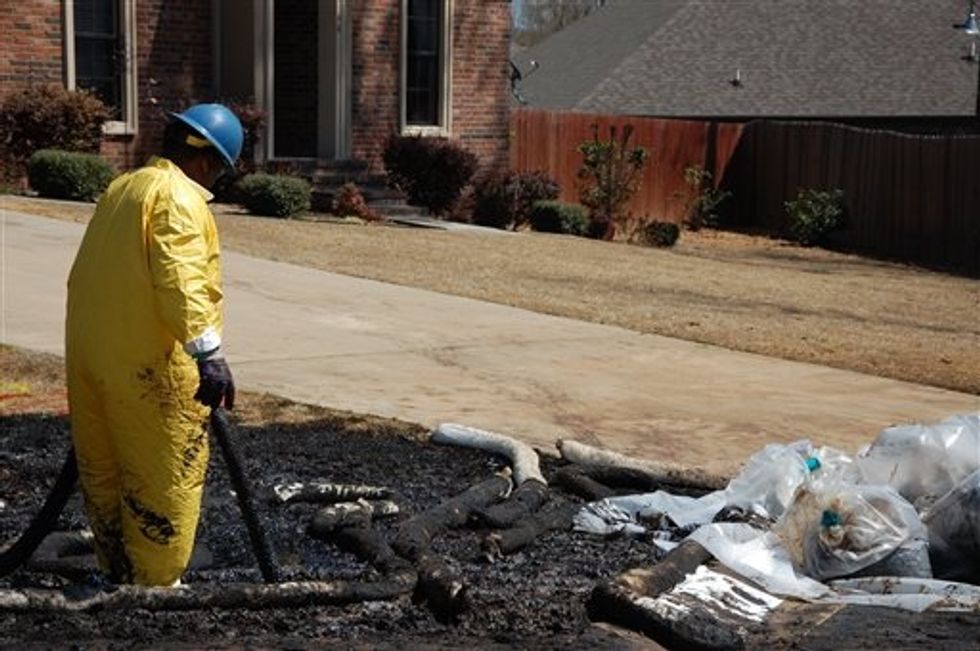 ExxonMobil Pipeline Co. will be required to fix the Pegasus pipeline, which has spilled an estimated 3,500 to 5,000 barrels of "low-quality Wabasca Heavy crude oil from Alberta" into central Arkansas. An order from the Pipeline and Hazardous Materials Safety Administration halts any flow through the pipeline until the agency approves the repairs.
However, ExxonMobil wasn't required to pay into the fund that will pay most of the costs to clean up the spill.
Pegasus carries crude oil that often contains a large amount of bitumen. And according to a 1980 law, companies transporting this type of crude from the oil shales of Canada are not required to pay into the trust fund. Only companies transporting conventional crude are required to pay the eight cents per gallon that was used to clean up the 364 pipeline spills last year.
And, yes, the proposed Keystone XL pipeline would be shipping the same sort of crude that allows oil giants to skip out on insuring against spills.
Before the spill, Keystone was extremely popular with the American public, with nearly two-thirds of all Americans and every group except liberals supporting the proposed pipeline, according to a Pew Poll:
Arkansas state officials seem intent on not letting the oil giant off the hook if criminal negligence was involved in the rupture.
"There are many questions and concerns remaining as to the long-term impacts, environmental or otherwise, from this spill," Arkansas attorney general Dustin McDaniel wrote to ExxonMobil executives Tuesday.
Others seem skeptical that pipelines like Pegasus, which is 50 years old, can ever be completely safe.
"We've been concerned about the presence of the pipeline in the (Lake Maumelle) Watershed for some time now," said John Tynan, Central Arkansas Water's watershed protection manager. "We've taken a number of steps to mitigate the risks that it poses, but obviously the only way to eliminate all risk is to remove the pipeline from the watershed."
This high-profile spill puts into focus many of the concerns environmentalists have about crisscrossing the country with more pipelines. But given the popularity of such projects, it seems a first step is to make sure shale oil producers are contributing to the Oil Spill Liability Trust Fund.
AP Photo/Jeannie Nuss