It's Time: Democrats Are Speaking Up About Gun Control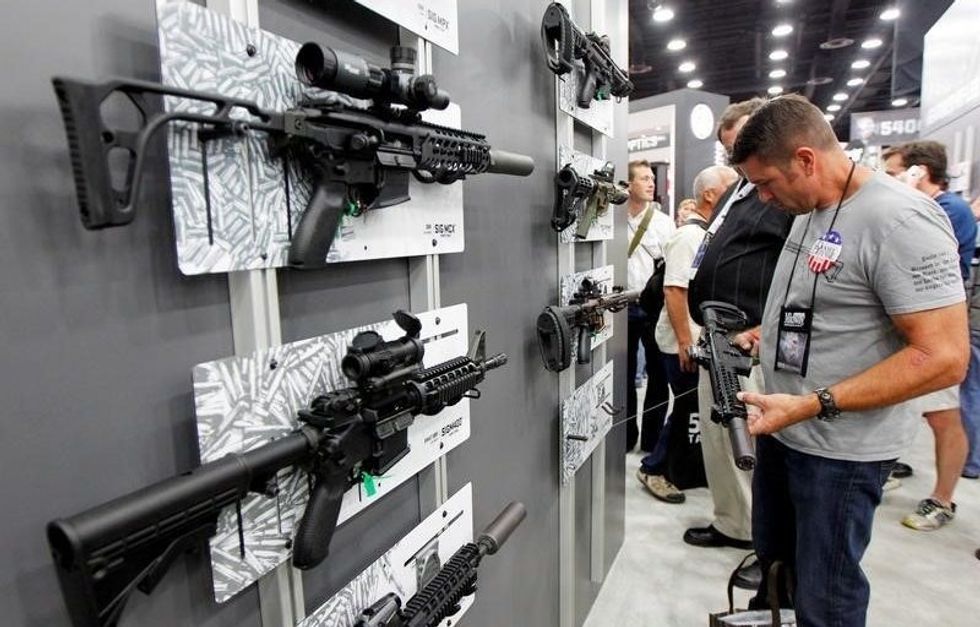 Pressure from Democrats to finally push the needle on gun reform, after repeated mass shootings have been met with silence from the right, came just hours after the deadliest mass shooting in modern American history. Following House Speaker Paul Ryan's usual moment of silence on the floor on Monday, Democrats chanted "Where's the bill?" and dismissed the silence as meaningless without legislative action.
Democrats are pursuing a slate of legislation, including "No Fly, No Buy," which would ban those on the FBI's no-fly list from accessing guns; addressing the "Charleston loophole," which allows guns to be sold after a three-day waiting period, even if the FBI's background check isn't complete; and legislation that would ban anyone convicted of a hate crime from purchasing guns.
On Wednesday, Sen. Chris Murphy of Connecticut and other senate Democrats staged an old-school talking filibuster to urge movement on gun reform. And while a handful of conservative voices — and Donald Trump, via a tweet — have come out in favor of curbing access to military-style weapons, the vast majority pivoted towards focusing on "radical Islamic terrorism" in the wake of the attack.
Republicans talk a tough terrorism game, yet they don't see a problem with suspected terrorists being able to purchase guns. As Hillary Clinton tweeted on Wednesday, "people can't board planes with full shampoo bottles — but people being watched by the FBI for terrorism can buy a gun, no questions asked?" The nation was able to swiftly pass new airport security measures in the wake of 9/11, yet in the wake of the worst LGBT hate crime in American history, and the worst terrorist on American soil attack since 9/11, Republicans are holding back, hiding behind the Second Amendment.
The effort by Republicans to shift the debate away from gun control and towards ISIS is a reflection of who is really pulling the strings — the gun manufacturing lobby. Ted Cruz has raked in $36,229 from gun lobbyists. When, as speaker of the Florida House, Marco Rubio's caucus failed to pass a bill allowing employees to bring firearms to work, NRA lobbyist Marion Hammer complained ominously that Rubio "talked the talk, but he didn't walk the walk." 
The CEO of Sturm, Ruger, and Co., Michael Fifer, assured shareholders a month ago that, although demand for their product was "easing," they should anticipate higher gun sales during the election season, as the "rhetoric from both sides" will "[keep] consumers aware and thinking about their firearm rights."
Fifer didn't try to hide his opportunism, adding that "If the political environment in this election year causes one or more strong spikes in demand, we may stretch our capital expenditures budget to take advantage of the opportunities presented." In other words: Yes, the political fear mongering is purposeful, and yes, it is profitable. 
Despite the silence and inaction, Democrats are pushing forward in their campaign to make progress on gun control. Sen. Bob Casey (D-PA) introduced legislation that would ban anyone convicted of a hate crime from purchasing, possessing, or shipping a gun, marking the first proposed gun control legislation after the Orlando shootings.
Like other gun reform proposals, this one is common sense. According to an analysis by the Center for American Progress, 43,000 hate crimes committed in the United States involved the use or threat of a gun. And considering that the most recent one involved the slaughter of 49 people in a gay nightclub, or that the brutal shooting in Charleston, South Carolina resulted in 33 federal hate crime charges, there is ample need for the legislation. 
Democrats are also expected to continue pushing for the renewal of the ban on assault rifles. Rep. Seth Moulton, an Iraq War veteran, penned an op-ed for Wednesday's New York Daily News in which he advocated for the ban. "I know assault rifles," Moulton tweeted. "I carried one in Iraq. They have no place on America's streets."
"I had to look at pictures of dead and mangled bodies in order to understand the magnitude of what it meant to pull that trigger," he wrote.
President Obama joined presidential candidates Hillary Clinton and Bernie Sanders — and nearly every Democrat in national politics — this week in reinforcing calls for a ban on assault rifles, which was in effect from 1994 to 2004.
The pressure to change laws is a popular one, too: A CBS poll conducted this week found that the percentage of Americans who support banning assault weapons jumped to 57 percent, from 44 percent in December. And a White House petition to ban the AR-15 from civilian use has tallied more than 157,000 signatures in three days.
Republicans continue to repeat the polarizing message that those on the left are trying to "take your guns away" — a useful slogan that doubles as ad copy for gun manufacturers.
Meanwhile, they stand in the way of reforms that are not only long overdue and hugely popular, but also the only sensible answer to a brutal problem that every other nation on earth has legislated out of existence.
Photo: Gun enthusiasts look over Sig Sauers guns, including the Sig Sauer MCX rifle at top left, at the National Rifle Association's (NRA) annual meetings & exhibits show in Louisville, Kentucky, May 21, 2016.   REUTERS/John Sommers II