Ivanka Trump's Latest Admission Proves She's Just As Shameless As Her Father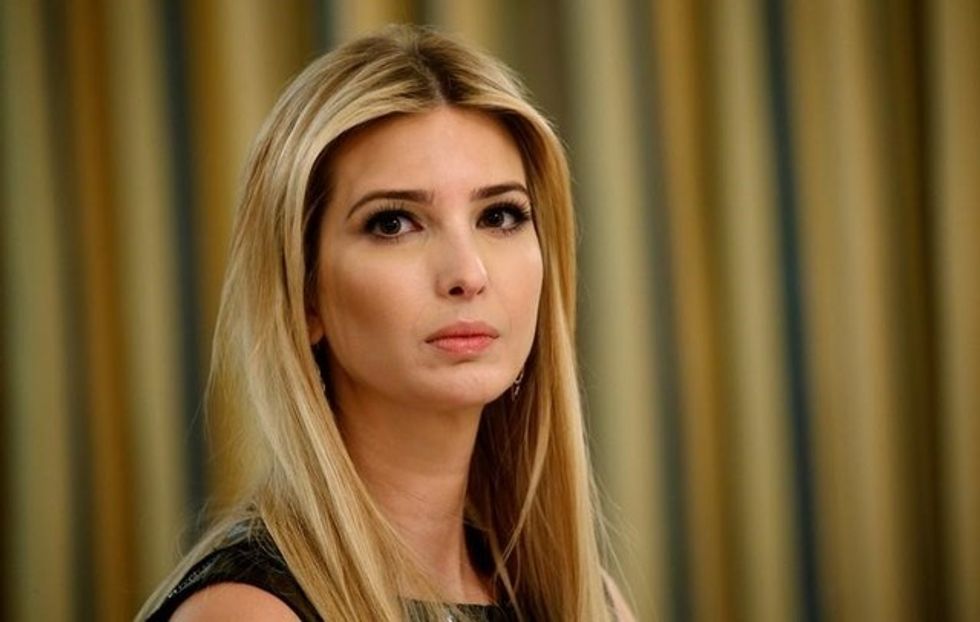 Reprinted with permission from AlterNet.
In what is likely to be hailed as a brave admission, Ivanka Trump told talk show host Mehmet Oz that she had suffered from postpartum depressionin an interview set to air Thursday. A clip released ahead of the episode's broadcast shows the first daughter briefly discussing the emotional difficulties she faced after the birth of each of her three children. Asked why she chose to divulge such private information in such a public forum, the presidential adviser said she was moved to discuss the topic because it "is something that affects parents all over the country."
Her former employees might be surprised to hear her make such an admission. During her tenure as president of an eponymously named clothing label, she reportedly refused to provide paid maternal leave to staffers, some of whom were likely grappling with the same problems.
"With each of my three children, I had some level of postpartum [depression]," Ivanka says in footage tweeted by Dr. Oz on Wednesday. "It was a very challenging, emotional time for me because I felt like I was not living up to my potential as a parent or as an entrepreneur and an executive. And I had had such easy pregnancies, that in some way the juxtaposition hit me even harder…It's incredibly important. Look, I consider myself a very hard-charging person. I am ambitious, I'm passionate, I'm driven. But this is something that affects parents all over the country."
Marissa Kraxberger, Ivanka's former creative director, told the New York Times earlier this year that she was informed the company did not offer paid maternity leave when she was hired two months into her pregnancy. Kraxberger says when Ivanka called to offer her the job, she was told there was no leave policy because Ivanka herself had gone back to work just a week after giving birth. In a lengthy Facebook message posted a month before the 2016 presidential elections, Kraxberger wrote that she had seen "a commercial with Ivanka and her father and their 'maternity leave' policy' that made her feel like she was 'going to be ill.'" She went on to describe the battle to get paid leave for pregnant staffers at the Ivanka brand.
.@IvankaTrump touched on a topic during our interview that women across the world can identify with: postpartum depression. Watch tomorrow. pic.twitter.com/Hf3CTxsmZN

— Dr. Mehmet Oz (@DrOz) September 20, 2017
"Our team — the ones who created #WomenWhoWork [campaign] and the ones who the hashtag really stood for — fought long and hard to get her to finally agree to 8 weeks paid maternity leave," Kraxberger wrote. "I'm not writing this because I think Ivanka is a bad person. I can see how it might be possible to go back to work after having a baby when you have a lot of help at home…I am however saying that if you truly support parenting and children then you actually have to support it fully…How can she claim that their maternity policy is a comprehensive solution for our country?"
While Ivanka and husband Jared Kushner have repeatedly been presented as "moderating influences" in the White House, the couple have demonstrated little ability to alter Trump's regressive agenda. According to a widely shared piece in the most recent issue of Vanity Fair, Ivanka has "tried to distance herself from her own efforts" on issues including climate change—along with LGBT rights and reproductive justice—a move that has "hurt her credibility with" numerous power players. Asked about her role as a presidential adviser, she claimed she's just "a daughter" sharing thoughts with her dad, despite her official title and West Wing office.
"I have my views and I share them candidly," Ivanka told Dr. Oz, according to CBS. "And as a daughter I have the latitude to do that. But I also respect the process that my father is now president. And the American people elected him based on his agenda. And my job isn't to undermine that agenda."
"I don't view it as my obligation to moderate," she continued, "and I don't think anyone working for a sitting president should see themselves in that capacity."
Kali Holloway is a senior writer and the associate editor of media and culture at AlterNet.