James Holmes Moves Closer To Death Penalty As Jurors Reject Leniency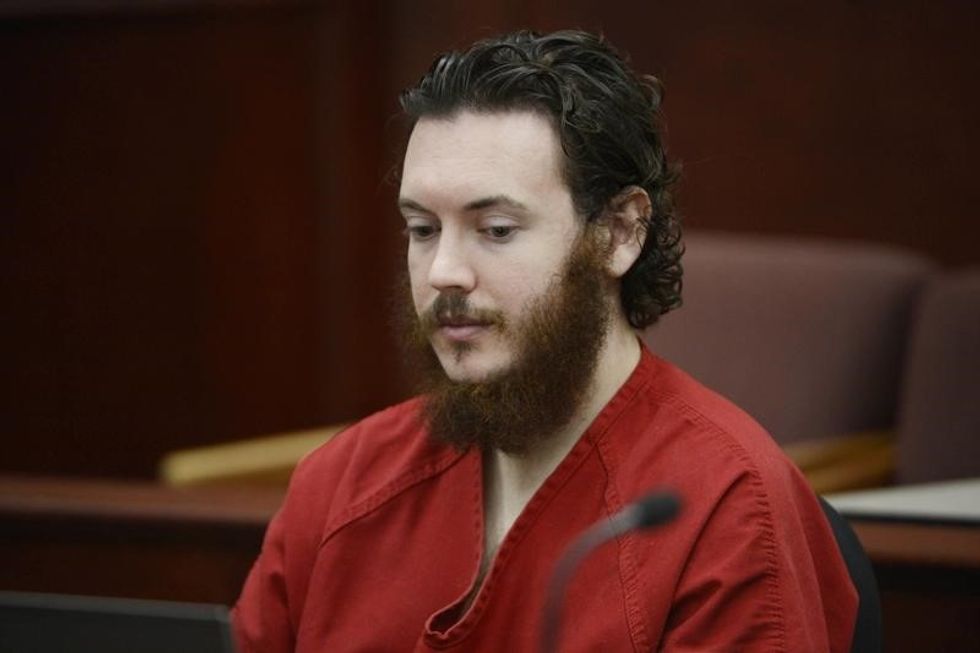 By Maria L. La Ganga and Tina Susman, Los Angeles Times (TNS)
Jurors weighing James E. Holmes' fate moved one step closer to sentencing him to death Monday when they ruled unanimously that the gunman in the Aurora, Colo., mass shooting did not deserve leniency for killing 12 movie-goers and injuring 70 others.
Defense attorneys called a parade of family members, elementary school teachers, former neighbors and childhood friends over the course of four days to try to convince the panel of nine women and three men that the 27-year-old's life should be spared.
They were unsuccessful. It took the jury just three hours to reach a verdict, and to move the sentencing portion of the trial into its third and final phase. In that phase, jurors will listen to victim impact statements and decide if Holmes deserves death.
Holmes stood still and silent, his hands in the pockets of his khaki trousers, as Judge Carlos A. Samour Jr. read the jury's decision as it pertained to each of the 12 slain victims. It took 10 minutes. Afterward, the judge polled each juror.
There were no audible outbursts from the courtroom. "You must observe proper courtroom decorum," Samour said before the verdict was announced. "I am sensitive to the fact that this case may evoke powerful emotions," he added.
In the complicated calculus of the death penalty in Colorado, sentencing can be composed of up to three separate mini trials, complete with opening statements, witnesses, closing arguments and verdicts.
The first mini-trial concerned aggravating factors. Jurors quickly decided that Holmes was guilty of four aggravating factors when he swathed himself in body armor and blasted his way through the Century 16 multiplex during a midnight screening of "The Dark Knight Rises." Among the factors in the July 23 decision were that he killed more than two people and lay in wait to ambush his victims.
The second part of the sentencing process, which just ended Monday, focused on mitigating factors, and whether they might serve as a basis for lenience for the failed neuroscience student.
Although they deliberated as a group, the jurors' job was to decide individually if they believed that factors existed "in which fairness or mercy may be considered as extenuating or reducing the degree of the defendant's moral culpability," Samour explained.
These mitigating factors do not justify or excuse the murders, Samour told the jury at the beginning of this trial phase, but they "might serve as a basis for a sentence less than death."
Once jurors decided whether there were reasons to be merciful, they had to weigh mitigation against the aggravating factors that made the crime so heinous.
On Monday, they decided that Holmes did not deserve a break. As a result, sentencing moves into its final phase. That's when jurors will hear from victims' families and decide whether Holmes should live or die. This phase is scheduled to begin Tuesday.
The most gripping testimony during the mitigation phase came from Holmes' parents, who had made only limited public statements since the massacre in 2012.
But jurors were not swayed by his mother's tearful protestations: "He never harmed anyone, ever, ever, until July 20, 2012," Arlene Rosemary Holmes testified. "I understand he has a serious mental illness. He didn't ask for that. Schizophrenia chose him. He didn't choose it."
Nor were they moved by Robert Holmes' comments from the witness stand.
Defense attorney Tamara Brady: "Is James Holmes your son?"
Robert Holmes: "Yes he is … "
Brady: "Do you still love him?"
Holmes: "Yes I do."
Brady: "Why?"
Holmes: "He's my son. We got along pretty well. He's an excellent kid."
Colorado has carried out only one execution since 1976, and its death row has just three inmates, compared to California's, with 743. Colorado Gov. John Hickenlooper has said he will not sign a death warrant while he is in office.
However, a Quinnipiac University Poll of 1,231 voters released July 27 found that Coloradans favor the death penalty for Holmes 2-1.
(c)2015 Los Angeles Times. Distributed by Tribune Content Agency, LLC.
File photo: James Holmes sits in court for an advisement hearing at the Arapahoe County Justice Center in Centennial, Colorado June 4, 2013. REUTERS/Andy Cross/Pool