Japan Typhoon Tolls Hits Seventeen, Set To Rise
@AFP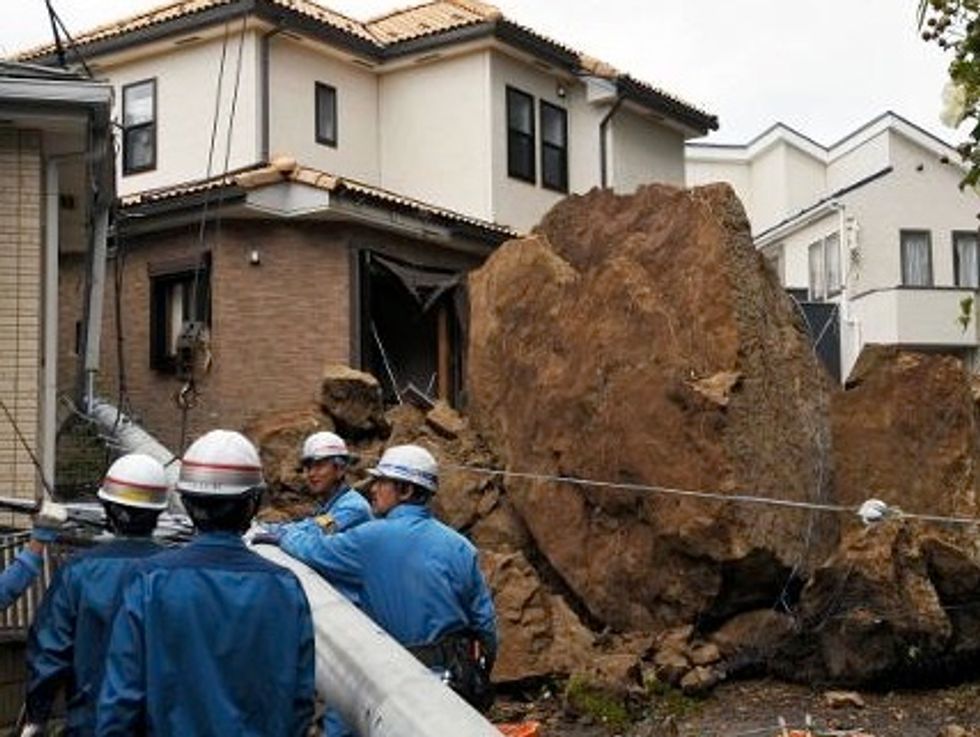 Tokyo (AFP) – At least 17 people died as a powerful typhoon lashed Japan's Pacific coast Wednesday, media reports said, with the death toll likely to rise.
Typhoon Wipha, dubbed the strongest in a decade, caused landslides that buried houses as it churned past an island just south of Tokyo.
Public broadcaster NHK and Jiji Press reported at least 16 people had died and 51 were unaccounted for on Oshima, after houses were destroyed or swept away by a series of landslides and floods on the island, 120 kilometres (75 miles) south of the Japanese capital.
"We've confirmed that 13 people have died, and the number is likely to increase later," a police official in Oshima earlier told AFP.
A woman was confirmed dead in western Tokyo after her body was recovered from a river.
Many of the bodies of those who died on Oshima were found in houses that had been splintered by huge volumes of earth sent crashing down mountainsides by torrential rains and strong winds.
Footage from the island showed ruined wooden houses half buried in mud. Mangled trees and other debris were piled up around them.
The storm dumped more than 12 centimetres (5 inches) of rain on Oshima in an hour, according to the meteorological agency.
Many local residents had sought shelter in evacuation centres, reporting dirty water had been gushing into their homes, according to local media.
Emergency workers had rescued two people who were trapped inside a destroyed house by around 8 am (2300 GMT), NHK said, adding police and firefighters were having difficulty getting to some stricken areas.
The bodies of two of those who died were discovered in a swollen river, while one other was pulled from a crushed house, NHK said.
"City hall and fire station officials are doing rescue work in places accessible," a local official told AFP.
The local authority has not been able to confirm the whereabouts of 51 of the island's more than 8,300 residents, Jiji Press reported.
It was not known if they were simply unable to make contact or if their situation was more grave.
Tokyo Metropolitan Police said earlier it was dispatching about 50 special police officers to the island as reinforcements, Jiji Press said.
Japanese troops have also sent three helicopters and several servicemen to Oshima to help with the rescue effort at the request of the Tokyo Metropolitan government, a defence ministry spokesman said.
In western Tokyo, a woman who appeared to be in her 40s was confirmed dead at a hospital after she was discovered in a river, making the total death toll to 17, police and reports said.
A further three people were missing in the greater Tokyo area, officials and reports said.
In Kanagawa prefecture, south of Tokyo, helicopters were used to look for two elementary school boys who were believed to have been near a beach during the storm, a police spokesman said.
And fears were growing for the safety of a man in his 50s in Chiba prefecture, who has been missing since telling police there had been a landslide behind his house.
Further north, the operator of the battered Fukushima nuclear plant said it had released some rain water that was trapped inside its barrages, but added that its radiation reading was within safety limits.
It reported no ill effects on the power station, where thousands of tonnes of radiation-polluted water are being stored in tanks after being used to cool reactors.
At a train station east of Tokyo, a landslide left a section of the track unsupported, a spokeswoman for Keisei Electric Railway said.
The Keisei line is one of the major rail access ways to the busy Narita Airport, the main international gateway to Tokyo.
More than 400 flights to and from Tokyo have been cancelled, most of them domestic, according to major Japanese carriers All Nippon Airways and Japan Airlines.
Two flights between Tokyo and Seoul and another two flights between Tokyo and Hong Kong were among the cancellations, ANA said.
Altogether, the cancellations affected plans of some 61,600 travellers, the airlines said.
Typhoon Wipha, which had not made landfall, brought heavy rains and strong winds to Tokyo's metropolitan area, heavily disrupting the morning commute for hundreds of thousands of people.
At 0600 GMT, it was located in the Pacific, east of the northeastern region, and had become an extratropical cyclone, according to the Japan Meteorological Agency.
AFP Photo/Jiji Press