Japan Volcano Rescue Suspended As Death Toll Rises To 36
@AFP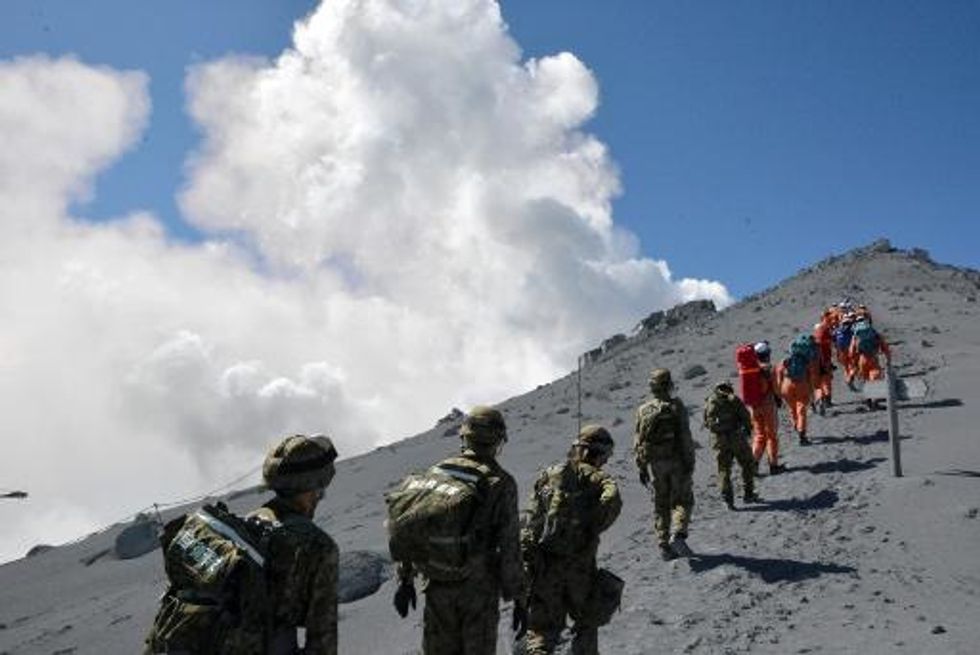 Tokyo (AFP) — Five more bodies were found near the peak of an erupting Japanese volcano on Monday, as rescuers suspended their search because of the growing danger from toxic gas.
The grim discovery takes to at least 36 the total number of people feared to have died when Mount Ontake erupted without warning during a busy hiking weekend.
A police spokesman told AFP the five bodies were in addition to 31 discovered Sunday.
Hundreds of firefighters, police and troops had spent much of Monday around the peak, with helicopters flying overhead, despite the gases and steam billowing from the ruptured crater of the 3,067-meter (10,121-foot) volcano.
A Japanese army official who took part in the search said rescuers had been wearing helmets, bullet-proof vests, goggles, and masks to protect themselves from any fresh eruption.
"I saw rocks up to probably one meter (3.3 feet) across (that had been thrown through the air by the force of the eruption)," he said, adding the search had been difficult and involved digging through ash.
Heartbreaking stories have begun to emerge from survivors who made it down the mountain as rolling clouds of volcanic debris swept down its flanks, smothering everything in their path.
"Some people were buried in ash up to their knees and the two in front of me seemed to be dead," one woman told the Asahi television network.
Another told how she had heard the last moments of a victim battered by a cascade of rocks.
"There was someone lying outside the hut after being hit in the back," she said. "He was saying 'It hurts, it hurts,' but after about half an hour he went quiet."
Seiichi Sakurai, who had been working at one of the huts around the top of the volcano, told public broadcaster NHK that he had tried his best to help people but could not save them all.
"Ash was constantly falling… Some people were buried alive but I could do nothing but tell (rescuers) about them over the radio," he said.
Another survivor told the Yomiuri newspaper he had seen a boy shouting "It's hot" and "I can't breathe!" near the peak, before the ash clouds brought blackness and silence.
– 'It's over. I'm dying now' –
On Monday morning, eight bodies — both men and women — were airlifted from the mountain.
About 60 people suffered injuries in the disaster, the government has said, including people who were hit by flying rocks and inhaled hot or poisonous fumes.
For anguished families, the wait for news was taking its toll.
A tearful father sobbed as he clutched a photograph of his son and the young man's girlfriend, who had not been heard from since the eruption.
An elderly woman told the Asahi network that her son had telephoned her just after gas, rocks, and ash began spewing from the volcano.
"He told me it erupted… He said 'It's over. I'm dying now' and then the line was cut off," the woman said.
The meteorological agency forecast further eruptions, warning that volcanic debris may settle as far as four kilometers (2.5 miles) from the peak.
Japan's meteorological agency keeps a round-the-clock watch on 47 volcanoes thought to be at risk of violent activity over the next century, including Mount Fuji, whose eruption could have catastrophic effects.
But Toshitsugu Fujii, a volcanologist at the agency, admitted accurate forecasting was very difficult.
Steam explosions such as those on Ontake often occur without warning, he said.
"People may say we failed to predict this (because there were earthquakes in September) but this is something that could not be helped, in a sense. That's the reality of the limit of our knowledge," he said Sunday.
AFP Photo
Interested in more world news? Sign up for our daily email newsletter!