Jeb Bush Raises Tons Of Money, Loses Credibility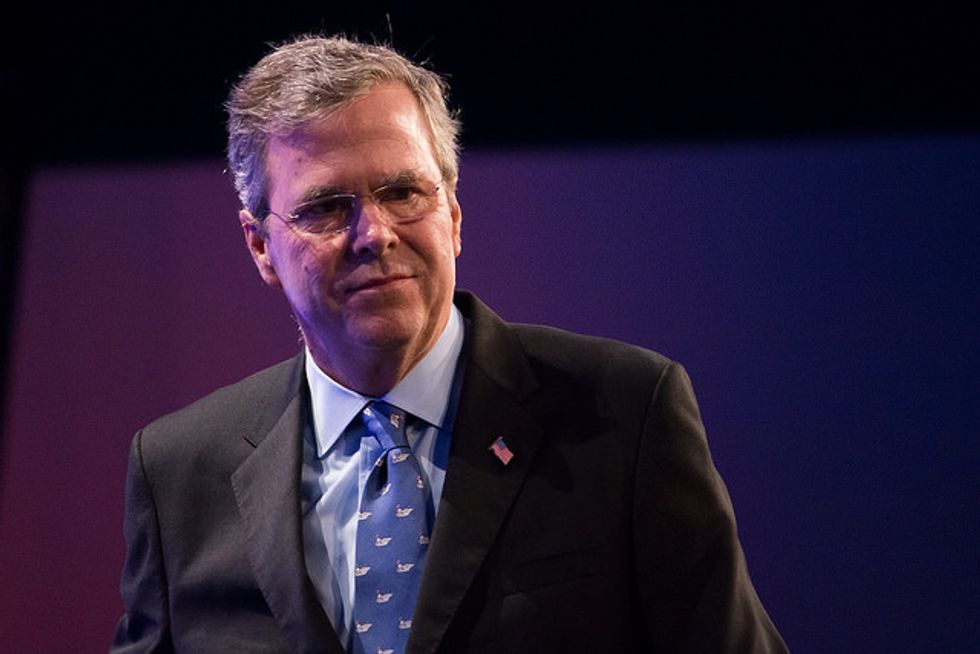 The following words were actually spoken last week by Jeb Bush's non-campaign spokesperson: "Gov. Bush is actively exploring a run. He has not made a final decision."
Every grownup in America knows this is a lie.
The voters know Jeb has already decided to run for the White House in 2016. Campaign donors know he's running. And the entire busload of other Republican presidential candidates knows he's running.
Two campaign-finance watchdog organizations, the Campaign Legal Center and Democracy 21, want the U.S. Justice Department to investigate the "charade" of Bush's non-campaign. They say it's merely a weasel move that allows him to rake in unlimited, and mostly unregulated, donations.
That's absolutely true. It's an epic weasel move, though probably legal.
By pretending he hasn't made up his mind, Jeb can personally go out and raise many millions of dollars for his super political action committee, loftily named "Right to Rise."
The funds taken will eventually be used for his TV and digital advertising, once the fake non-campaign becomes an acknowledged one.
Fittingly, the logo of the Right to Rise SuperPAC features an open hand reaching upward. This might as well be Jeb's hand, waiting to be stuffed with money.
Right to Rise was on pace to raise $100 million by the end of May, an obscene sum that dwarfs what the SuperPACs of other GOP hopefuls have collected.
Several of the contenders have formally announced their candidacies, and others will soon.
The Politico website reports that Jeb is holding off until mid-June before making it official. Meanwhile, he has a campaign manager, press aides and a vast network of experienced fund raisers.
Think of the stressful jobs they've got, running a non-campaign at full speed.
Part of your time is spent telling the media that Jeb really truly hasn't made a decision. Imagine trying to keep a straight face while you say that.
Then the rest of your day is spent reassuring billionaires like the Koch brothers and Sheldon Adelson that Jeb is totally, deeply, profoundly committed to winning the presidency — so please don't write any more checks to Marco Rubio.
The reason for maintaining the public lie about Jeb's non-decision can be traced to federal campaign laws, which were written as a template for high-stakes political weaseling and then expanded into a free-for-all by the current Supreme Court.
As long as Jeb doesn't declare himself a candidate for federal office, he can jet all over the country soliciting unlimited riches for Right to Rise.
Once he officially throws his golf cap in the ring, however, the donations he requests for the SuperPAC would be capped. He and his staff would also be banned (on paper) from strategizing with his pals who run Right to Rise, because SuperPACs are supposed to operate independently of individual campaign committees.
So, the longer Jeb postpones his announcement, the larger the war chest he can accumulate and the more control he can exert over the organization that will bankroll his inevitable candidacy.
Meanwhile, he's free to behave like a legitimate candidate. He can swoop into primary states such as Iowa and New Hampshire, shake hands, pose for pictures, smooch babies, bash Obama, suck up to Fox News, and even pull a Romney-style flip-flop when asked about the Iraq war.
All this while insisting he's not running for the White House — he's just "actively exploring," a phrase more suitable to a prostate exam.
Sometimes Jeb hasn't made it easy for his non-campaign staff to keep up the act.
During a recent non-campaign stop in Nevada, he actually let slip the forbidden words: "I am running for president in 2016."
Then, in a rather unsmooth way, he scrambled to say, "If I run…."
The fundraising benefits of perpetuating this farce will at some fast-approaching time be outweighed by the risks. Voters who aren't yet sold on Jeb might start to feel that he's insulting their intelligence.
Another danger is that he appears at ease in the role of wry deceiver. People prefer straight-talking candidates, or at least candidates who do a good impression of straight talking.
After stumbling so badly on the subject of Iraq, Jeb can't afford to look either indecisive or evasive.
Nobody believed Hillary Clinton for all those months while she denied that she'd made up her mind to run. Nobody believes Jeb now.
He's probably raised more money than all the other GOP candidates put together, but he might need every penny to buy back some credibility.
(Carl Hiaasen is a columnist for The Miami Herald. Readers may write to him at: 1 Herald Plaza, Miami, Florida, 33132.)
Photo: imrimages via Flickr