Jeb Bush Says Illegal Immigration Not A Felony, But An 'Act Of Love'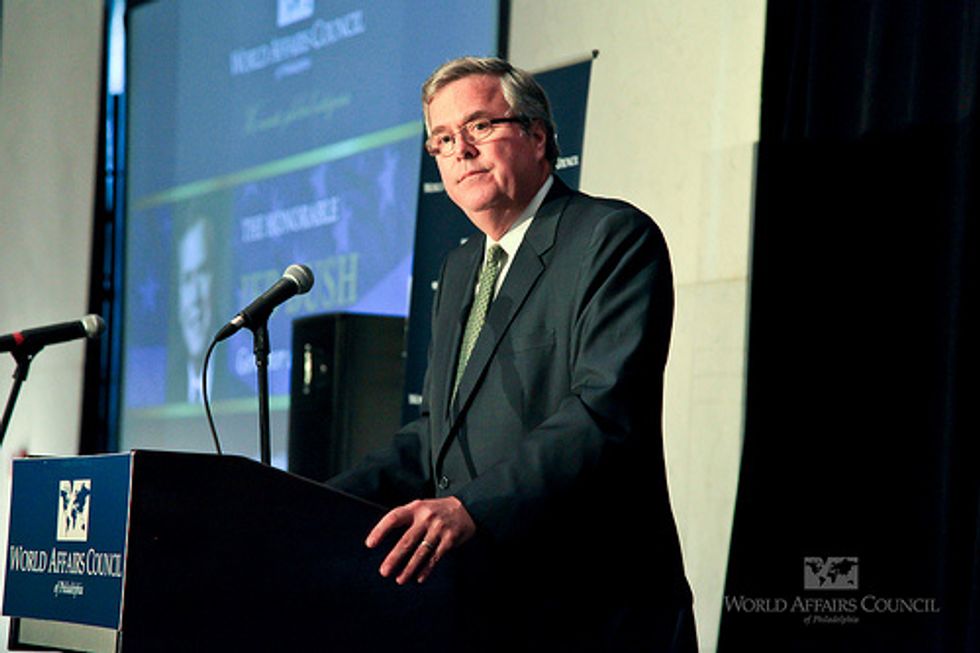 By Lisa Mascaro, Tribune Washington Bureau
WASHINGTON — Republican Jeb Bush knew that calling illegal immigration an "act of love" was going to light up the political world even before he made the unorthodox comment, and then he did it anyway.
The former Florida governor and potential 2016 Republican presidential contender served up a tough-love message to his party, which has tried but largely failed to soften its often rough tone against immigrants.
"We need to get beyond the harsh rhetoric to a better place," he said over the weekend during a 25th anniversary celebration of his father's presidency at the George H.W. Bush Library and Museum in Texas.
"I'm going to say this and it's going to be on tape, and so be it," he said, before launching into a defense of those who cross borders illegally — often "a dad who was worried their children didn't have food on the table."
"Yes, they broke the law, but it's not a felony," he went on. "It's an act of love, an act of commitment to your family. I honestly think that is a different kind of crime."
Bush's comments come as action on an immigration overhaul has ground to a halt in Congress, even as protesters held a vigil and fast Monday on the National Mall.
House Speaker John A. Boehner, R-Ohio, has shown no interest in taking up a bipartisan Senate-passed bill, and efforts by Majority Leader Eric Cantor, R-Va., to draft an alternative measure to help younger illegal immigrants have all but fizzled.
Republican party elders have urged congressional leaders to pass an immigration overhaul because the issue is important to Latino voters, who have fled the GOP in the years since the last Bush was in office.
Last week, the chairman of the House Armed Services Committee, Rep. Howard "Buck" McKeon, R-Calif., refused to add a measure — sponsored by other Republicans to help veterans obtain green cards — to a must-pass defense bill.
Bush, whose political family has long tried to lead the party on immigration issues, said he thought the Senate bill was a "good effort" and that a reform of immigration laws was needed to help bring immigrants into the U.S. economy.
"They could contribute to our country if we actually organized it in a better way," he said.
Photo: World Affairs Council of Philadelphia via Flickr