Jeb Bush's Campaign Headquarters In Waiting Sees Flurry Of Activity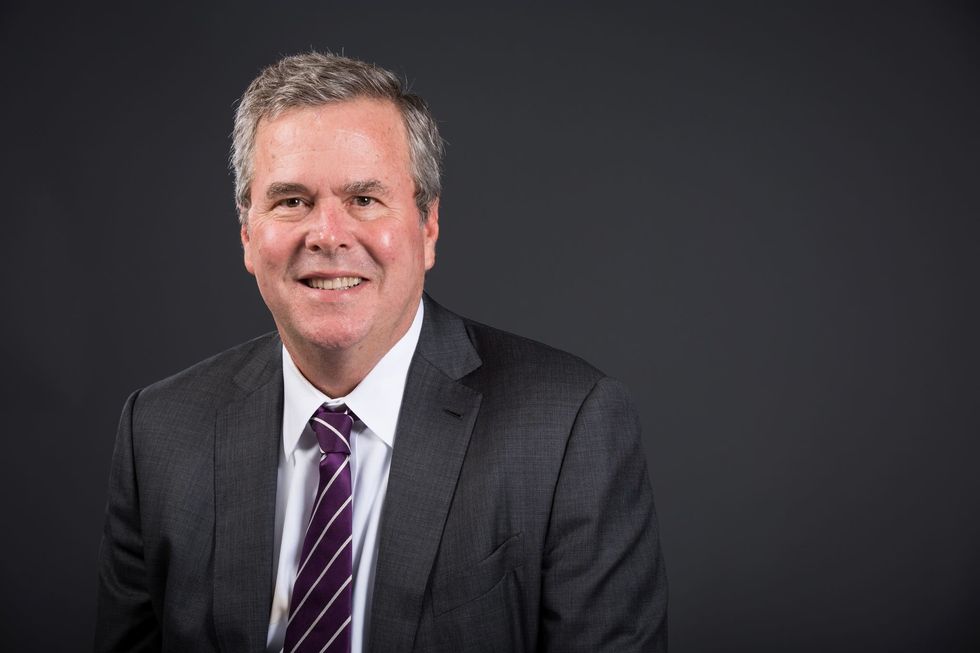 By Patricia Mazzei and Nicholas Nehamas, Miami Herald (TNS)
MIAMI — There's no "Jeb Bush for President" sign — at least, not yet — outside the sturdy, six-story office building on West Flagler Street. But inside, the former Florida governor's political team has begun to organize his likely 2016 Republican presidential bid.
Bush's political action committee, Right to Rise, recently leased space on two floors of the Flagler Corporate Center at 9250 W. Flagler St. in West Miami-Dade County. For now, they remain a campaign headquarters in need of a campaign since Bush has yet to formalize his candidacy.
"Welcome," reads a placard with Right to Rise's logo on it inside the building's lobby, past a security desk that asks visitors to sign in and provide identification before they walk in. Two more Right to Rise signs point to the PAC's offices on the fifth and sixth floors.
As an unofficial candidate, Bush has been raising big money at events hosted by his PAC and super PAC, both named Right to Rise. Once he launches his campaign, Bush will be limited in his ability to coordinate with the deep-pocketed super PAC, which is nevertheless expected to take an unprecedented role in the race, though it won't be physically housed with Bush's operation.
Bush's communications staff and some of his finance team have already moved into the newly leased Miami headquarters. Team Jeb has only leased a small portion of the building. But it seems ready to house a large operation: It has ample parking and an atrium cafeteria. A large American flag hangs over the fifth-floor balcony.
The 600,000-square-foot building, constructed in 1974, was known until recently as the FP&L Center for its main tenant, Florida Power & Light. While more than half the offices remain under FPL control, other tenants have been moving in since the building was sold last year and began undergoing renovations, said Gordon Messinger, the building's leasing agent. Messinger said that he leased about 30,000 square feet to Bush's PAC, though that is likely to grow as needed.
"They're moving slowly in," Messinger said. "They'll be there for as long as the campaign is there."
Offices in the building have been listed for rent at $26 per square foot, but Messinger wouldn't say whether that's the rate being charged to Right to Rise. Commercial property in ritzier neighborhoods — along Brickell Avenue or in Coral Gables, where Bush lives — goes for significantly higher, sometimes more than $40 a square foot, Messinger said.
Bush's headquarters will be closer to the home of the only declared local presidential candidate so far, Republican Senator Marco Rubio. Rubio lives in West Miami, about four miles away. Bush is about seven miles away — a 20-minute drive going against rush-hour traffic. Rubio's team is running his campaign, for now, from Washington, D.C.
Bush previously had a mile-long, five-minute commute to his private office at the Biltmore Hotel. His staff has been relocating to the Miami area — chiefly the Gables — over the past few weeks in preparation for a campaign launch.
At the more budget-friendly location, Bush's staff won't be part of the shiny downtown Miami skyline, or anywhere near the beach. Instead, they'll be close to the city of Sweetwater — which was founded by Russian circus midgets and later became known as Little Managua after its sizable Nicaraguan immigrant population — and south of the city of Doral, Miami-Dade's industrial center and a Venezuelan- and Colombian-American stronghold.
The building belongs to a corporate entity, Hoffman Flagler LLC, that purchased it for $57.5 million last September. Public corporation records show Hoffman Flagler is jointly owned by Jacob and Abraham Hoffman.
South Florida hasn't housed a presidential campaign since Bob Graham ran in 2003, out of the northwest suburb of Miami Lakes.
Photo: Jeb Bush via Facebook