Jeff Sessions Gives A Boost To Legalization Of Pot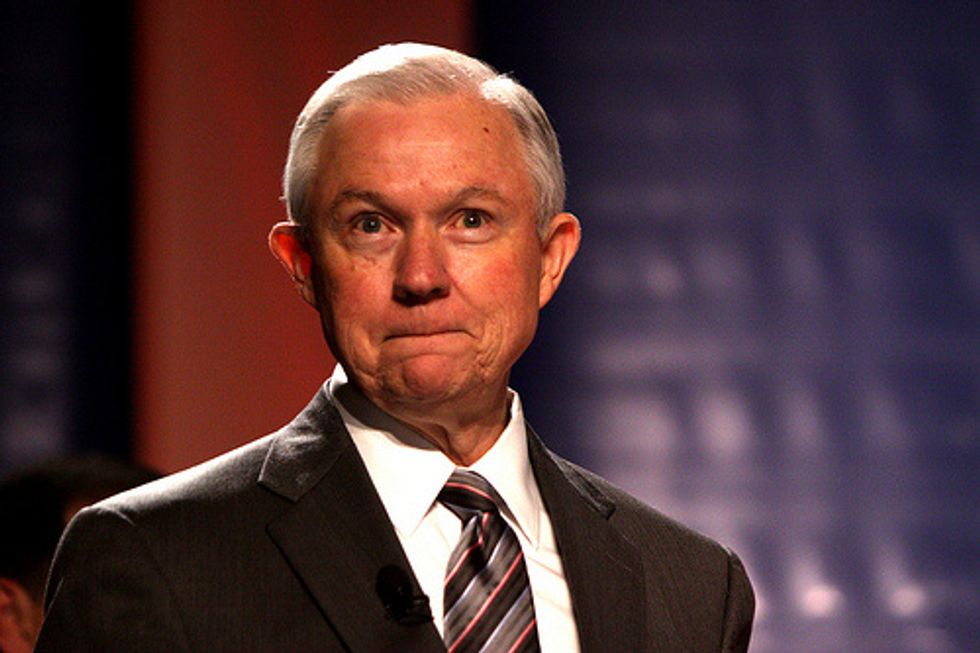 Reprinted with permission from Creators.
When Winston Churchill's party lost an election in 1945, evicting him from the job of prime minister of Britain, his wife ventured that the defeat might be "a blessing in disguise." He replied, "Well, at the moment, it's certainly very well-disguised."
For those who favor legalizing recreational and medical use of marijuana, there is plenty of bad news in Attorney General Jeff Sessions' decision to reverse the Justice Department's previous hands-off policy toward state experimentation. He ordered federal prosecutors "to enforce the laws enacted by Congress." That directive poses a threat to cannabis growers, dispensaries, investors and users who had been operating under a permissive regime.
"This is going to create chaos in the dozens of states whose voters have chosen to regulate medical and adult use (of) marijuana rather than leaving it in the hands of criminals," said Neill Franklin, executive director of the Law Enforcement Action Partnership, which favors legalization. The Drug Enforcement Administration could raid dispensaries that states have allowed, as it did under President George W. Bush and even under Barack Obama.
But the crackdown could amount to the last gasp of marijuana prohibition. The best way to get rid of laws that are generally unpopular and destructive is to enforce them stringently. By threatening an assault on a sector that has established itself across the country, Sessions has picked a fight he is bound to lose.
His policy puts him at odds with the 29 states (and the District of Columbia) that allow medical use of the drug. Together, they comprise nearly 60 percent of the U.S. population. His order is especially hostile to the eight states that have legalized recreational pot. They include Colorado, Washington, Oregon, Alaska, Nevada, Maine, Massachusetts and California, which account for 20 percent of Americans.
It also creates conflict with many people in his own party. Sen. Cory Gardner of Colorado said the shift contradicted the assurance Sessions had given him, and he threatened to block all Justice Department nominations in response.
Fellow GOP Sens. Dean Heller of Nevada, Lisa Murkowski of Alaska and Rand Paul of Kentucky objected. Rep. Dana Rohrabacher of California accused Sessions of a "profound misreading of the Constitution, which allows states, not the heavy-handed federal government, to determine such issues."
Sessions is a prisoner of his immutable belief that "using drugs will destroy your life." But the more than 100 million Americans who have consumed cannabis, and particularly the 35 million who enjoy it on a regular basis, know better. The attorney general seems intent on proving that you don't have to be stoned to be detached from reality.
He is also inviting a backlash. Just hours after his announcement, the Vermont House of Representatives approved a bill to allow recreational use of cannabis, which the Senate had passed last year, and Republican Gov. Phil Scott supports the idea. This week, the New Hampshire House voted to legalize possession of small amounts of pot, though Republican Gov. Chris Sununu is opposed.
Illinois, which allows medical marijuana, could benefit. State Sen. Heather Steans, who had already introduced a bill to legalize recreational use, says, "What the attorney general did may be pushing states further."
Rohrabacher thinks Sessions' move will encourage Congress to foil him. House Democratic leader Nancy Pelosi said she will introduce a bill to let states make their own choices on cannabis. She may find little opposition. Politico reported that it "could not find a single member of Congress who had issued a statement in support of Sessions' actions."
His mistake was to disturb a status quo that allowed members of Congress to accommodate public support for legalization without having to vote for it. Deference to state liberalization could be couched in terms of keeping the federal government from interfering with matters beyond its responsibilities — an approach that largely satisfied both Democrats and Republicans.
Sessions is forcing many members to choose between supporting prohibition of cannabis and siding with their own states and constituents. Given that two-thirds of Americans want to allow recreational weed, it's not a shrewd strategy.
His position is more likely to boost support for legalization than to diminish it. That's partly because he works for a president who is notably unpopular and partly because he himself has an approval rating of 24 percent. Legalization supporters could not ask for a more useful adversary.
They may lament Sessions' ill-informed and punitive decision now. Someday, they may remember it as a blessing in disguise.
Steve Chapman blogs at http://www.chicagotribune.com/news/opinion/chapman. Follow him on Twitter @SteveChapman13 or at https://www.facebook.com/stevechapman13. To find out more about Steve Chapman and read features by other Creators Syndicate writers and cartoonists, visit the Creators Syndicate website at www.creators.com.