Jesse Ventura's Lawyer: 'American Sniper' Incident Never Happened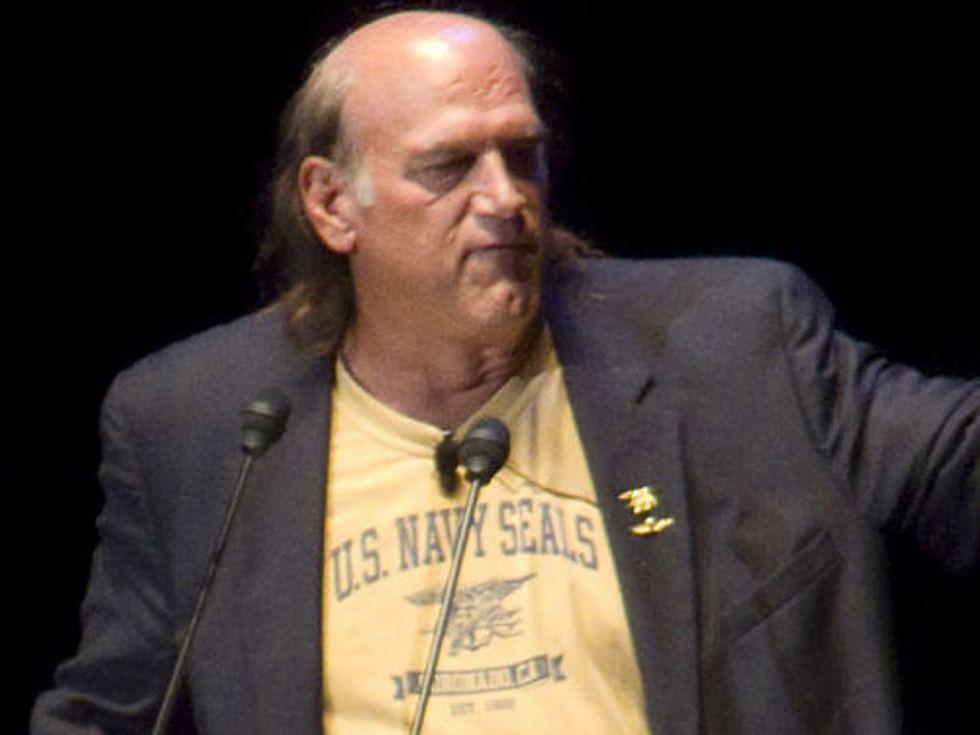 By Randy Furst, Star Tribune
MINNEAPOLIS — Former Minnesota Gov. Jesse Ventura's lawsuit claiming that he was defamed in the book American Sniper got off to a fast start Tuesday. Ten jurors were selected in the morning and lawyers for both sides presented their opening statements early in the afternoon.
Ventura's suit claims that the late Chris Kyle defamed him in his memoir of his experiences as a Navy SEAL by making up a story about a barroom fight. Kyle did not identify Ventura in the book but later named him in radio and television interviews.
In his opening statement attorney David B. Olsen, representing Ventura, said that the fight in the Coronado, Calif., bar never occurred. He said he will produce witnesses who will dispute both the fight and the derogatory remarks Kyle attributed to Ventura. Olsen also said that when Ventura showed up at a graduation the following day he had no bruises and there was no discussion of any fight among the Navy SEALs who had been at the bar.
John Borger, attorney for Taya Kyle, who is Kyle's widow and oversees his estate, said he would produce numerous witnesses who saw various parts of the incident described in the book.
Jurors were shown a brief excerpt of a video deposition Chris Kyle gave before he died, and Borger said that Kyle testified in the deposition that he is "absolutely sure" of what he wrote about concerning Ventura's behavior that night.
Six men and four women were chosen from a pool of 26 interviewed Tuesday morning by U.S. District Judge Richard Kyle. They include a mortgage specialist, a psychology student at Minnesota State University, Mankato, and a corn and soybean farmer.
Ventura, dressed in a dark gray suit and striped tie, occasionally consulted with attorneys and rocked back and forth in his chair as the judge interviewed potential jurors. His ponytail was trimmed to 3 inches. He said he would have no comment until the trial was over.
Kyle said the trial could last three weeks.
One potential juror was excused after she said she was a neighbor of the Venturas and it would be difficult for her to be impartial. She exchanged smiles with Ventura as she left.
The suit centers on a section of the book titled "Punching out Scruff Face," which describes a confrontation between Kyle and a man he said he knocked down after he criticized Bush and the war in Iraq and said the SEALs "deserve to lose a few."
In television and radio interviews promoting the book in 2012, Kyle said Ventura was Scruff Face. Ventura sued in January 2012.
About a year later, Kyle was killed at a shooting range in Texas by a 25-year-old former Marine allegedly suffering from post-traumatic stress disorder whom Kyle was trying to mentor.
Ventura is scheduled to testify, along with his wife, Terry, and adult son, Tyrell, according to documents filed by his attorneys.
Several former SEALs who were at the bar that night are expected to testify they saw no confrontation, nor did they hear Ventura make the derogatory remarks about SEALs and the U.S. military alleged in Kyle's book.
Two local First Amendment lawyers, John Borger and Leita Walker, are representing Taya Kyle and are expected to call witnesses who will support her husband's version of events.
It's an unusual and important case, according to observers.
"This is one of the most important First Amendment cases in recent Minnesota history," says Mark Anfinson, an attorney who teaches communications law at the University of St. Thomas and specializes in media issues.
The standards for proving defamation are high, Anfinson said. "He's got to prove not only that the publication was false and harmed his reputation, but he has also got to prove that it was published with actual malice."
In a brief telephone interview last week, Ventura said the incident Kyle described in the book was "completely fabricated; that's why we are in court."
Photo via Wikimedia Commons