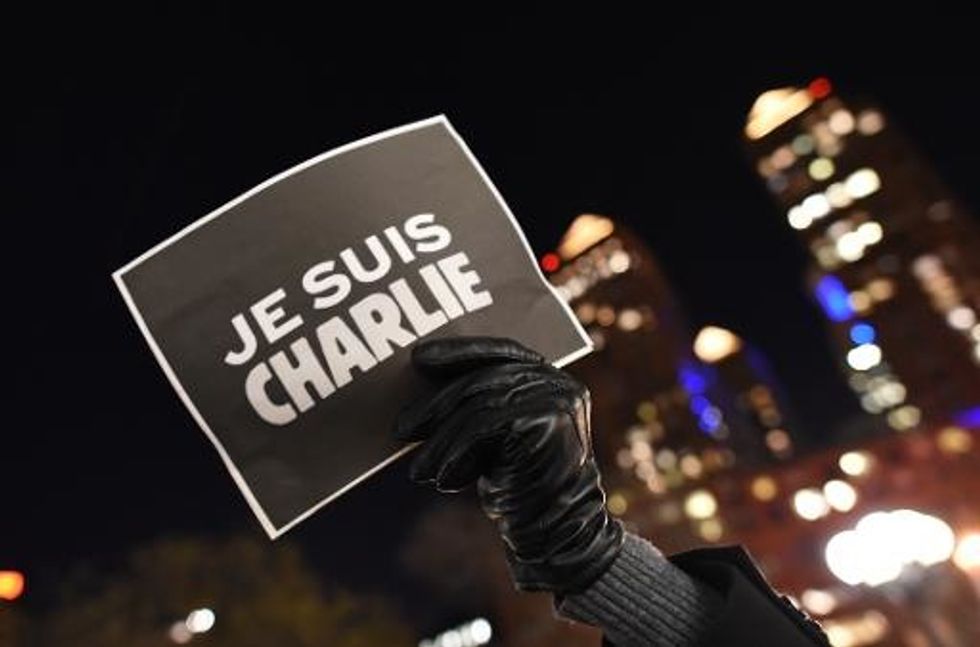 This terrible thing happened.
Three hooded men armed with Kalashnikov assault rifles seized a magazine newsroom in Paris and murdered many of the journalists meeting there. At least 12 people are dead; at least 11 others are injured. A detail I can't shake: One of the gunmen reportedly began the massacre by calling out the journalists by name.
As I write, we already know that four cartoonists for the satirical magazine Charlie Hebdo are among the dead: Editor Stephane Charbonnier, known as Charb; Jean Cabut, known as Cabu; Bernard Verlhac, known as Tignous; and Georges Wolinski.
Charlie Hebdo has made fun of many religious leaders, but it is best-known for having offended fundamentalist Muslims. And even many non-Muslims object to them as racist in their depictions. In 2011, the newsroom was firebombed for its satire on Islam and cartoons ridiculing the Prophet Muhammad.
As various news organizations have reported, Charbonnier had been under police protection since the firebombing, but he made clear that he would not be intimidated by threats of violence.
"It may sound pompous," Charbonnier told the French daily newspaper Le Monde in 2012, "but I'd rather die standing than live on my knees."
Eyewitness videos show that after Charbonnier and at least 11 others, including two police officers, were murdered, the killers shouted in the street before fleeing.
"God is great," they yelled. "We have avenged the Prophet Muhammad. We have killed Charlie Hebdo."
We journalists are frequently criticized for inflating coverage when one of our own is killed. This week has been no exception. Within hours of the Paris massacre, my Twitter and Facebook feeds were peppered with posts from those demanding to know why we weren't pursuing with equal vigor the story of a homemade explosive that blew up Tuesday outside an NAACP chapter in Colorado Springs, Colorado.
Their outrage is understandable, but I would argue that so is our focus in the immediate aftermath of the Paris massacre. The Colorado Springs explosion reportedly did minor damage to the NAACP office and a barbershop in the building, but no one was injured or killed. The FBI is investigating.
I am writing this before we know the identities of all the victims in the Charlie Hebdo massacre. So much sad news to come. There will be official investigations, but we already know the killers' dark hearts because of what they screamed — behind the anonymity of hoods, we should always emphasize.
We mourn our colleagues who die in war zones, but this one feels different because of where they were killed. They had simply shown up for work. If you're a journalist, it's too easy to imagine this happening again, to journalists somewhere else. To journalists anywhere else.
I understand that not everyone in the general public cares about the safety of journalists. I do ask that you try to understand why many people do. We are, after all, fellow humans.
Of course, we are seeing the inevitable criticism that Charlie Hebdo should have just stopped its habit of inciting. A desire to label satire as needless provocation illustrates its need. Extremists have always relied on fear to cripple their opposition.
Salman Rushdie spent years in hiding after Iran's Ayatollah Ruhollah Khomeini issued a fatwa for his assassination because of his novel The Satanic Verses. On Wednesday, his support for the slain journalists and the magazine was unequivocal.
I stand with Charlie Hebdo, as we all must, to defend the art of satire, which has always been a force for liberty and against tyranny, dishonesty and stupidity. 'Respect for religion' has become a code phrase meaning 'fear of religion.' Religions, like all other ideas, deserve criticism, satire, and, yes, our fearless disrespect.
Mohammed Moussaoui, president of the Union of French Mosques, was also steadfast: "We condemn … this hateful, criminal act. … While the terrorists are intensifying their acts to exacerbate the confrontation inside our country, both Muslim and Christians have to intensify their actions to give more strength to this dialogue, to make a united front against extremism."
By Wednesday afternoon, cartoonists from around the world had produced tributes to Charlie Hebdo and the journalists who were murdered.
Some news organizations blurred images of the magazine's controversial illustrations in their coverage, but many others posted galleries of them. The entire newsroom of Agence France-Presse posed for a picture holding white-on-black signs, which read, "Je suis Charlie," or "I am Charlie." The hashtag "JeSuisCharlie" generated a Twitter thread as inspiring as it was informing.
On Wednesday evening, crowds gathered throughout France, including at Place de la Republique in Paris. Many raised pens in tribute to the slain cartoonists.
By the tens of thousands, they showed up, their faces visible to the world. Many of them chanted, "We are not afraid" and "We are all Charlie."
This terrible thing happened.
Hope survived.
Connie Schultz is a Pulitzer Prize-winning columnist and an essayist for Parade magazine. She is the author of two books, including "…and His Lovely Wife," which chronicled the successful race of her husband, Sherrod Brown, for the U.S. Senate. To find out more about Connie Schultz (con.schultz@yahoo.com) and read her past columns, please visit the Creators Syndicate Web page at www.creators.com.
AFP Photo/Don Emmert