Jim Marchant, Antisemitic Election Denier, Enters Nevada GOP Senate Primary
@jeisrael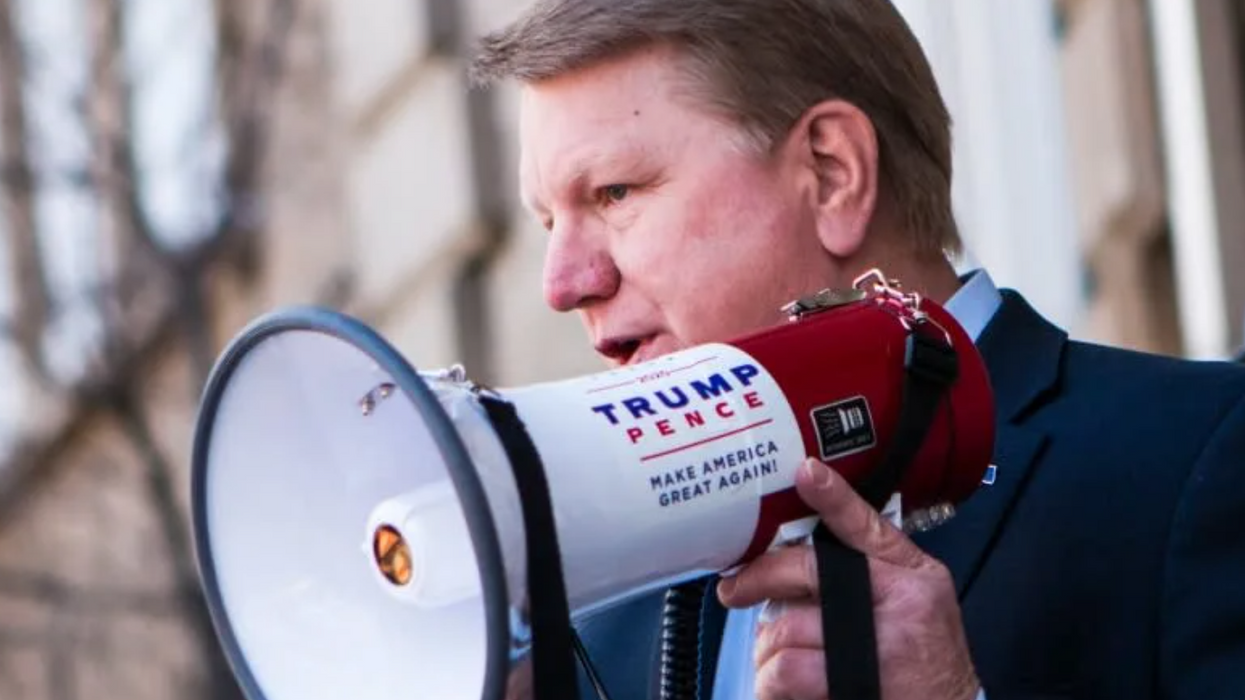 Republican Nevada election denier Jim Marchant announced Tuesday that he will run for the U.S. Senate in 2024.
Marchant, who lost to Democratic nominee Cisco Aguilar in the race for Nevada secretary of state in November 2022 by a vote of 49 -- 47 percent , held his campaign kickoff at an anti-LGBTQ+ church in Las Vegas with featured speakers that included prominent QAnon conspiracy theorist Michael Flynn and white nationalist Rep. Paul Gosar (R-AZ).
"We have to encourage principled America-first MAGA candidates to run for office," the former one-term state legislator told attendees. "That is why I'm announcing today that I am running for United States Senate."
The seat is currently held by first-term Democratic Sen. Jacky Rosen.
Marchant has frequently pushed false claims of election-stealing. His official campaign bio claims, "In 2020 Jim ran for Congress for Nevada's Congressional District 4 and was a victim of election fraud." He lost that race to Democratic Rep. Steven Horsford by almost five points, 50.7 -- 45.8 percent, and failed to prove actual fraud in a subsequent lawsuit.
In 2022, he was recruited to run for secretary of state, the chief elections officer in most states, by a QAnon influencer who uses the pseudonym Juan O Savin. Marchant told a QAnon conference in October of that year that he had worked with Savin and other QAnon activists to recruit like-minded secretary of state candidates in other states.
After President Joe Biden won Nevada during the 2020 presidential election, Marchant backed a slate of fake electors who gathered at the state Capitol to sign fake electoral certificates and attempted to cast Electoral College votes for former President Donald Trump and former Vice President Mike Pence.
He promoted himself as part of a slate of secretary of state candidates who backed Trump's false election claims, telling Steve Bannon on his "War Room" program in January 2022: "We do have a coalition that we formed on May 1, and it's a coalition of America First secretary of state candidates around the country. … The people are excited that there's somebody doing something behind the scenes to try to fix 2020 like President Trump said. We've got to learn what they did in 2020 in order to go forward and keep it from happening in 2022."
The AP reported in June 2022 that Marchant had made the baseless claim on a podcast that since 2006, every Nevada election winner had been "installed by the deep-state cabal."
Marchant has loudly proclaimed his opposition to LGBTQ+ rights and abortion rights. During the 2022 election campaign , Marchant tweeted , "BAN underage transgender treatment in Nevada and protect our children!" and shared a photo of a baby with the text, "FIGHT for those who can't. Be pro-life. VOTE Jim Marchant to save our next generation!"
Media Matters for America reported in June that Marchant supported requiring all registered voters to register again, supposedly as a solution to the debunked claim that there were a significant number of undocumented immigrants participating in Nevada elections. As Media Matters noted, requirements that voters re-register each year were a favorite tool in the segregated South for preventing Black people from voting and are now illegal.
"One of the things that I'm going to look at, and I don't know if we can do this yet, but it's something I'll most certainly consider, is wipe out the voter rolls completely and then have everybody re-register," he said in a September 2021 interview with America Matters Media.
He also backed eliminating early voting and mail-in ballots and instituting strict photo identification requirements for voters.
In March 2022, following Russia's invasion of Ukraine, Marchant made antisemitic comments about Ukrainian President Volodymyr Zelensky and philanthropist George Soros , both of whom are Jewish.
The Nevada Independent' s Jon Ralston tweeted that Marchant said in an interview: "They have patriots like us..that have been oppressed by the cabal, the central bankers for centuries. And that's who we need to support people that were oppressed by the Soros cabal. Not the government officials. Zelensky is no different than Biden, Clinton, or that cabal."
So far, no other prominent Republicans have jumped into the 2024 Nevada Senate race .
Ralston, an expert on Nevada elections, tweeted on Tuesday that national Republican insiders are hoping for a stronger nominee and predicted: "If Marchant is the nominee, and that would not surprise me, this race is over. Period."
Reprinted with permission from American Independent .
From Your Site Articles
Related Articles Around the Web