Jimmy Carter Campaigns For His Grandson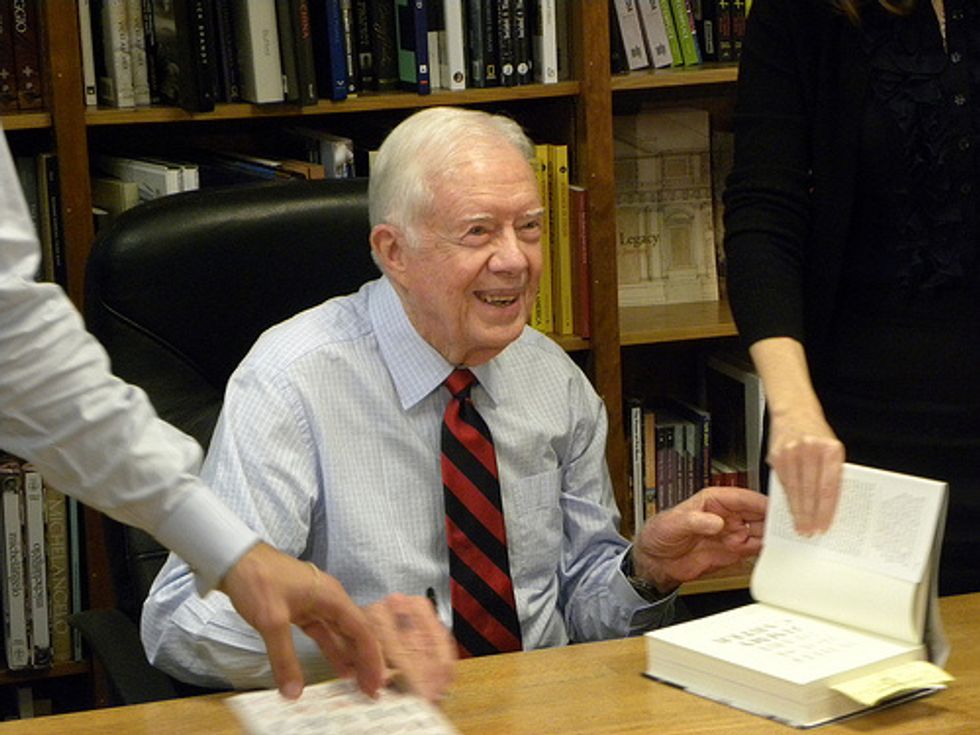 By Greg Bluestein, The Atlanta Journal-Constitution
ALBANY, Ga. — Democrat Jason Carter's campaign for George governor has unleashed a weapon that's long been waiting in the wings: his grandfather, Jimmy Carter.
The 90-year-old former president has helped Jason Carter raise millions of dollars, and has provided him behind-the-scenes counsel. But his appearance Sunday morning at a black church in Albany was his debut on the campaign trail for his grandson's bid to oust Gov. Nathan Deal.
The elder Carter urged congregants to cast their ballots — early voting starts Monday — to help his grandson "make Martin Luther King's dream come true." And he accused Republicans of seeking to deny them voting rights.
"Twelve years ago in Georgia, we had a change in governmental attitude toward the Voting Rights Act, and the right of all people to vote," Carter said. He noted that when he was Georgia governor in the 1970s, he signed a law that designated all high school principals as voter registrars.
"We were blessed by the fact that there were very few Republicans," he said to laughter from the crowd at Mt. Zion Baptist Church, a mostly black congregation. "The point is, 12 years ago that trend was changed. And since then, the Legislature and the governor have been determined to put every obstacle in the way for African-Americans, mentally retarded people and elderly people to vote."
He was referring to Voter ID requirements supported by Deal and his predecessor, Sonny Perdue, that supporters said would prevent fraud but opponents feared would lead to disenfranchisement. Deal and other Republicans applauded the June 2013 Supreme Court ruling that struck down a section of the 1965 law that required Georgia to clear voting changes with federal authorities. Deal said the law had "outlived its usefulness."
Jason Carter, an Atlanta state senator, said he would work to expand ways to register voters should he be elected in November.
"I believe in maximizing participation," he said. "I believe that's what democracy is all about — getting more and more people access to the ballot. We have to make sure we're doing that and not put obstacles in the way."
Jason Carter's strategists have long planned to enlist the elder president in the race's final weeks, but finding the right role for him has been challenging. A high-profile splash on the campaign trail earlier in the race could have distracted attention from his grandson — and given Deal's camp additional ammunition.
"When he asks us to do something, we'll make every effort to do so," Jimmy Carter said in an interview. "I think it's better — this is my own opinion — when he presents himself to groups in Georgia, to be there without me and Rosalynn. We're not part of his campaign, and when we're there, some of the news reporters pay more attention to us than they do to Jason."
The former president acknowledges he can be a double-edged sword. Polls show the majority of Georgians give him high favorability ratings, and his famous name gave his grandson's campaign instant fundraising heft and national attention.
But his one-term presidency remains divisive in Georgia, and Republicans are eager to tie his views on hot-button issues, such as the Middle East conflict or global warming, to his grandson's campaign for governor.
Deal said voters aren't going to be "unduly swayed" by the president either way.
"We can respect his opinion. But we are not a state nor a nation in which titles such as governor are inherited by virtue of your legacy," he said at a recent campaign stop. "It is a position that's voted on by the people of this state, and I don't think we're going to see that kind of influence have a significant difference."
The former president said he's confident he'll help his grandson on the campaign trail far more than he may hurt him.
"I think that in balance, Georgians are still proud I was a governor who performed well and that I was a president who represented our state," said the elder Carter. "But the only way to answer that question definitively when the returns come in in November."
Photo: Talk Radio News Service via Flickr