Jimmy Fallon Stumps Trump With Standard Job Interview Questions (Video)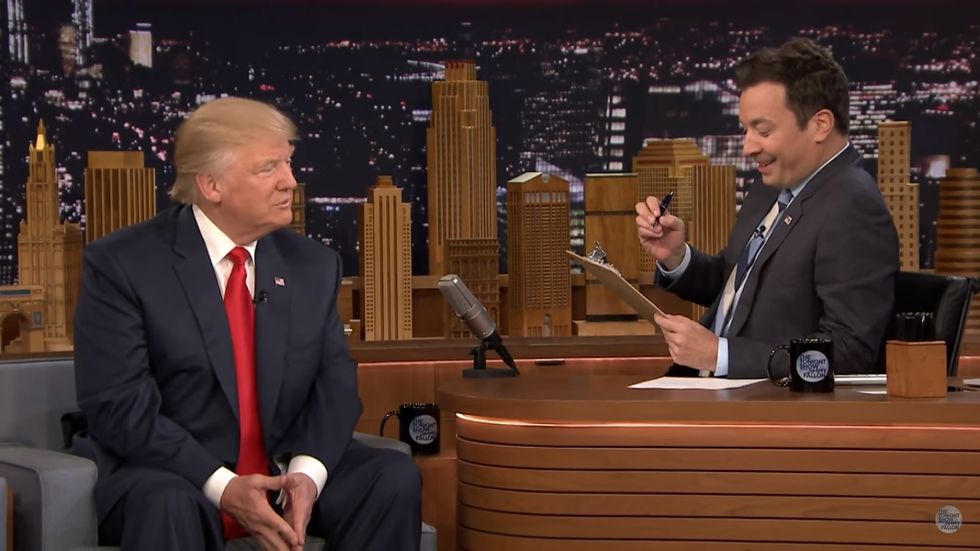 Published with permission from AlterNet
"Why do you want to leave your current job?"
It doesn't take a lot to baffle the Donald. On Thursday night's episode of "The Tonight Show," host Jimmy Fallon and the GOP presidential nominee traded jabs on Trump's hair and his childhood home, which is now on the market. But when it came down to the serious stuff, Trump couldn't even seem to answer a standard job interview question.
"Why do you want to leave your current job?" Fallon asked Trump.
The audience roared, which almost disguised the fact that Trump was caught totally off guard.
"Because I'm sort of looking to make a lot less money," Trump finally answered. "A lot."
How has Trump, the outsider, businessman, the master negotiator, not prepared himself for this question?
"You're going to have to take a pay cut, I'm sorry, yeah," Fallon continued, seeing he wouldn't get a straight answer.
But Fallon wasn't done with the "tough" questions just yet.
"Finally, what will you do if you don't get this position?" Fallon persisted.
Again, Trump stopped short.
"You know, I think I want to, more than anything ever, I want to take over 'The Tonight Show,'" Trump told Fallon, perpetuating the myth that Trump's presidential campaign is a hoax to get TV funding.
And as for the really hard questions, like why Trump is willing to "say nice things about" Putin? Trump "know[s] nothing about" the KGB-trained dictator.
"I don't know him, and I know nothing about him, really. I just think if we got along with Russia, that's not a bad thing," Trump told Fallon, when asked about answers he gave last week to NBC's Matt Lauer in a veterans town hall.
Like they say, ignorance is bliss.
Photo and video: YouTube/The Tonight Show Starring Jimmy Fallon