Joe Biden: I Made 'The Right Decision'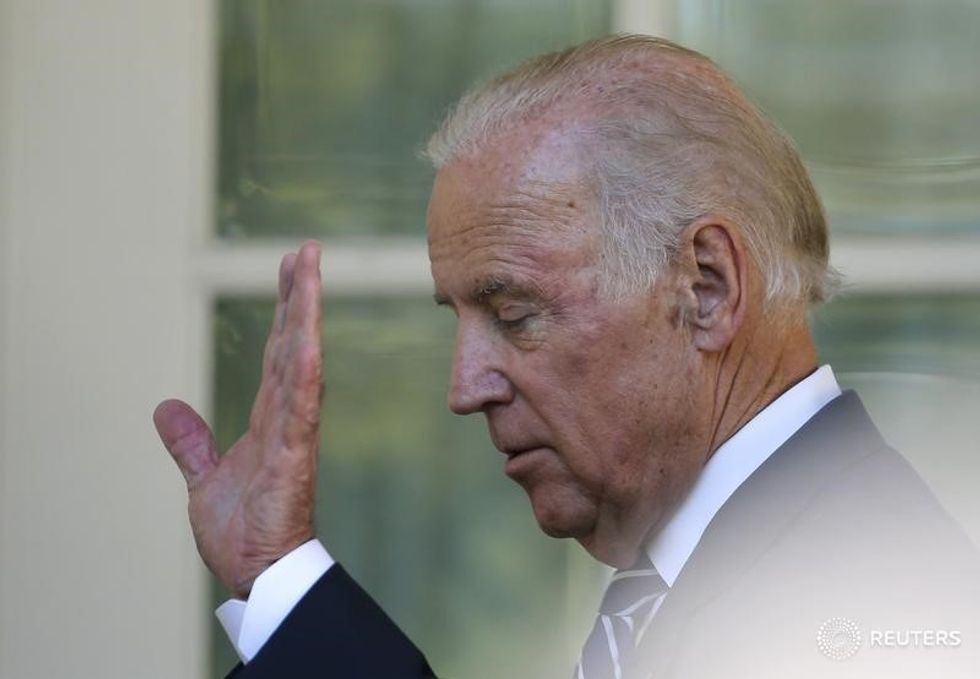 By Margaret Talev, Bloomberg News (TNS)
WASHINGTON — More than six months after his eldest son, Beau, died of brain cancer and six weeks after effectively ending his political career, Vice President Joe Biden is mostly at peace.
Atop his desk aboard Air Force Two as he returns from a trip to the Ukraine is a red folder with the word "cancer" scribbled across the tab, filled with notes and names. On his left wrist, a bracelet made of dark beads and a cross. It's the rosary Beau fingered until he died in May.
He misses his "exceptional son" terribly and, while he admits to a certain wistfulness for the campaign trail, he has come to terms with his decision not to follow through on Beau's wish that he make a third run for the presidency.
"My decision, I know, was the right decision," Biden says of his October announcement that he would not be challenging Democratic front-runner Hillary Clinton and her rivals, Sen. Bernie Sanders of Vermont and former Maryland Gov. Martin O'Malley of Maryland, for the nomination.
"I believed I could win, but that's not enough. I know myself. And I know it takes time," says Biden of the process of finding his way back to life. "You've got to get through the first Thanksgiving — the first empty chair; the first Christmas, the first smell of spring."
In the course of a 40-minute interview, the vice president comes across as much more emotionally settled than over the summer and fall when he was mulling a presidential run. Yet he is still clearly vulnerable, a man trying to make the transition from grieving what's gone to treasuring what's left — his wife, Jill; his surviving adult children Hunter and Ashley, five grandchildren and the next chapter in his professional life.
"Beau was my soul. Beau was an exceptional son," Biden says. "When I lost Beau, I lost the most honest, insightful, knowledgeable political adviser I had. He managed me well, for real."
Biden says he wants to honor Beau by spending much of his last year in office and his post-political life making cancer research and treatment a bigger national priority. Right now, he's trying to learn the science, the finance, the politics and complexities of a disease that is dreaded and yet ubiquitous. He hopes it will soon be treatable with an arsenal of new discoveries. He meets with cancer experts. He attends conferences. He carries his red folder with him to Ukraine and back.
"What I'm doing now, I'm meeting with every center of power within the cancer world. I'm meeting with billionaires who have set up foundations. I'm meeting with everyone from the Mayo Clinic to one of the largest outfits that took care of Beau," he said, as well as "all the researchers."
He is not yet quite sure the direction it will take him, but he's following a lesson he learned early in his Washington career, when he swaggered onto the Senate floor for an energy debate, armed with a series of talking points. He encountered Sen. Russell Long, son of the legendary Louisiana "kingfish," Gov. Huey Long. Russell Long had been in the Senate a quarter-century when Biden was elected. He didn't need talking points to debate energy.
As he describes his humiliation at the hands of the wily Louisianian over the technicalities of oil drilling, Biden jumps from his chair and imitates the late senator's pigeon-like posture and his thick accent, saying "earl" for oil. For Biden, whose career was bookended by personal tragedies, the Senate has been his energy source, the bipartisan family that sustained him after his first wife and infant daughter were killed in an automobile crash shortly after his election in 1972. As he reminisces about those days, his joie de vivre returns.
Biden doesn't share the widespread cynicism about politics. Calling Donald Trump's politics a "dangerous brew," he expresses confidence that Americans will reject it. "Even though it appeals to some people who are really frightened and scared, even though it appeals to some prejudice and fears, I don't think it's sustainable."
He admits he hasn't let the 2016 election go, sometimes measuring the candidates' actions and statements against what he would have done. "I've always thought in those terms, from the time I was a 29-year-old senator," he says. "How would I have done it differently?"
©2015 Bloomberg News. Distributed by Tribune Content Agency, LLC.
Photo: U.S. Vice President Joe Biden  in Washington October 21, 2015. REUTERS/Carlos Barria