What John Kelly Said Proves He Is An Authoritarian Like Trump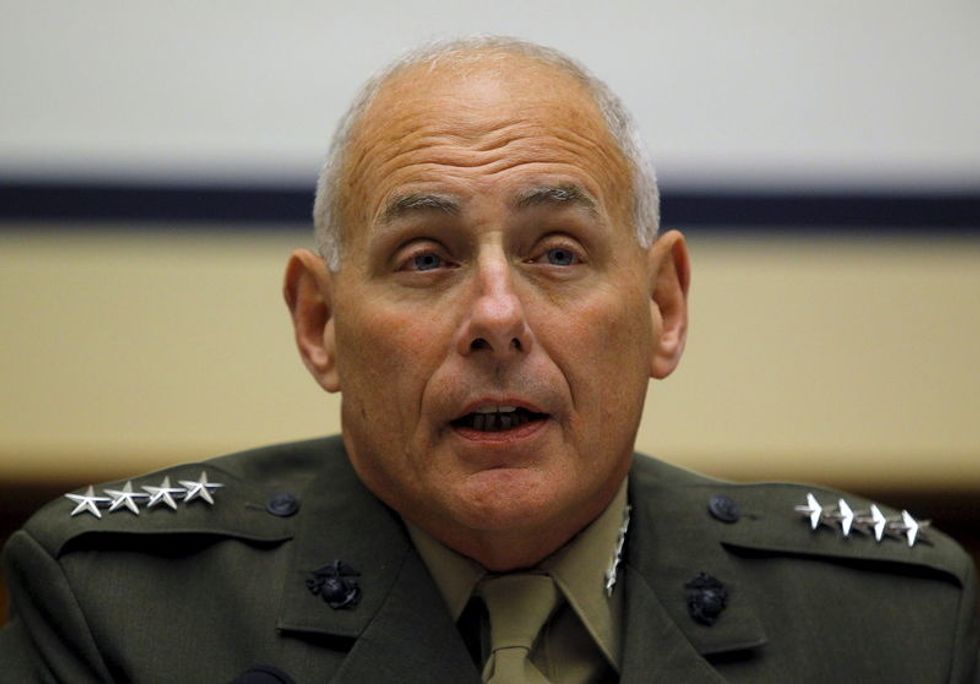 Reprinted with permission from AlterNet.
A mere 12 hours after news broke of multiple indictments in the Mueller probe, John Kelly appeared on Fox News to discuss, of all things, Confederate statues.
"Robert E. Lee was an honorable man who gave up his country to fight for his state," the White House chief of staff told "The Ingraham Angle's" Laura Ingraham. "Men and women of good faith on both sides made their stand where their conscience had them make their stand."
Kelly later blamed the Civil War on a "lack of an ability to compromise," a reactionary reading of American history that has been repeatedly debunked.
Since he accused Rep. Frederica Wilson (D-FL) of "bragging" about securing funding for an FBI field office—an outright smear for which he has yet to apologize and claims he never will—mainstream media are slowly coming to the realization that the retired marine corps general is neither a moderating influence on Donald Trump nor the adult in the room they once proclaimed him. In truth, he never was. As long as he's been a major public figure, Kelly has proven himself a "nightmare in a uniform"—xenophobic, militaristic and openly contemptuous of civilian life.
Just this week, the former commander of United States Southern Command called for a new investigation into Hillary Clinton's Uranium One "deal," the latest in a series of Clinton conspiracy theories the right has been peddling for the better part of three decades. The Washington Post's editorial board put things bluntly:
Mr. Kelly should think about what this does to his credibility — and to the country's. The party in power is demanding the investigation and possible prosecution of its defeated political rival on trumped-up claims of wrongdoing. This is what happens in banana republics, not the world's greatest democracy.
Here are just a handful of quotes proving that John Kelly is every bit as authoritarian as the man he works for.
1. On Trump's border wall
"Nothing's been done in the past eight years to enforce the border rules and regulations, not to mention many of the immigration laws inside of the United States…Under the Obama administration they turned back a large number of individuals, but that's because it was a very open border almost. Those that would come up here illegally have decided not to make that dangerous trek as we secure the border."
2. On Trump's Muslim ban
"Let's just say, for instance, a person who is trying to get to the United States to do some harm, some terrorist attack, is coming in during this period that the courts put a stay on our enforcement, we don't know that until an individual who's a bad person, until they do something bad. But it's entirely possible that someone that's coming in, whether it's during this stay court action or previous to this, they intend to do us harm."
3. On America's enemies abroad
"I don't know why they hate us, and I don't care. Our enemy is savage, offers absolutely no quarter, and has a single focus, and that is either to kill every one of us here at home or enslave us with a sick form of extremism that serves no god or purpose that decent men and women could ever grasp."
4. On criticism of U.S. foreign policy
"If anyone thinks you can somehow thank [members of the military] for their service and not support the cause for which they fight — America's survival — then they are lying to themselves and rationalizing away something in their lives, but more importantly, they are slighting our warriors and mocking their commitment to the nation."
5. On America's history of warfare
"[Our purpose has never been to] build empires, or enslave peoples, but to free those held in the grip of tyrants….The only territory we as a people have ever asked for from any nation we have fought alongside, or against, since our founding, the entire extent of our overseas empire, are a few hundred acres of land for the 24 American cemeteries scattered around the globe."
H/T The Intercept
Jacob Sugarman is a managing editor at AlterNet.