#EndorseThis: John Oliver Flips Off Trump And His Coal Barons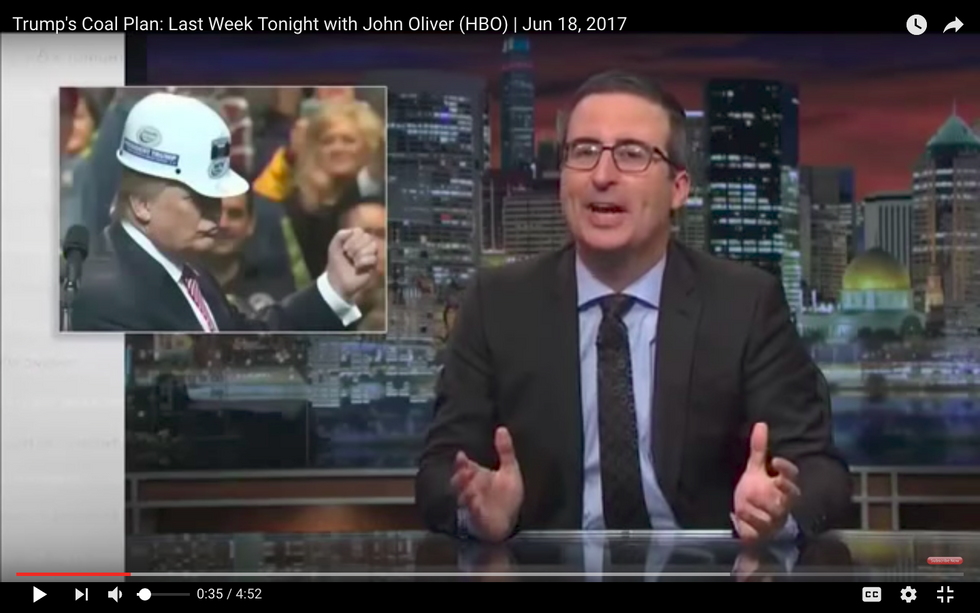 Donald Trump's promise to "bring back coal" — a madly Faustian bargain on a warming planet — may well have swung some Rust Belt states his way, as John Oliver suggests. But his administration's claims to have fulfilled that pledge with "50,000 new coal jobs," ironically articulated by EPA administrator Scott Pruitt, are simply lies.
Behind the arguments over coal and employment, advanced by Trump, the Republicans, and the mining industry, are even bigger lies. The victims of those lies, of course, are the miners themselves — who, unlike the coal barons, deserve much more federal assistance than they have received.
But as Oliver demonstrates, it's the coal barons like convicted criminal Don Blankenship who enjoy the tender concern of Trump and the far right. It is especially uplifting to watch him defy an attempt at intimidation by Bob Murray, the unappealing chief of Murray Energy Corporation.
Bonus: What Trump really thinks of coal miners, expressed in a Playboy interview from 1990.
As always, Oliver contrives to present an infuriating story with precision, compassion, and lots of laughs.