#EndorseThis: John Oliver Rips Trump's Climate Madness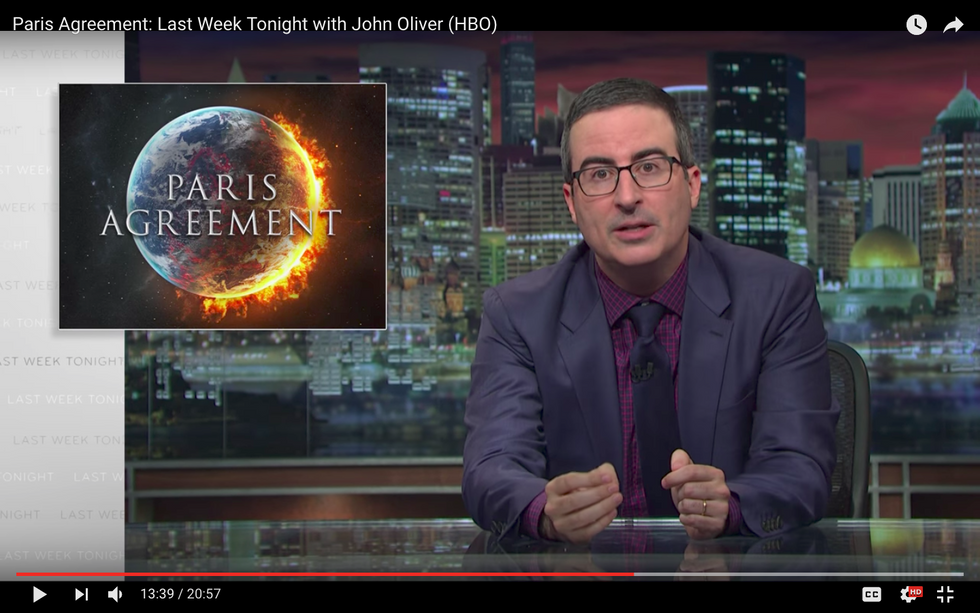 As late-night television's resident explainer-in-chief, John Oliver seizes the opportunity to emphasize why Donald Trump's rejection of the Paris climate accord is insane. As Oliver deconstructs his arguments against the landmark agreement, with clips from the president's Rose Garden speech and previous remarks about the climate threat, the fundamental shallowness and disorder of Trump's mind is revealed (again).
Trump's innate tendencies toward paranoia and prevarication were on full display in justifying this disastrous decision with "flamboyantly deceptive" arguments. He's harming America's standing in the world. He's injuring American brands. And he's hindering the renewable energy industries that will power the global future and employ armies of skilled workers — probably in China.
"He's fulfilling his campaign promise to create millions of jobs," rants the Last Week Tonight host. "He's just doing it in the wrong fucking country!"
So grave is the threat to humanity that John Oliver exhorts his audience to be part of the solution, like so many governors, mayors, and local officials who have pledged to uphold the Paris accord in defiance of Trump. So look up your local officials, find out what they're doing about climate — and if they're on the wrong side, such as a few imbeciles he profiles, oust them. (As an American citizen you should also sign the Paris accord here.)
This is a bravura performance, trending #1 on Youtube today.