#EndorseThis: John Oliver Unpacks The Comey Crisis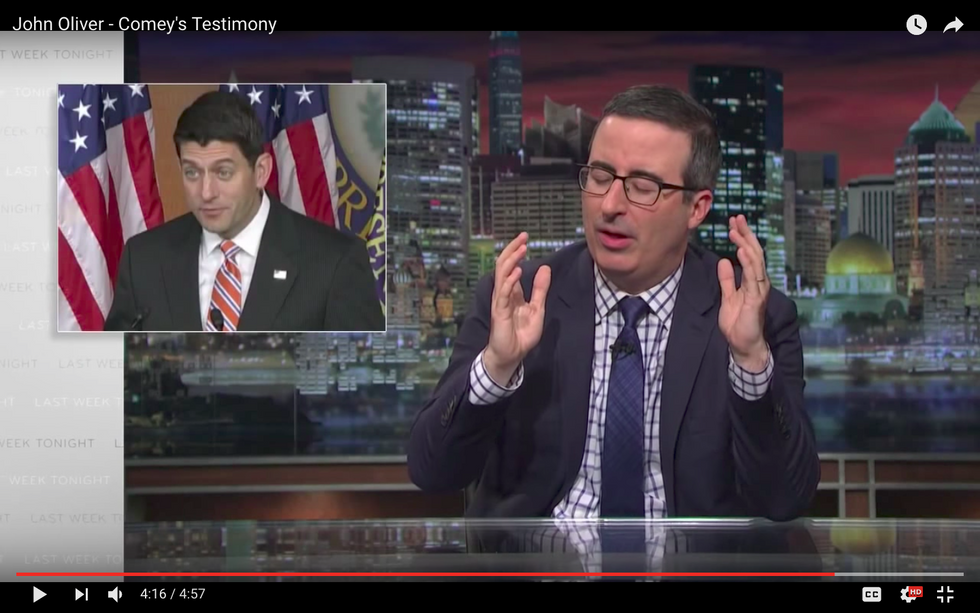 For the ultimate unpacking of the facts that now threaten Trump's presidency, we turn today to John Oliver — who emphasizes what the former FBI director declined " to discuss in an open setting." As he notes with typical perspicacity, the president has become a walking "logical paradox," citing what he says was James Comey's "lying" testimony to claim "vindication." Perhaps a trained anthropologist could explain why Trump believes he can be vindicated by lies, especially when almost everyone believes Comey and almost nobody believes him; but probably not.
Oliver is astonished that Trump himself volunteered to testify under oath before Special Counsel Robert Mueller (whose dismissal he is supposedly considering — just one more paradox).
What troubles him most, beyond the Trumpian weirdness in the White House, is the reaction of Paul Ryan — the Speaker whose existence proves that "you can live a normal, healthy life without a spine." What small comfort to realize that Ryan is the man standing between Trump and the Constitution.