Jon Stewart To Hillary Clinton: 'No One Cares' About Your Book, What About 2016?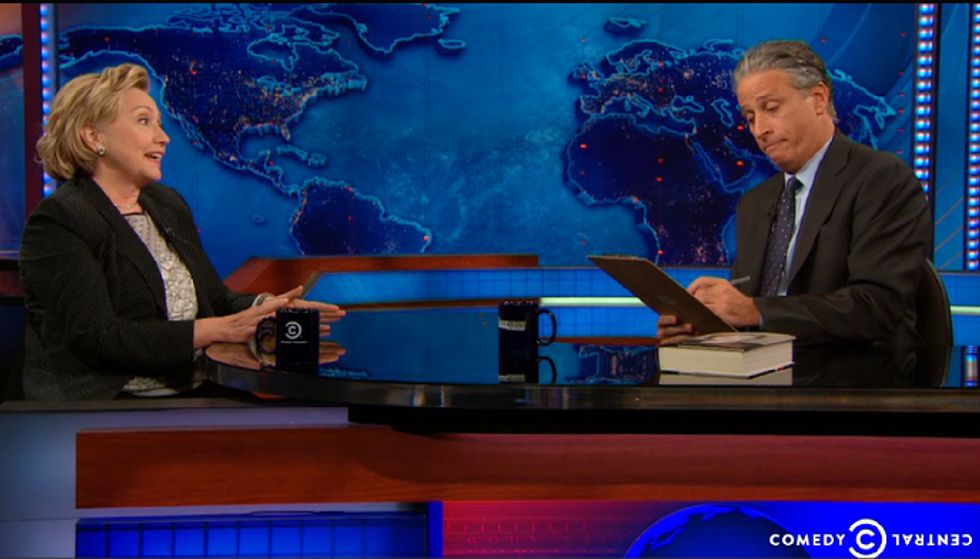 When Hillary Clinton appeared on Tuesday's edition of The Daily Show to promote her new book, Hard Choices
, Jon Stewart wasted little time getting to the question on everyone's mind.
"I think I speak for everyone when I say no one cares, they just want to know if you're running for president," Stewart told the former secretary of state.
"You know, I was going to make an announcement, but you kind of spoiled it for me," Clinton joked.
Stewart later went on to give Clinton a career aptitude test, featuring questions such as, "Do you like commuting to work, or do you prefer a home office?" (Clinton replied that she prefers working from a home office — preferably without corners.)
"It sounds to me, if I may, you've declared for the presidency," Stewart said to laughter from the audience.
The interview, which also touched on Clinton's memoir and her controversial remark that she and former president Bill Clinton were "dead broke" when they left the White House, can be seen below via Comedy Central:
Screenshot via Comedy Central
Want more political news and analysis? Sign up for our daily email newsletter!