#EndorseThis: Jon Stewart Returns — With Trump's Next Executive Orders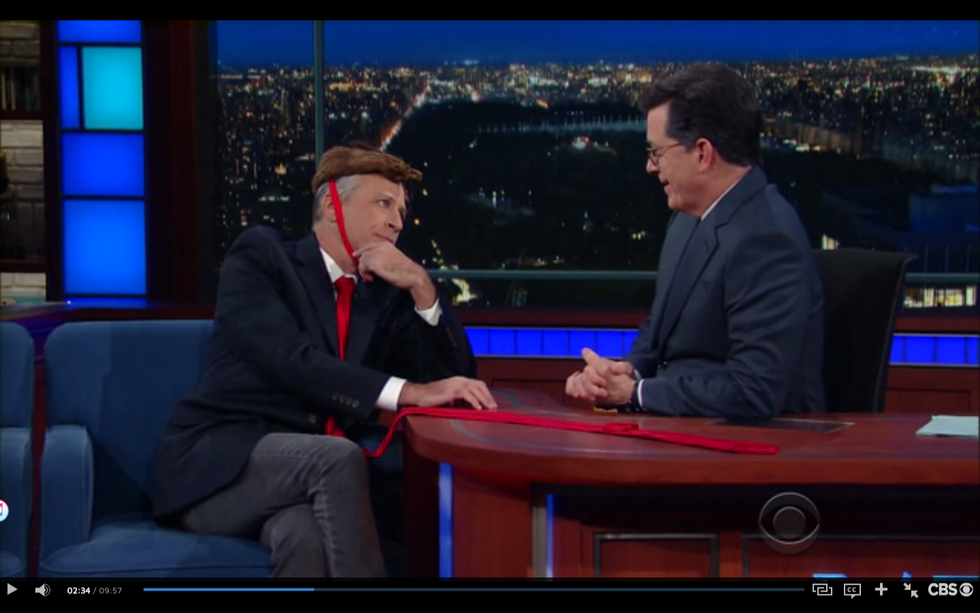 In a tour de force appearance, Jon Stewart swept dramatically onto The Late Show set, with what appeared to be a muskrat on his head and a long red necktie trailing him like a royal train.
Startled by the sudden entrance of his old boss, host Stephen Colbert, inquired gently about Stewart's unusual costume — had he dressed up in homage to President Trump?
"This is how I'm going to dress now," he declared. "The president sets men's fashion, and I saw the inauguration: super-long red tie, dead animal on head! Boom!"
What Stewart brought along with him — aside from his usual difficulty suppressing laughter and staying in character — was an exclusive set of forthcoming Trump White House executive orders. He offered a surprise solution to the impossible difficulties of building the border wall, including a sneaky way to make Mexico pay, and proclaimed a new official language for the United States (not English).
"It's been 11 f**king days, Stephen," said the former Daily Show host. "The presidency is supposed to exhaust the president, not the public, but we have never faced this before: purposeful vindictive chaos." He had some strong words about how Americans can save their republic — and what reward the nation will enjoy, if somehow we do.