Judge: Christie Ex-Aides Kelly, Stepien Can Withhold Documents In Bridge Probe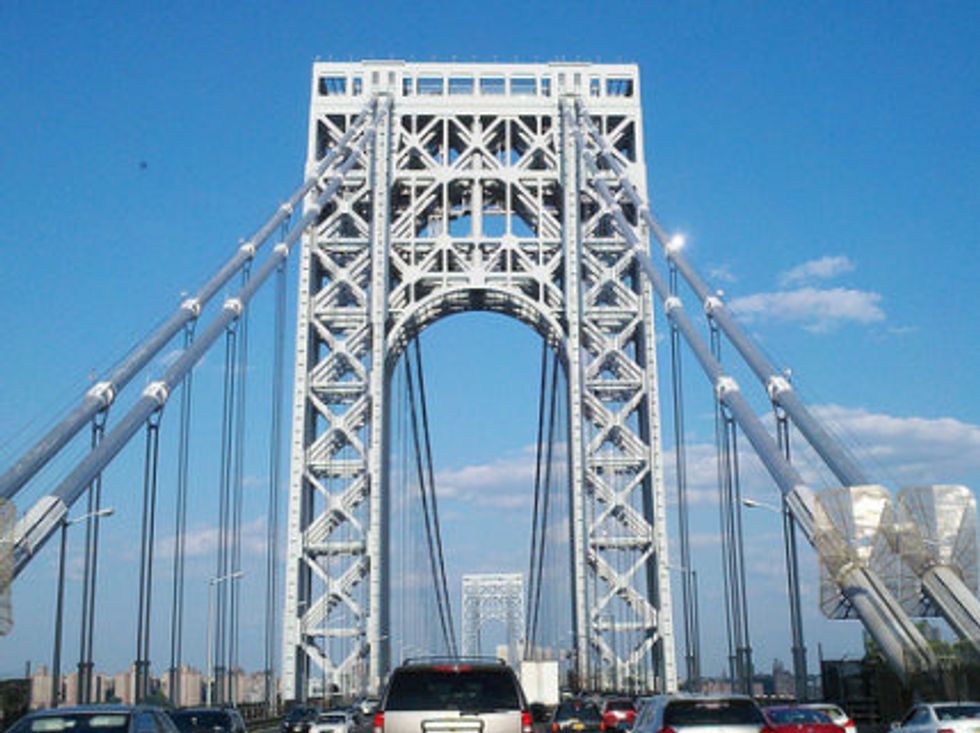 By Shawn Boburg, The Record (Hackensack, NJ)
HACKENSACK, NJ—Two key figures in the George Washington Bridge lane closure scandal do not have to comply with legislative subpoenas demanding that they turn over documents, a judge ruled Wednesday, delivering a setback to lawmakers whose probe linked the closures to New Jersey Gov. Chris Christie's office earlier this year.
Bridget Anne Kelly, the governor's former deputy chief of staff, and Bill Stepien, a former campaign manager, argued that turning over documents would violate their Fifth Amendment protection against self-incrimination because the information, once made public, could be used by federal authorities in a parallel criminal investigation.
Superior Court Judge Mary C. Jacobson agreed in a 98-page decision that represented the first successful challenge to state lawmakers' primary investigative tool — their subpoena power — and ignited a debate about the future direction of the legislative investigation, even as many questions about the scandal remain unanswered.
Jacobson, who described the subpoenas as too broad, likening them to a "fishing expedition," seemed to suggest that the panel could re-issue more narrow subpoenas to Kelly and Stepien that might hold up against a legal challenge. But the prospect of new subpoenas — and the possibility of another prolonged court battle over whether they are valid — could also present other political challenges for the committee, as its leaders look to regain momentum and its critics urge it to move on.
A co-chairman of the legislative committee, John Wisniewski, a Democrat, said in a statement that the panel would consider its options.
"The committee felt it was very much in the public interest to seek to compel the production of these documents, but as we've said before, there's more than one method to gather information in an investigation, and we will consider alternatives. We will continue exploring every avenue to find out what happened with this threat to public safety and abuse of government power," he said in a statement.
The decision follows a report commissioned by Christie's office and released last month that concluded there was no evidence that Christie authorized or helped plan the lane closures. The report, widely criticized as being one-sided, pinned responsibility for the closures on Kelly and former Port Authority executive David Wildstein but could not determine what is characterized as their apparent "ulterior motive" for closing the lanes. Kelly, Stepien, and Wildstein did not cooperate with the report by attorney Randy Mastro, leaving questions about the origin of the lane closures unresolved.
Wednesday's court ruling means the legislative committee is less likely to get those answers from Kelly and Stepien.
Stepien's attorney said Wednesday's ruling amounted to a "vindication" of his client.
"In its zeal to achieve a blatantly political goal having nothing to do with Mr. Stepien, the Committee disregarded the fundamental constitutional rights of this innocent man," attorney Kevin Marino wrote in a statement. "In the process, it wasted the taxpayers' money — and the nation's time — on a frivolous lawsuit to enforce a clearly invalid subpoena. That lawsuit has now been properly and roundly rejected."

Kelly's attorney, Michael Critchley, called the decision a "complete rejection of the committee's attempt to strip Ms. Kelly of her constitutional rights."
Christie fired Kelly and cut ties with Stepien in early January after the surfacing of e-mails that shed light on the closures and linked them to the governor's office. Wildstein turned over many of the most explosive documents in response to a subpoena.
Among the documents he turned over was an e-mail from Kelly — "Time for some traffic problems in Fort Lee," it said — and an e-mail showing that Stepien referred to the Fort Lee mayor an "idiot." Christie cut ties with both in January, saying he had lost faith in Stepien's judgment and that Kelly lied about not having been involved in the lane closures.
Stepien's attorney said Wednesday that the governor had "banished" his client, "an innocent man."
"The time has come to acknowledge that a mistake was made," Marino wrote.
Kelly and Stepien, both of whom have been contacted by federal investigators, argued that turning over documents to state lawmakers could ensnare them in the criminal investigation, violating their Fifth Amendment protection against self-incrimination. The committee "failed" to overcome those individual protections partly because it could not prove that any particular documents actually exist. In essence, the committee could not prove it wasn't on "a fishing expedition," the judge wrote.
Among the documents requested by the subpoenas were all correspondence and logs of phone conversations related to the lane closures dating back to September 2012. The judge said the "fundamental" problem with the subpoenas was that they were too broad.
The judge took a swipe at the committee's argument that Kelly and Stepien couldn't issue a blanket denial in response to the subpoenas.
"A blanket subpoena calling for a fishing expedition without the promise of immunity justifies a blanket response," Jacobson wrote.
But she raised the possibility of reworked subpoenas. She wrote that the "committee may wish to issue a new subpoena entirely" and suggested that more limited document requests — for example, a demand for correspondence only between Wildstein and Kelly — might have passed muster.
Jacobson also wrote that the committee has the authority to grant Kelly and Stepien immunity from criminal prosecution if it wants them to cooperate. It's not clear if that's a possibility, but it would almost certainly complicate the federal criminal investigation. A spokeswoman for the U.S. Attorney's Office declined to comment.
The ruling prompted Republicans to call for a shift in the focus of the investigation.
Republican Assemblywoman Amy Handlin, a member of the Democrat-controlled committee, issued a statement late Wednesday stating that the judge's decision "sends a clear message that the committee has overstepped its bounds."
She said that federal and state prosecutors are able to investigate the closures and that the committee should "focus on reform" of the Port Authority, the agency that controls the bridge.
"Every single person out there wants to know why this happened but the U.S. Attorney is more than competent to conduct an investigation," said GOP Assemblywoman Holly Schepisi.
Even one Democratic leader, Senate President Stephen Sweeney, said earlier this week that the committee should stand down if the judge ruled against the committee. But Sweeney, who has worked closely with Christie, quickly reversed course, saying he supports the committee's work and that it should consider all its options, including an appeal, if the judge ruled against the committee.
Photo: Joe Shlabotnik via Flickr