Judge Reprimands, Gags, And Warns Roger Stone After Threat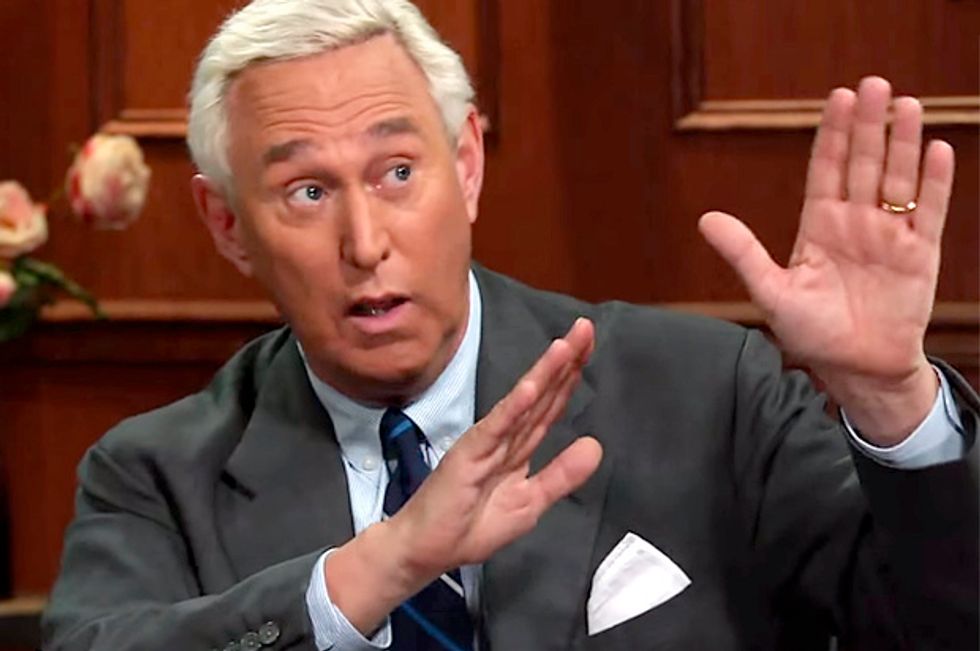 Roger Stone really stepped in it this time.
Federal Judge Amy Berman Jackson reprimanded Stone, Trump's longtime pal and 2016 campaign adviser, for posting a photo to Instagram on Monday that featured a photo of Jackson with a crosshair superimposed over it.
"Through legal trickery Deep State hitman Robert Mueller has guaranteed that my upcoming show trial is before Judge Amy Berman Jackson, an Obama appointed Judge who dismissed the Benghazi charges against Hillary Clinton and incarcerated Paul Manafort prior to his conviction for any crime . #fixisin," Stone wrote below the image.
Jackson took this to be a dangerous threat — and issued a total gag order on Stone that bans him from talking about his pending case. If he violates that order, Stone's bail will be revoked and he'll be sent to jail until his trial.
Before she ruled, Stone took the stand to plead for mercy from Jackson, who had the option of tossing him in jail right then and there.
"I abused the order for which I'm heartfully sorry," he said. "I'm kicking myself over my own stupidity."
However his apology also included the bizarre claims that he didn't know what a crosshair was, and thought it was instead an occult symbol.
Jackson was not having any of that nonsense.
"Roger Stone fully understands the power of words and the power of symbols," Jackson said, according to reporters who were in the hearing room. "There's nothing ambiguous about crosshairs."
Now that he is officially gagged, all eyes will be on whether the loose-lipped, showboating political operative will be able to keep his mouth shut until his trial date.
Anyone who has followed Stone's career would know that's a huge ask.
But for now, his freedom depends on it.
Of course, this is not Stone's only worry. Even if he manages to stay quiet until his trial date, he still has to actually stand trial — for serious charges of lying to federal investigators, obstruction of justice, and witness tampering.
It's a very bad time to be Roger Stone right now.
Published with permission of The American Independent.