Judge Rules Trump Hotel Profiteering May Violate Constitution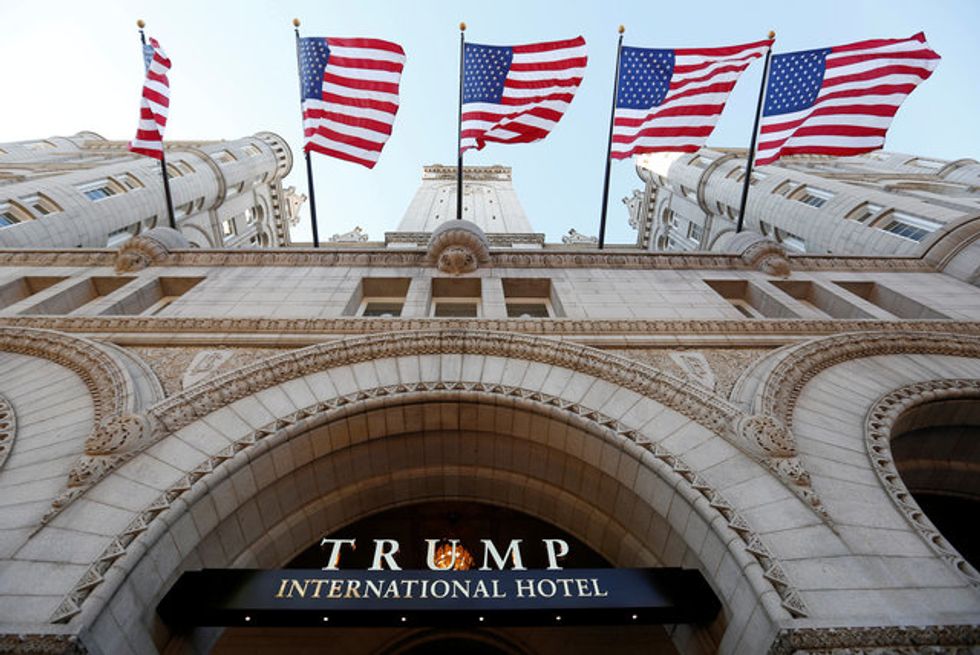 Reprinted with permission from AlterNet.
Federal Judge Peter Messitte decided Wednesday that a case against President Donald Trump based on the Constitution's Emoluments Clause can proceed, finding that it is likely that Trump is taking payment from foreign governments in violation of the law.
The suit was brought by Maryland and Washington, D.C., alleging that Trump's properties put competitors at a disadvantage as he violates the Constitution's restrictions barring officials from taking "any present, Emolument, Office, or Title, of any kind whatever" from foreign governments.
The president has tried to argue that the clause only refers narrowly to "gifts," but the judge took a more expansive view based on the "of any kind whatever" phrase to include payments to Trump's businesses.
"In sum, Plaintiffs have plausibly alleged that the President has been receiving or is potentially able to receive 'emoluments' from foreign, the federal, and state governments in violation of the Constitution," the opinion said.
"We are one step closer to stopping President Trump from violating the Constitution's original anti-corruption provisions," said Karl Racine, the attorney general of D.C.
Messitte argued that the Constitution's framers intentionally designed the Emoluments Clause to prevent corruption.
"[The] Court does not see how the historical record reflects anything other than an intention that the Emoluments Clauses function as broad anti-corruption provisions," he writes. "The Foreign Emoluments Clause was unquestionably adopted against a background of profound concern on the part of the Framers over possible foreign influence upon the President (and, to be sure, upon other federal officials)."
The Justice Department holds that the case should be dismissed, and the president will certainly continue to fight the lawsuit. But today's ruling shows that it rests upon firm legal grounds.
Cody Fenwick is a reporter and editor. Follow him on Twitter @codytfenwick.