Judge Tells Flynn: 'You Sold Out Your Country'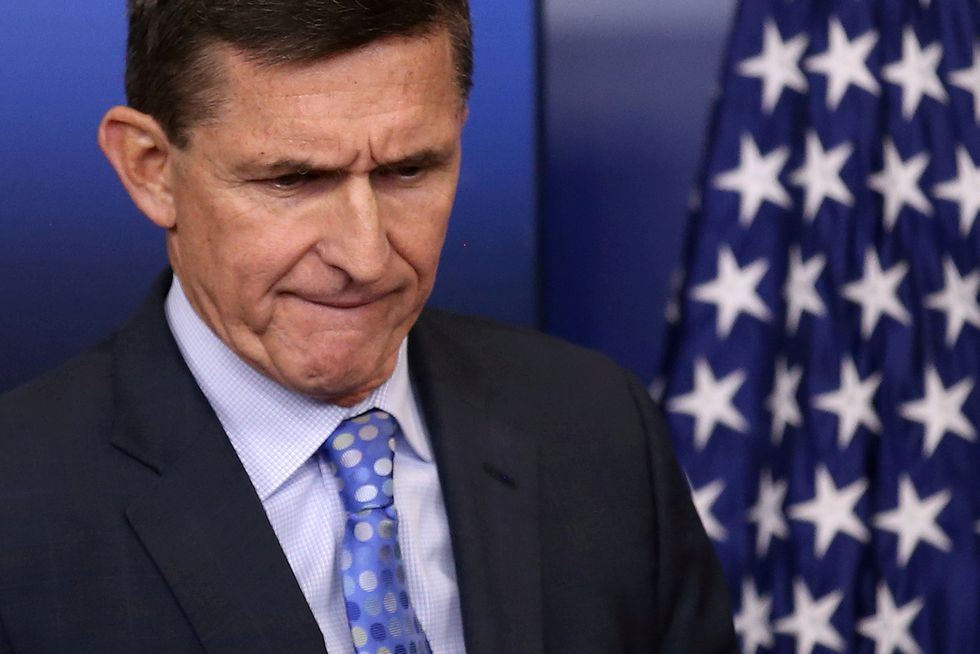 Michael Flynn, a former Trump campaign adviser and Trump's first national security adviser, appeared in court Tuesday and asked for his much-anticipated sentencing hearing to be delayed.
Flynn was scheduled to be sentenced for lying to the FBI about his contacts with Russia during and after the 2016 campaign. He is yet another member of Trump's campaign and inner circle now facing consequences as a result of special counsel Robert Mueller's investigation into links between the Trump campaign and Russia.
During the sentencing hearing, Judge Emmet Sullivan did not hold back his fury about Flynn's crimes.
"I'm not hiding my disgust, my distain for this criminal offense," Sullivan said.
"You were an unregistered agent of a foreign country while serving as the national security adviser to the president," the judge continued. "Arguably, this undermines everything this flag over here stands for! Arguably, you sold your country out."
Later in the hearing, Sullivan backtracked, noting Flynn's time as an unregistered foreign agent ended in mid-November 2016, before he became national security adviser. However, Sullivan did note that Flynn lied to the FBI on White House grounds, as a senior member of the administration.
In the lead-up to Flynn's sentencing, several right-wing outlets latched on to a theory that the FBI tricked Flynn into lying, entrapped him into committing a crime. One Fox News anchor went so far as to say Sullivan may toss out Flynn's guilty plea, calling Sullivan "a man who does not tolerate injustice or abuse of power."
In order to ensure the utmost clarity, Sullivan began the sentencing hearing by asking Flynn multiple times if he is guilty of lying to the FBI, and if he wanted to continue with the plea deal. Numerous times, Flynn admitted that he is, in fact, guilty.
At one point, Sullivan asked the prosecutors if they contemplated charging Flynn with treason, showing just how seriously he takes the crimes Flynn committed.
In the end, Sullivan offered Flynn a chance to delay the hearing, as Flynn is still cooperating with ongoing investigations. As part of the plea deal, Flynn cooperated with multiple investigations, including Mueller's.
It is not clear what Flynn has already shared with Mueller's team. Flynn was a frequent companion of Trump's on the campaign trail.
At the Republican National Convention where Trump was officially crowned as the Republican nominee, Flynn led the crowd in a chant of "Lock her up!" in reference to Democratic nominee Hillary Clinton.
Flynn's sentencing has been delayed until March 13, 2019, at which point we should learn if, and for how long, he will be locked up.
Published with permission of The American Independent.