Judge Tosses Tom Brady's 'Deflategate' NFL Suspension
@reuters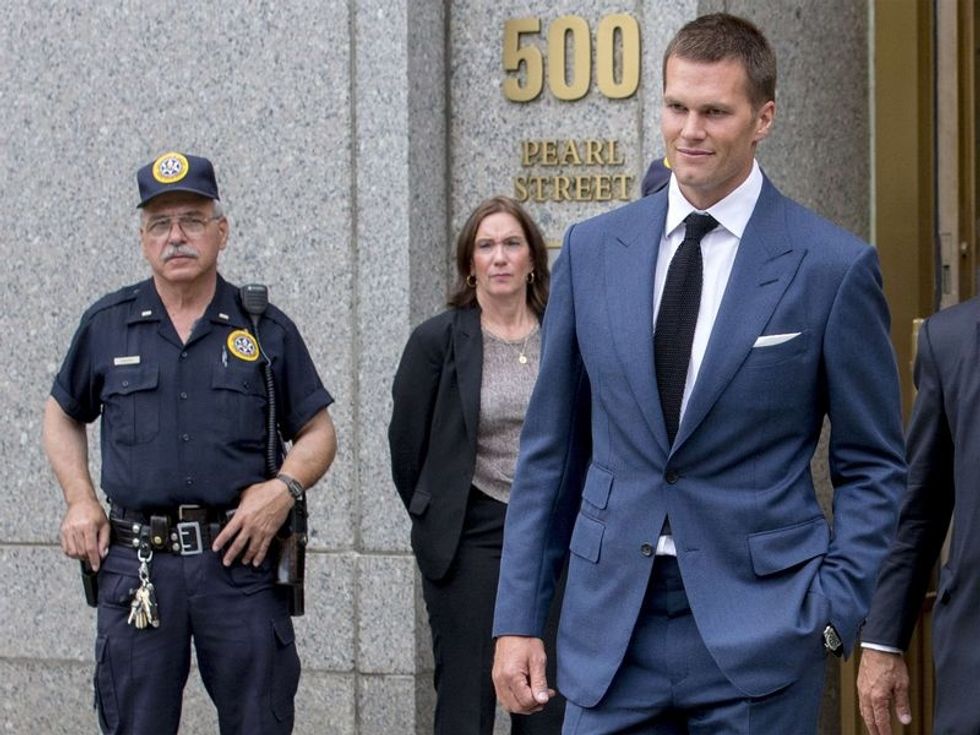 By Joseph Ax and Nate Raymond
NEW YORK (Reuters) — New England Patriots star quarterback Tom Brady's "Deflategate" suspension was thrown out by a federal judge in New York on Thursday, following a seven-month standoff between the National Football League and its players union.
U.S. District Judge Richard Berman vacated NFL Commissioner Roger Goodell's decision in July to uphold Brady's four-game suspension over his alleged role in a scheme to deflate footballs used during a January playoff victory.
Goodell's ruling, Berman found, was plagued by "several significant legal deficiencies," including a failure to notify Brady beforehand that his alleged conduct could be punished by suspension.
"The court finds that Brady had no notice that he could receive a four-game suspension for general awareness of ball deflation by others or participation in any scheme to deflate footballs," Berman wrote.
The ruling is unlikely to be the last word on the matter, which has dominated sports radio, made national headlines and inspired nicknames like "Deflategate" and "Ballghazi." The NFL can appeal Berman's decision, a process that will take months to resolve.
Neither the NFL nor the players union immediately commented on the decision.
In the meantime, Brady can take the field on Sept. 10 when the Patriots open their season against the Pittsburgh Steelers at home. He had been suspended until an Oct. 18 clash against the Indianapolis Colts.
Brady was suspended over the footballs used in the Patriots' 45-7 postseason victory against the Colts that sent them to the Super Bowl, where they defeated the Seattle Seahawks 28-24.
Before the case went to federal court, Ted Wells, a lawyer hired by the NFL to investigate the incident, found it was "more probable than not" that Brady was "generally aware" that two low-level Patriots employees had conspired to let air out of the footballs, which can make them easier to grip. Wells' 243-page report formed the basis for Brady's suspension.
But Berman said that was not enough to justify the suspension and criticized Goodell for saying that Brady deserved the same penalty as a player who used steroids.
The judge also said Brady's lawyers were improperly barred from cross-examining the NFL's general counsel, Jeff Pash, who helped lead the Deflategate probe, and were unfairly denied access to certain investigative notes.
The NFL and the players union had engaged in settlement talks for weeks with Berman, who urged them to find an acceptable solution. But a deal never emerged, even though Berman said this week they "tried quite hard."
Photo: New England Patriots quarterback Tom Brady exits the Manhattan Federal Courthouse in New York, August 31, 2015. REUTERS/Brendan McDermid