Judiciary Chair Slams Barr For 'Media Campaign' To Shield Trump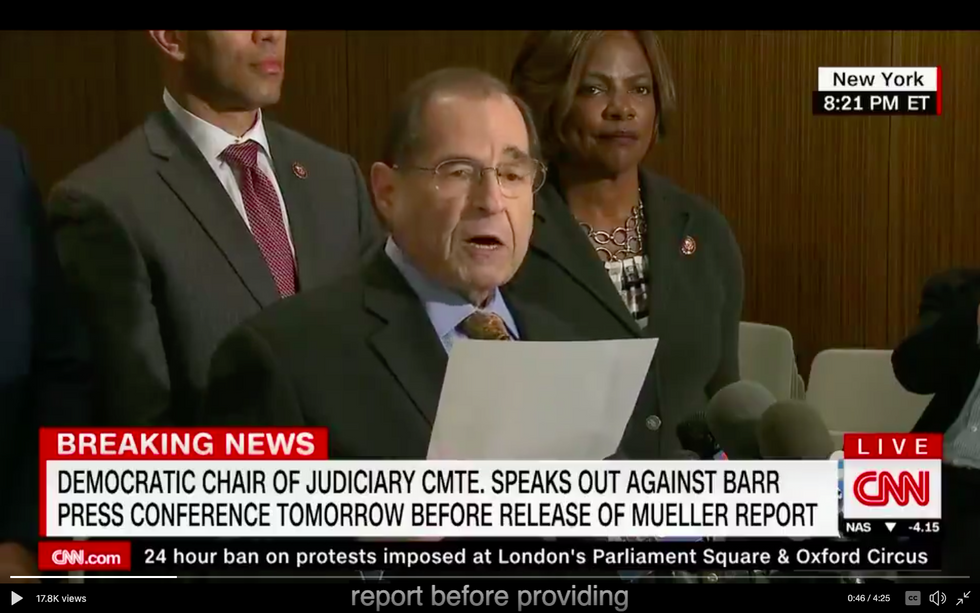 Reprinted with permission from Alternet.
House Judiciary Committee Chair Jerry Nadler (D-NY) held a press conference late Wednesday night to denounce Attorney General Bill Barr's political gamesmanship around the release of Special Counsel Robert Mueller's report.
On Wednesday afternoon, frustration with Barr grew to a boil when it was reported that the White House had been briefed on the report. The Justice Department also revealed that it would be holding a press conference on the report before it is even publicly released — giving Barr the opportunity to put his and the president's spin on it before journalists can read the nearly 400-page document.
"This is wrong, this is not the proper role for the attorney general," Nadler said. He argued that Barr "appears to be waging a media campaign on behalf of President Trump, the very subject of the investigation at the heart of the Mueller report."
Asked if he would call Mueller to testify before Congress, Nadler suggested that it was a strong possibility. He said he may even call additional members of Mueller's team to testify.
Watch Nadler's remarks below:
"This is wrong, this is not the proper role for the Attorney General.

Democratic Judiciary Chairman Jerry Nadler blasts AG Barr for the manner and timing in which he plans to release the Mueller report https://t.co/htq5ry3va4pic.twitter.com/wDcBmIpP8j

— Anderson Cooper 360° (@AC360) April 18, 2019