Judiciary Committee Subpoenas White House Witnesses On Trump Obstruction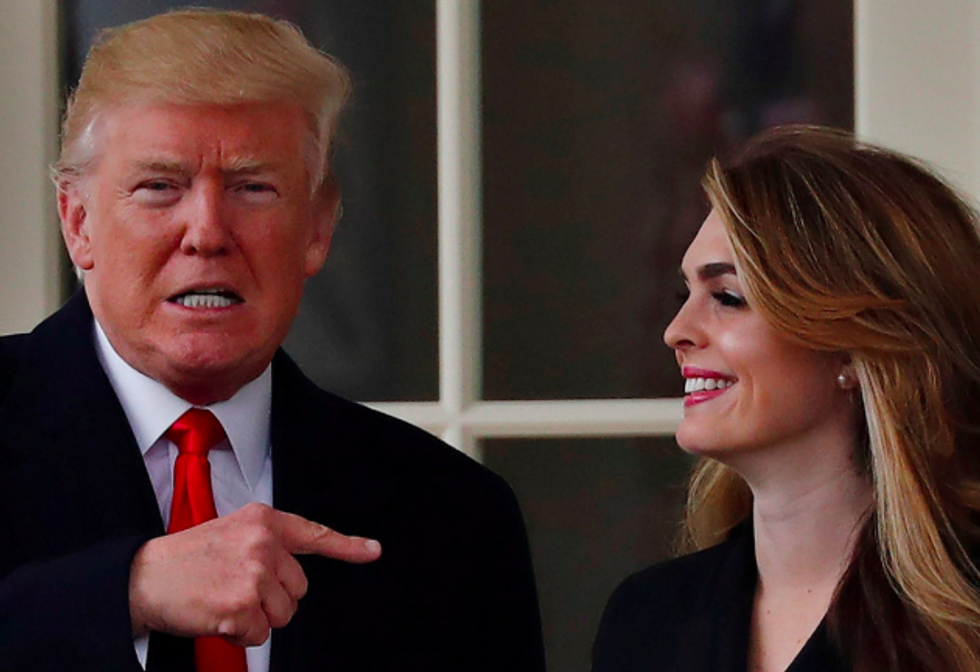 Trump's attempts at stonewalling congressional oversight have not stopped the House Judiciary Committee.
The committee on Tuesday subpoenaed both former White House communications director Hope Hicks and former White House deputy counsel Annie Donaldson, ordering both to hand over documents and appear before the Judiciary Committee to testify about instances in which they witnessed Trump obstructing justice.
The two women both play a significant role in the obstruction section of special counsel Robert Mueller's report.
Hicks testified in the report about her role in the response to the now infamous Trump Tower meeting — in which Trump's son Donald Trump Jr., son-in-law Jared Kushner, and former campaign chairman turned convicted felon Paul Manafort all met with a Kremlin-connected lawyer who promised "dirt" on Hillary Clinton.
Hicks told Mueller's team that she was "shocked" by the emails Trump Jr. had exchanged with an intermediary for the Kremlin-connected lawyer, saying the emails "looked really bad" and urging Trump and Trump Jr. to release the emails to the public to "get in front of the story."
Trump, however, thwarted that plan.
"Hicks warned the President that the emails were 'really bad' and the story would be 'massive' when it broke, but the President was insistent that he did not want to talk about it and they should not go to the press," Mueller wrote in his report.
Donaldson — who served as former White House counsel Don McGahn's chief of staff — also appears in the obstruction of justice chapter of Mueller's report. She took notes about Trump's comments when former FBI Director James Comey was fired and when Mueller was appointed to be special counsel.
On May 9, 2017, the day Trump fired Comey, Donaldson wrote in a note, "is this the beginning of the end?" — which Mueller wrote in a footnote of the report meant that she "was worried that the decision to terminate Comey and the manner in which it was carried out would be the end of the presidency."
The subpoenas come the same day that McGahn, Donaldson's former boss, refused to comply with a House Judiciary Committee subpoena to testify about the obstructive acts McGahn witnessed Trump committing. McGahn ignored the subpoena on the orders of Trump, who concocted a faulty legal rationale to claim executive privilege and squash McGahn's public testimony.
House Judiciary Committee Chairman Jerry Nadler (D-NY) said that he won't let Trump's attempts to dodge oversight stop his committee's work.
"As I said earlier today, the Judiciary Committee's investigation into obstruction of justice, public corruption, and abuse of power by President Trump and his Administration will continue," Nadler said in a statement. "I have issued these subpoenas today to two critical witnesses who have worked closely with the President. We are seeking the information in order to conduct proper oversight, consider potential legislation and perform our constitutional duties."
Judging by Trump's past behavior, he is likely to try to suppress the testimony of both Hicks and Donaldson.
And doing so is only going to make calls for impeachment proceedings to grow.
Published with permission of The American Independent.