Jury Backs Teams In America's Cup 'Ruddergate'
@AFP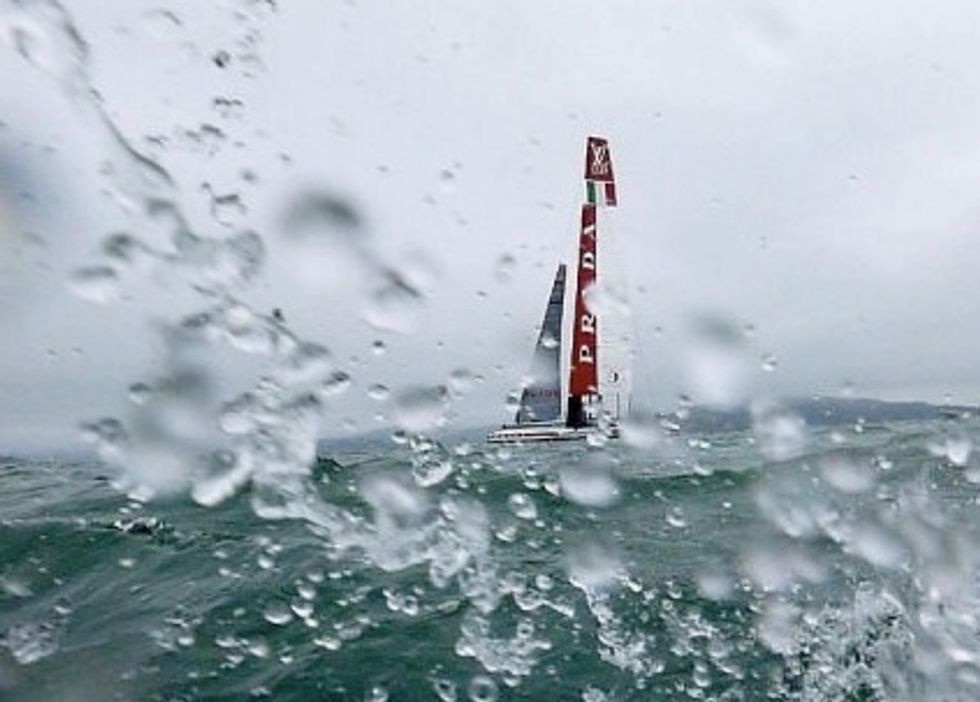 SAN FRANCISCO (AFP) – Hopes rose that the America's Cup can at last get down to real racing after a jury backed Team New Zealand and Luna Rossa in their protest of a design change imposed in the name of safety.
"Let the racing begin," Team New Zealand managing director Grant Dalton said, looking forward to a scheduled showdown with Italy's Luna Rossa on Saturday.
The two teams had argued that regatta director Iain Murray exceeded his authority when he made wider, heavier rudder wings part of the package of safety rules he issued in May, a fortnight after British sailor Andrew Simpson was killed when the AC72 catamaran of Swedish team Artemis Racing capsized in training on San Francisco Bay.
The change was among 37 safety recommendations made by Murray, but the "Ruddergate" protest was spawned when Team New Zealand and Luna Rossa argued that such a change was a performance rather than a safety issue — and that it gave an unfair advantage to defending America's Cup champions Oracle Team USA owned by billionaire Larry Ellison.
The wrangle had prompted Luna Rossa to boycott Sunday's opening race in the Louis Vuitton Cup, the series to produce a challenger to take on Oracle in the America's Cup finals in September.
With Artemis Racing's new boat still not ready, the first three Louis Vuitton Cup "races" offered the embarrassing spectacle of just one boat touring the course on San Francisco Bay.
Murray had said last week that if the jury upheld the protests he would inform the U.S. Coast Guard, which issues a permit for the regatta, that he did not think racing would be safe.
On Thursday, however, he sounded a conciliatory note when he said he would be "immediately reaching out to the Coast Guard and the teams" to discuss how best to move forward.
America's Cup chief executive Stephen Barclay said the ruling "means racing can continue if the teams abide by the existing class rule and the safety rules."
Luna Rossa had no immediate comment, but the syndicate backed by Prada fashion house owner Patrizio Bertelli ended their boycott and took to the water, sailing the course unopposed to collect their first Louis Vuitton Cup point.
Team New Zealand had already gained two points in similar fashion, sailing unopposed when Luna Rossa declined to start with the protest pending and touring the course alone again when Artemis forfeited on Tuesday.
While Thursday's ruling was greeted as "a relief" by Dalton, for Artemis it was a blow. They have designed their new boat to meet the revised rudder rules, and say they won't be able to modify it.
"Artemis Racing is disappointed that the jury's decision leaves uncertainty. Artemis Racing is here to compete and remains confident that a solution will be found allowing for a safe regatta that all can compete in," the team said in a statement.
Dalton said Artemis should receive a "dispensation" that would allow them to race — something all the teams would have to agree on.
"Artemis Racing is making a tremendous effort under difficult circumstances to get back on the race track and deserve support to help them achieve this," Team New Zealand said in a statement.
Photo Credit: AFP/Noah Berger