Jury Finds Michael Jackson Promoter Not Liable For Death
@AFP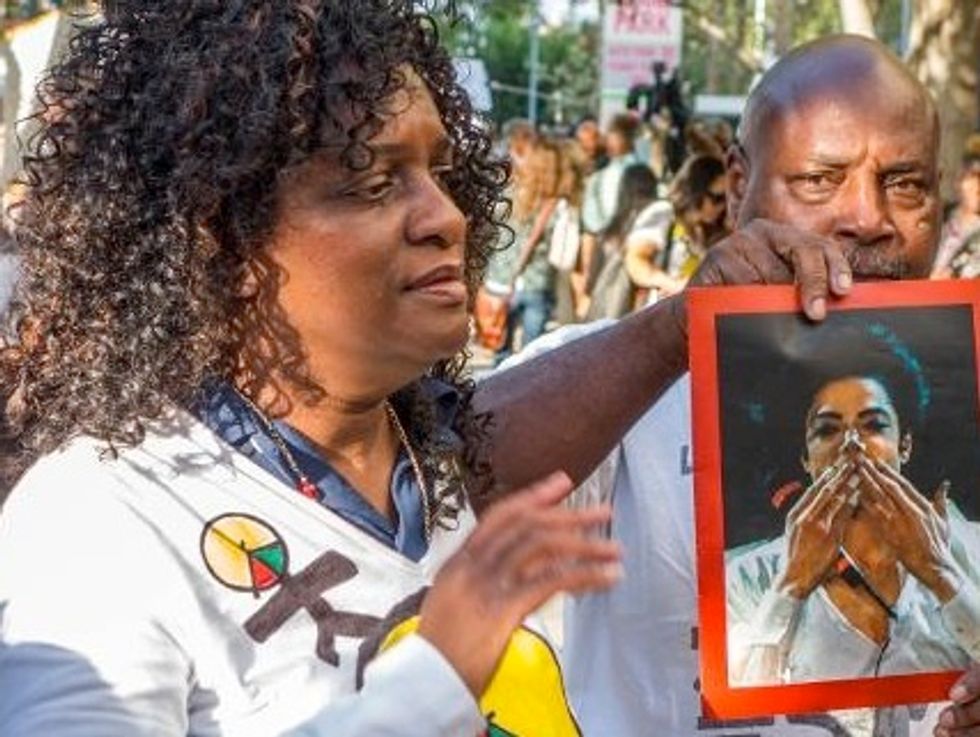 Los Angeles (AFP) – A California jury dismissed a lawsuit brought by Michael Jackson's family seeking massive damages from tour promoter AEG Live over the pop legend's 2009 death.
At the climax of a five-month trial on Wednesday, the six man, six woman panel agreed that AEG Live hired doctor Conrad Murray, but found that he was not unfit or incompetent for the job he was hired to do, a key requirement for the Jackson lawsuit to have succeeded.
Jackson's 83-year-old mother Katherine alleged that AEG Live negligently hired and supervised Murray, seeking damages of more than a billion dollars for her and the icon's three children.
AEG Live lead lawyer Marvin Putnam welcomed the verdict, which came after the jury deliberated for three days.
"The jury's decision completely vindicates AEG Live, confirming what we have known from the start — that, although Michael Jackson's death was a terrible tragedy, it was not a tragedy of AEG Live's making," he said in a statement.
Kevin Boyle, one of the Jackson family's lawyers, voiced disappointment at the verdict, and did not rule out an appeal.
"We are of course not happy with the result as it stands now. We will be exploring all options legally and factually and make a decision about anything at a later time," he told reporters outside court.
Jackson died on June 25, 2009 from an overdose of the anesthetic propofol, given by Murray at the star's rented mansion in Los Angeles, where he was rehearsing for the shows at London's O2 Arena.
Murray, a Grenada-born cardiologist, was convicted of involuntary manslaughter in a criminal trial in 2011 for giving the drug to the star — who suffered from chronic insomnia — to help him sleep. He was jailed for four years, but is expected to be released in coming weeks.
In the civil trial, the singer's mother — who gave testimony, as did his eldest son Prince, 16 — alleged that AEG Live missed a series of red flags about the star's failing health in the run-up to his death.
The "This is It" tour was Jackson's bid at a comeback four years after his infamous child molestation trial. He was acquitted, but his image was destroyed, and he desperately needed to make money.
The Jacksons wanted AEG Live to pay $85 million to each of the star's three children for emotional loss, and an unspecified amount for economic losses, estimated at up to $1.6 billion. AEG's lawyers called the figures ridiculous.
AEG Live executive Randy Phillips, one of two key managers who testified at the trial, said after the verdict: "I counted Michael Jackson a creative partner and a friend.
"We lost one of the world's greatest musical geniuses, but I am relieved and deeply grateful that the jury recognized that neither I, nor anyone else at AEG Live, played any part in Michael's tragic death."
One of the jurors, speaking outside the court afterwards, also underlined that it was not a victory for anyone.
"There are really no winners in this," said Greg Barden. "Somebody had to die for us to be here…We don't walk away thinking it was a victory on one side or the other. It was really a tragic situation."
About 20 fans were in court for the verdict. Some, wearing Jackson T-shirts, chanted "Michael, Michael" outside the building as the AEG Live lawyers were holding a press conference.
"I really hope the Jacksons go through with another trial, try to do an appeal, they deserve it," Jamie Lee told AFP.
"Katherine is just looking for answers, her son is dead. I think she deserves to know the truth. AEG should be punished for involving themselves and hiring the man who took his life."
But AEG Live attorney Putnam said an appeal would only prolong the suffering of Jacksons' children. "The children have been through a lot. I hope for their sake that there isn't an appeal," he said.
A spokeswoman for the Jackson family, Angel Howansky, said "As of right now ,they don't want to speak about it."
Photo Credit: AFP/Joe Klamar