Jury Quits For The Day With No Verdict In Boston Marathon Bombing Trial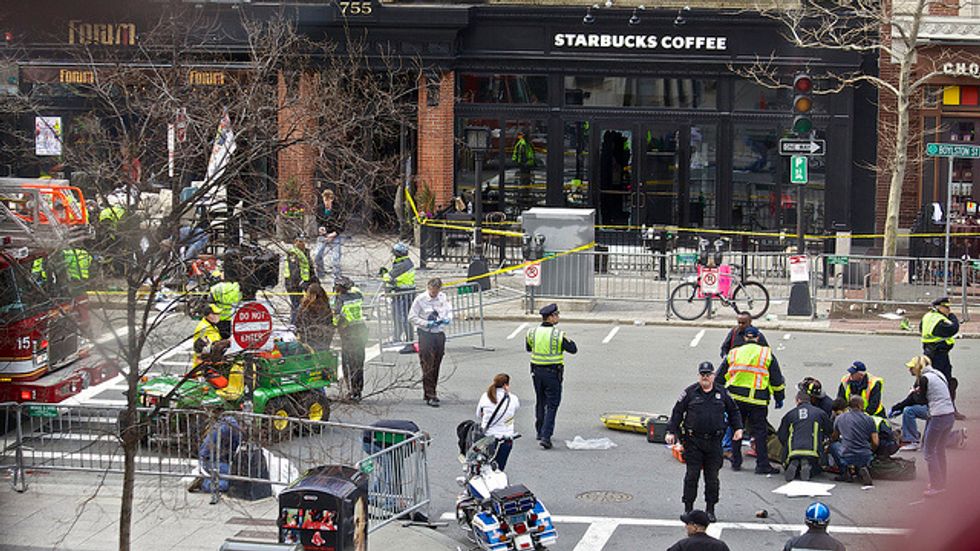 By Richard A. Serrano, Tribune Washington Bureau (TNS)
BOSTON — After deliberating for more than seven hours Tuesday, a federal jury in the capital murder trial of Russian immigrant Dzhokhar Tsarnaev adjourned for the day without reaching a verdict and will return Wednesday morning to continue considering the fate of the lone defendant in the 2013 Boston Marathon bombing.
Jurors sent two questions to the court at the end of the day. U.S. District George A. O'Toole Jr. did not reveal the questions or characterize them in any way. Instead, he said he would meet with prosecutors and defense lawyers to discuss the questions.
A panel of seven women and five men was chosen to hear the case. Tsarnaev faces 30 counts, 17 of which could carry the death penalty.
The silence from the locked jury room was a bit puzzling to some observers. Many expected a swift guilty verdict, given that Tsarnaev's defense lawyers conceded to the jury that he played a part with his now-deceased brother in killing three people and injuring more than 260 others.
Though the defense team has said it expects a guilty verdict, it is arguing that Tsarnaev was naive and that his older brother, Tamerlan, induced him to detonate one of the two pressure-cooker bombs. Lead defense lawyer Judy Clarke described Tamerlan as the leader and her client as his follower.
"They're both different people who thought differently, acted differently and had a different role in the conspiracy," she said.
Prosecutors put on a nearly monthlong, vigorous case including surveillance videos, bomb shards, and fingerprint samples that tied the 21-year-old Tsarnaev to the explosions. The government also brought in victims to testify about their injuries. Some came to court with missing legs and in wheelchairs or on crutches.
In an impassioned closing statement Monday, prosecutors said the two Tsarnaevs were equal partners in planning and carrying out the terrorist attack, the worst in the U.S. since September 11, 2001.
Aloke Chakravarty, an assistant federal prosecutor, pointed at Tsarnaev sitting next to his lawyers and told jurors that he left a "confession" inside a boat where he was hiding.
"He wanted to tell the world why he did it, and he wanted to take credit," Chakravarty said.
If Tsarnaev is convicted on any of the charges that carry the death penalty, the trial would move to the penalty phase, in which jurors would decide whether he would be put to death or given life in prison with no parole.
Photo: Rebecca Hildreth via Flickr