Justice Department Plans To End Use Of Private Prisons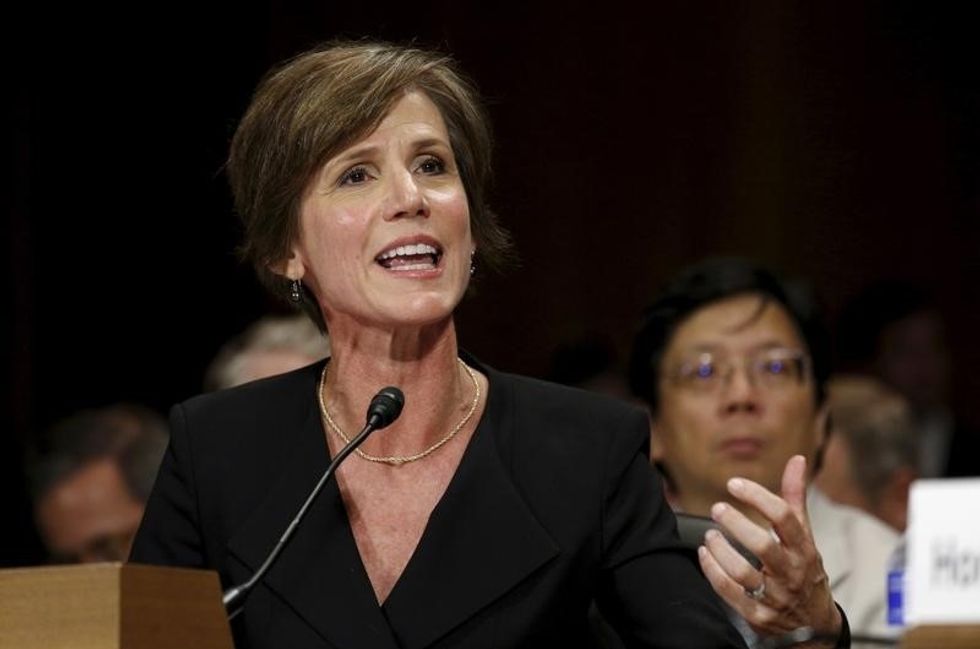 The Justice Department announced plans to cease using private prisons Thursday, a week after a highly critical report was released by the DOJ inspector general about the oversight and safety of private facilites. Currently, private prisons house 12 percent of federal inmates, and Deputy Attorney General Sally Yates said in the memo released Thursday that the goal was "reducing — and ultimately ending — our use of privately operated prisons."
The memo instructs federal officials to not renew private prison contracts at their expiration or to reduce their scope.
According to Yates,"They simply do not provide the same level of correctional services, programs, and resources; they do not save substantially on costs; and as noted in a recent report by the Department's Office of Inspector General, they do not maintain the same level of safety and security."
The announcement and DOJ report come after a 
Mother Jones
investigation
 revealed major deficiencies in a private prison in Louisiana and a
Nation
magazine investigation
earlier this summer
that highlighted many cases of prisoner deaths under questionable circumstances. The
Mother Jones
exposé detailed reporter Shane Bauer's undercover experiences as a private prison guard and documented a serious lack of staffing, security and higher levels of violence. The DOJ's report itself, as well, found that private prisons are generally more violent than federal prisons.  According to the
Nation
report, the Bureau of Prisons contracted with private facilities in order to cut costs. Because of this scheme, the companies running private prisons are permitted to operate under a looser set of rules than government-run facilities — which led directly to unnecessary prisoner fatalities.
After the news was released Thursday, there was an immediate drop in stock prices for two of the country's largest private prison companies. Although the private prisons will not have their government contracts ended immediately, every contract is expected to come up for review within five years.
"We have to be realistic about the time it will take, but that really depends on the continuing decline of the federal prison population, and that's really hard to accurately predict," Yates said.
Yates also said that private prisons had been shown to be less effective than government-run facilities. The three major operators of private prisons are Corrections Corporation of America, GEO Group and Management and Training Corporation.
Yates will unsure about the cost of the closure of prisons and did not make a decisive judgment on whether government costs would escalate.
Democratic nominee Hillary Clinton has stated that she would like to end the use of private prisons. The cessation of private prisons by the Justice Department will likely see an uptick in costs, despite what Yates may be publicly stating at this time, but the "for-profit" prison industry has been under public scrutiny for many years. Ending the use of private prisons may be the first critical step in restructuring the justice system at large.
Photo: U.S. Deputy Attorney General Sally Quillian Yates testifies during a Senate Judiciary Committee hearing on "Going Dark: Encryption, Technology, and the Balance Between Public Safety and Privacy" in Washington July 8,  2015. REUTERS/Kevin Lamarque