Justice Ketanji Brown Jackson Will Join Supreme Court Today (VIDEO)
@LaurenSue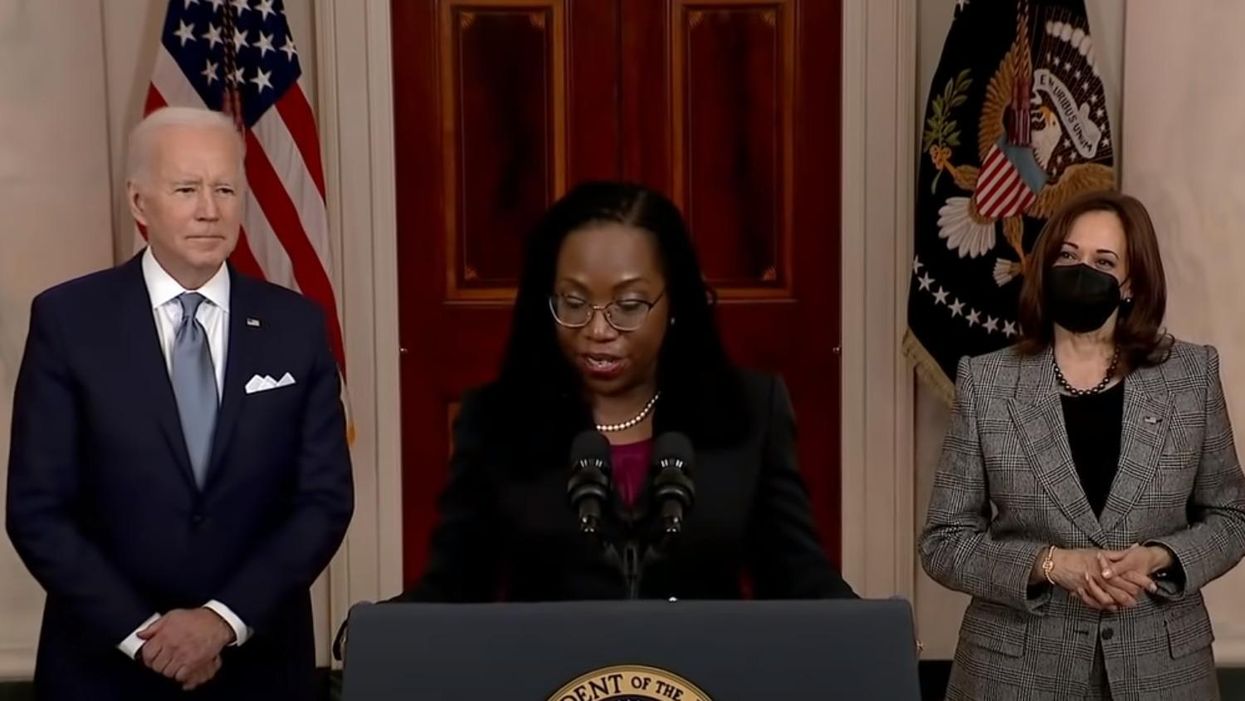 Youtube Screenshot
Newly-minted Supreme Court Justice Ketanji Brown Jackson will join the court — the first Black woman to do so — today when the new court term begins. And to say it plainly: I'm ecstatic about it.
Not because I anticipate Jackson leading her Republican colleagues out of their anti-American haze. I wouldn't dare rest the error of their ways on Jackson's shoulders, but I am hopeful that her voice will provide much-needed support to that of associate justices Sonia Sotomayor and Elena Kagan. Together with retired peer Stephen Breyer, Sotomayor and Kagan were left to defend Americans' right to abortion by themselves on the court, and their Republican peers outvoted them 6-3 on June 24. Following that decision, Associate Justice Clarence Thomas immediately claimed that other cherished federal protections should be on the chopping block next as "demonstrably erroneous decisions."
Now, rights to protect same-sex couples, affirmative action, voting and free speech are all planned for this term. Holding on to hope is no small feat, though a necessary one, I am reminded by Jackson's investiture ceremony on Friday.
During the ceremony in which new justices take constitutional and judicial oaths, Jackson promised to "administer justice without respect to persons, and do equal right to the poor and to the rich," according to The New York Times.
Although the investiture proceedings were "purely ceremonial" and Jackson was sworn in on on June 30, Chief Justice John Roberts Jr. said Jackson's arrival will cause the other justices to "kind of up our game a little bit."
"It's almost like the new in-law at Thanksgiving dinner," he said.
Roberts added that because there will be a "new person" joining them "each of us will be a little more careful in explaining why we think what we think."
Kagan said in remarks captured on C-SPAN that the press often refers back to former Justice Byron White's quote that whenever there is a new justice "it's a different court." She said once doubted that but now realizes it in a sense is "deeply true."
"It wasn't the addition of the new justice," she said. "It was actually the fact that the old justice was no longer there."
Jackson is filling a seat vacated when Breyer retired.
Kagan said Breyer, who served for more than 27 years, would be difficult to replace. "He believed in the power of relationships, and he believed in the power of reason," Kagan said.
I believe in the power of a Black mother driven by a sense of duty and dedication. In the words of President Joe Biden, who attended Jackson's investiture ceremony: "Justice Ketanji Brown Jackson has already brought uncompromising integrity, a strong moral compass, and courage to the Supreme Court."
Justice Ketanji Brown Jackson has already brought uncompromising integrity, a strong moral compass, and courage to the Supreme Court.

Today, we celebrate her formal investiture. This is a day for all Americans to be proud. pic.twitter.com/LU9MBQ3gHl
— President Biden (@POTUS) September 30, 2022
Reprinted with permission from Daily Kos.