Kansas SOS Kris Kobach Faces Pushback After Seeking To Grab Every State Voter File For Trump 'Election Integrity' Commission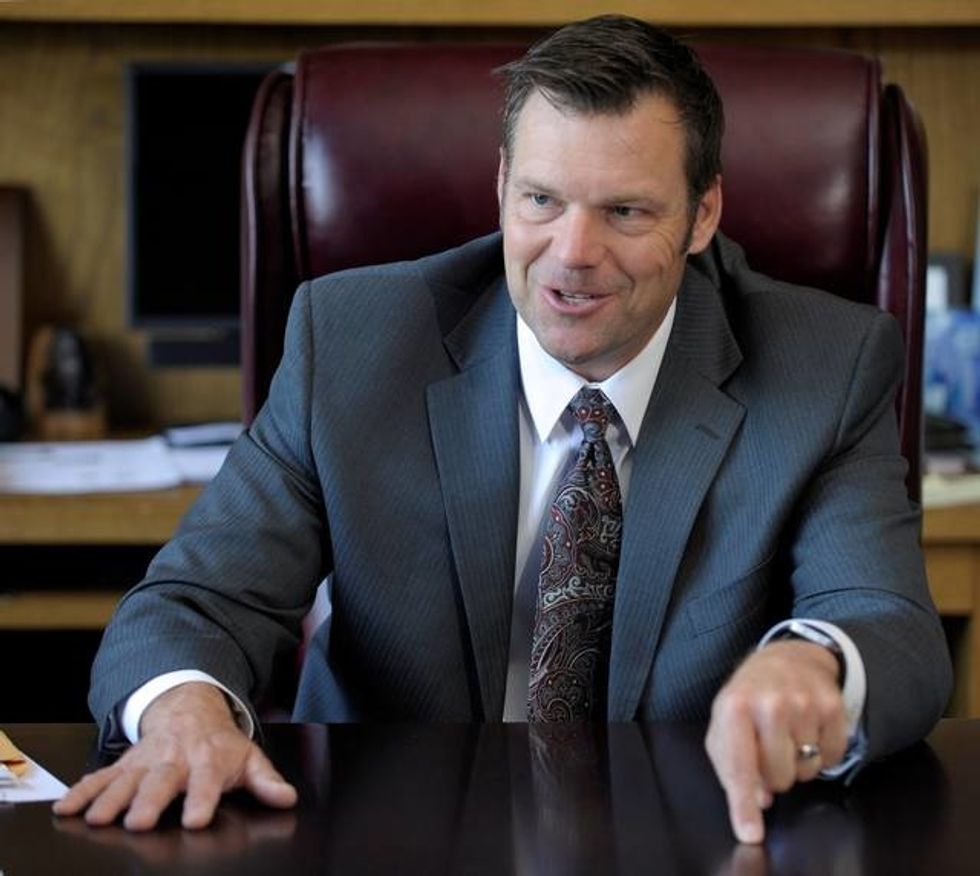 Reprinted with permission from Alternet.
The big threat to more inclusive American elections has shifted from Russia back to where it has been for most of this decade: Republican ideologues who want to limit voting by Democrats as a way to preserve the GOP's lock on power.
On Wednesday, the GOP's leading vote suppressor, Kansas Secretary of State Kris Kobach, used his appointment by President Trump to a federal commission on "election integrity" to send a letter to top state election officials requesting they turn over their statewide voter files—including public information like names, addresses and political party and private information like Social Security numbers and voters' status as active or inactive. Those last two categories are used to compile voter purge lists. "In order for the Commission to fully analyze vulnerabilities and issues related to voter registration and voting, I am requesting that you provide to the Commission the publically available voter roll data," Kobach's letter reads, before listing some state voter file categories that are not public.
By Friday, a handful of nationally known election policy experts and secretaries of state who know Kobach were questioning his motives and intentions. As ProPublica reported, Justin Levitt, a professor at Loyola University School of Law and former Department of Justice civil rights official, questioned whether Kobach had thought through the security implications of his request. "This is asking to create a national voter file in two weeks," he said.
David Becker, executive director of the Center for Election Innovation & Research, said Kobach's request for information on overseas military voters raises security issues.
"Connecticut Secretary of State Denise Merrill, who oversees voting in the state, said she was dismayed about the commission's failure to be clearer about what its intentions are," ProPublica wrote. "In a statement, Merrill said her office would share publicly available information with the commission… 'This lack of openness is all the more concerning, considering that the Vice Chair of the Commission, Kris Kobach, has a lengthy record of illegally disenfranchising eligible voters in Kansas,' she wrote.
Reached Friday, Becker said many states were not entirely complying, withholding voters' dates of birth, the last four digits of Social Security numbers or status as active or inactive voters, he said. Other parts of statewide voter files, such as an individual's voting history, is public information.
"Color of Change applauds California Secretary of State Alex Padilla, Kentucky Secretary of State Alison Lundergan Grimes and Virginia Governor Terry McAuliffe for refusing to comply with Trump's attempt to attack our freedom to vote under the guise of a commission," Rashad Robinson, Color of Change executive director said in a statement Friday. "We demand that every Secretary of State or Chief Election Official refuse to comply with Kobach's illegitimate and unlawful order demanding the personal information of every voter in America."
Kobach is not just any Republican Secretary of State. For more than a decade, he has aligned himself with white supremacist groups pushing nationally for stricter immigration laws and for creating new race-based barriers to voting, such as requiring new registrants to provide paper proof of their U.S. citizenship—as opposed to signing an oath on voter registration forms—as well as more restrictive voter ID requirements to get a ballot at polling places. Both of those gambits have been subject to numerous lawsuits where voting rights groups have shown they disenfranchise thousands of voters, sometimes exceeding the margin of victory in close races. Just this month, the New York Times Sunday Magazine profiled Kobach as not just a vote-suppressor, but one of the provocateurs behind Trump's anti-immigrant policies.
Voting rights advocates have long seen Kobach employ dubious methodologies and dodgy rhetoric to winnow constituencies that tend to vote Democratic. Beyond the documentary proof-of-citizenship crusade, as Kansas' top election official, Kobach oversees an interstate cooperative of 30 states that conduct rudimentary data-mining in an effort to identify people who may have voted more than once in an election. That consortium, called Interstate Crosscheck, routinely identifies hundreds of thousands of voters in every state it suggests merit further scrutiny. Most blue-state election officials know Crosscheck's methodology and data is sloppy and untrustworthy, but in some red states, like Georgia and North Carolina, top state election officials have used it to cite the need for tougher policing of the process.
As the Times profile by Ari Berman noted, "Crosscheck appeared to offer an appealing scientific certainty to the hunt for fraud. But it could also be used to suppress the vote. The program searches for double registrations using only voters' first and last names and date of birth, and it generates thousands of false matches — John Smith in Kansas can easily be confused with John Smith in Iowa. These false matches have in several instances led to people being wrongly removed from voter rolls."
Berman's description of how Crosscheck's data was abused by Kobach's allies is indicative of the lengths the GOP will go to tilt the field from the inside to preserve its political power. It also explains the cynical reaction from voting rights advocates to Kobach's nationwide attempted voter data grab.
Berman wrote:
"Crosscheck has led to outrageous headlines that make double voting seem far more common than it is. In 2014, after North Carolina joined Crosscheck, the head of the state board of elections reported that in the 2012 general election, there were 35,750 voters in the state whose first and last names and dates of birth matched those of individuals who voted in the same election in a different state. Republican leaders of the North Carolina Legislature called it 'alarming evidence of voter fraud,' and the conservative political strategist Dick Morris told Sean Hannity on Fox News, 'It's the most important data I've read in a year,' adding that it was 'the first concrete evidence we've ever had of massive voter fraud.' But when North Carolina investigated the numbers using additional data like the last four digits of voters' Social Security numbers, eight cases of potential double voting were referred to prosecutors and two people were convicted."
That's right, 35,750 people suspected of illegal voting—and two actual illegal voters. There is nothing new about these kinds of false equivalencies in the GOP "election integrity" world, and civil rights activists were calling out Kobach for that hypocrisy as the holiday weekend loomed.
"Instead of working to secure our election systems from credible threats, Trump and Kobach want every state in the nation to send their information to them," Color of Change's Robinson said. "Nothing about Donald Trump's tenure gives us any confidence he would be responsible with the personal information of every American. Instead of staffing his commission with experts in security and voting freedom, it is staffed by Vice President Mike Pence, Kansas Secretary of State Kris Kobach, former Ohio Secretary of State Ken Blackwell, and Indiana Secretary of State Connie Lawson. All of these members have a documented history of suppressing the voting freedom of the black community. There is no reason to believe this commission will take proper care of this data nor do they have intention of doing anything other than using it as a weapon against black communities and other progressive voters to further rig elections and maintain Trump's power."
What Robinson's statement doesn't note is that Kobach and many of his allies have been suppressing Democratic votes since the 2000 presidential recount in Florida. Trump's commission may become yet another Washington panel whose work is put on a shelf and ignored. But the GOP's preoccupation with over-policing elections and creating barriers for student voters, poor people and non-whites endures. And Kobach, who is running for governor in Kansas, is a proud champion of this dark cause.
This article was made possible by the readers and supporters of AlterNet.