Kansas Tea Partier Tim Huelskamp: Another Irate Obamacare Customer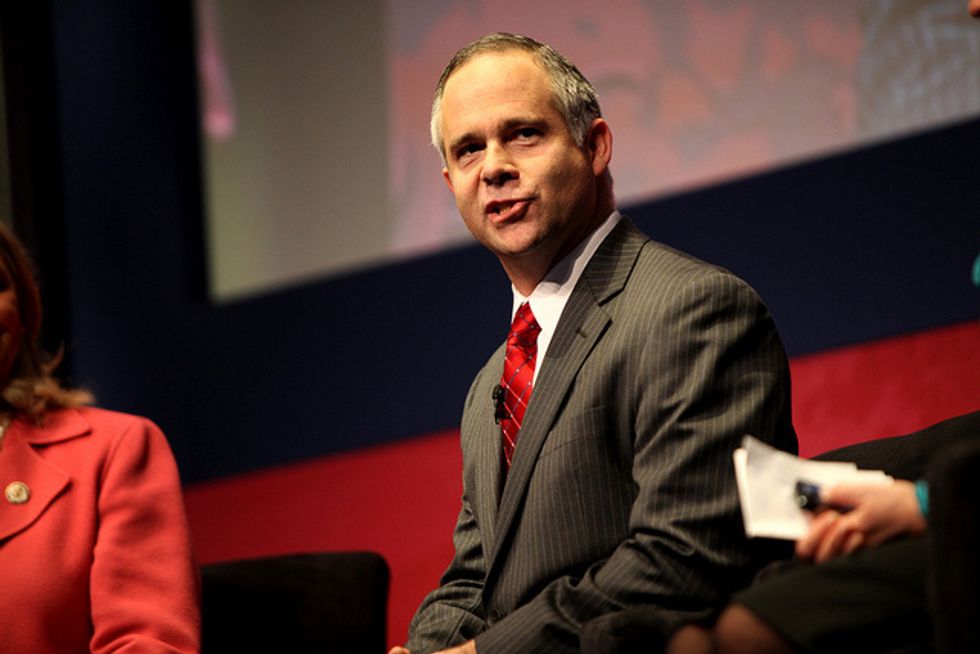 By Lindsay Wise, McClatchy Washington Bureau (TNS)
WASHINGTON — Texas Senator Ted Cruz isn't the only ardent critic of Obamacare in Congress who is signing up for health coverage under a law he's vowed to repeal.
Kansas Representative Tim Huelskamp, chairman of the Tea Party Caucus in the U.S. House of Representatives, admits he, too, has enrolled for health care coverage through the Affordable Care Act, despite repeatedly voting to repeal it.
"For the record — I am on Obamacare — yee-hah!" Huelskamp recently confessed to constituents at a town hall meeting in north central Kansas, according to The Clay Center Dispatch. "My wife complains about it all the time."
Cruz, Huelskamp, and other far-right lawmakers are in an awkward political position: Do they use an Obamacare exchange to purchase insurance, and risk being charged with hypocrisy? Or do they stand on principle and decline coverage or resort to the private insurance market, thereby giving up thousands of federal dollars offered to government employees to help pay premiums?
They have a choice. Some are choosing Obamacare.
Cruz, a Republican senator who is running for president, said this week that his family planned to go on Obamacare because they'd no longer be able to get health coverage through his wife's employer. She's taking unpaid leave from her job to join Cruz on the campaign trail.
Like Cruz, Huelskamp has railed for years against Obamacare — in speeches in Congress, on the stump during elections, in town hall meetings with voters, in emails to donors, and in statements to the press and on television.
In a petition Huelskamp circulated among supporters to de-fund Obamacare, he described the health care law as a "disaster" and the "most despised legislation in recent American history."
Asked whether he sees any contradiction between his outspoken opposition to Obamacare and his family's enrollment, Huelskamp said in a written statement that the law forces members of Congress to sign up.
Like millions of other American families, he said, "we object to this expensive, liberty-attacking mandate."
It's true that members of Congress who want to take advantage of health benefits offered through their employer — the federal government — must use plans offered through a government-run exchange in the District of Columbia.
But that's not the whole story.
Huelskamp could have foregone coverage completely, or shunned the exchange and purchased a family health plan directly from a private broker.
Representative Louis Gohmert (R-TX), decided to go without health insurance rather than sign up for Obamacare. Some other lawmakers have said they would go through the private market to avoid the exchanges, including Representative Frank LoBiondo of New Jersey and Representative Diane Black of Tennessee, both Republicans.
But purchasing insurance on the private market would mean Huelskamp, a married father of four children, would have to forgo the employer contribution that the government offers to offset the cost of members' premiums.
That contribution could be worth nearly $1,000 per month for members with families, according to the Congressional Research Office.
The salary for a rank-and-file member of Congress is $174,000 a year.
Huelskamp, like some other House members, already saves on rent in Washington by crashing nightly on his office couch with a sleeping bag — which he says allows him to get more work done.
Some members have said they will use the exchanges to purchase health care, but plan to return the federal contribution money to the U.S. Treasury.
Huelskamp's spokesman did not immediately respond to a request to clarify whether Huelskamp had accepted federal dollars to help pay for his premium.
It's still Huelskamp's hope to repeal Obamacare, which he describes as a government monstrosity.
He isn't very happy with his Obamacare plan, anyway, he said in his statement.
"Because of Obamacare, my premiums and deductible went up — and my coverage went down," Huelskamp said.
Photo: Gage Skidmore via Flickr