Kanye West Dumping Trump? 'I've Been Used'
@FAWFULFAN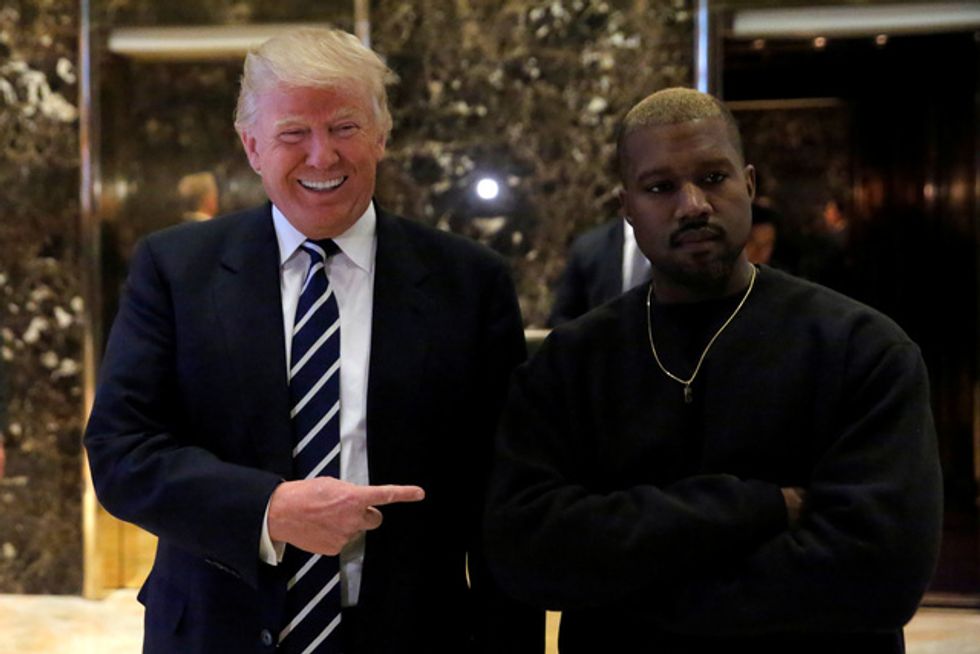 Reprinted with permission from AlterNet.
On Tuesday, rapper and record producer Kanye West tweeted that he was done with politics and that he feels "used".
My eyes are now wide open and now realize I've been used to spread messages I don't believe in. I am distancing myself from politics and completely focusing on being creative !!!

— ye (@kanyewest) October 30, 2018
West has been a vocal supporter of President Donald Trump over the past few months, and has used his unique position as a Black supporter of the president to urge people of color to sign onto the Trump agenda — something the president desperately needs as his approval rating among African-Americans is dismally low and, by some polls, in single digits.
But West's pleas for the Black community to warm up to Trump have often been confusing. At one point, West tweeted that under Trump, we would "abolish the 13th Amendment," the amendment that made slavery illegal. West later clarified that what he really meant was abolish the part of the 13th Amendment that makes an exception for prison labor, although why he imagined such a proposal would be on Trump's agenda is anyone's guess.
West's support for the president culminated in a bizarre, ten-minute rant broadcast from the Oval Office, ostensibly called to address prison reform, in which he denied having bipolar depression, claimed that Black people "really get caught up in the idea of racism over the idea of industry," and said that "Make America Great Again" bothers Black people because "time is a myth."
It is unclear what specifically led West to decide he was being "used" by Trump. But there is speculation he was offended by the right-wing youth activist group Turning Point USA's Candace Owens, who claimed on Sunday to have used a logo designed by West to sell merchandise for her "Blexit" movement (West denies any involvement with the project). He may also have been aghast at Trump's threat on Tuesday to repeal the 14th Amendment's birthright citizenship clause by executive order.
Whatever West's motivations, his bizarre saga of Trump stumping appears to be over for the foreseeable future.
Matthew Chapman is a video game designer, science fiction author, and political reporter from Austin, TX. Follow him on Twitter @fawfulfan.