Karl Rove Ducks Blame For Republicans' 2012 Disaster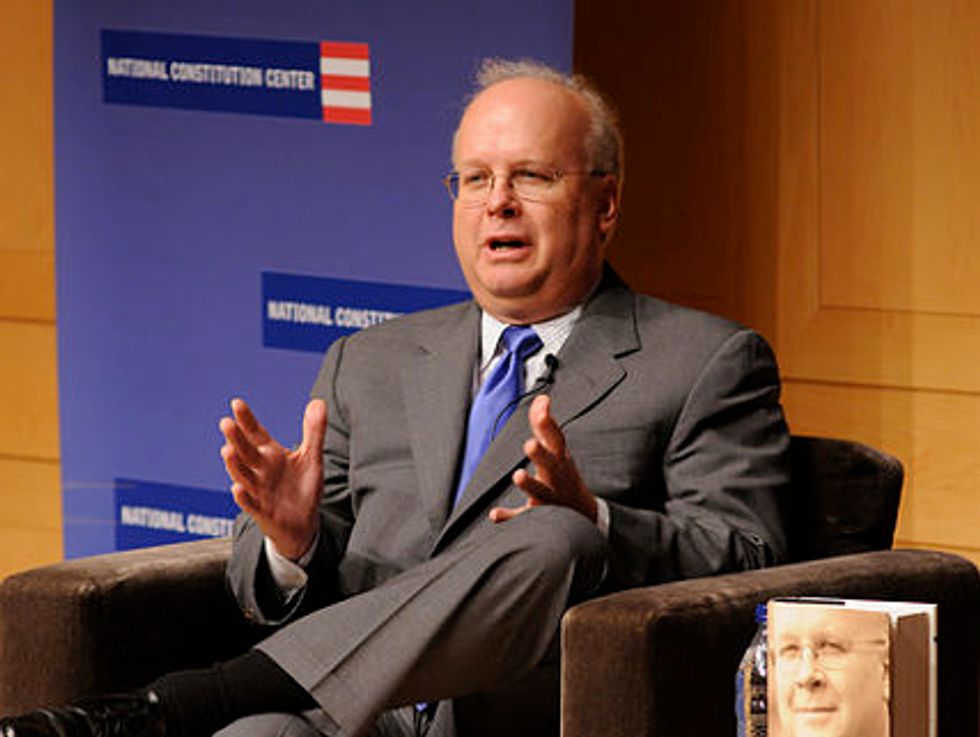 Karl Rove may have failed as both a political strategist and a pundit in 2012, but that isn't stopping him from doling out political advice to his fellow Republicans. Unsurprisingly, Rove isn't accepting much blame for the losses.
In a speech to the 100th convention of the Kansas Livestock Association in Wichita on Wednesday, Rove blamed Republican infighting for the party's lack of success in the 2012 elections.
"What splinters the Republican Party is intolerant and judgmental language, and an unwillingness to acknowledge differences," Rove said.
"It's got to be something that people are willing to say, 'Fine, I'm looking at politics with a longer frame. You and I may not agree on everything but we agree more often than not, and I'm going to live to fight another day,'" he later added.
He went on lament his leadership of the Super PAC American Crossroads, saying "It's the worst volunteer job I've had in my life."
"We raised $324 million," Rove said, "And I got sick and tired of spending money in races where the moderates and the conservatives had gone at each other and made victory impossible."
Putting aside the ridiculous notion that Rove is merely a humble volunteer at American Crossroads — although he draws no salary from the firm, his high-profile work there certainly helps raise the value of his consulting and punditry services — his complaint about spending rings rather hollow. After all, American Crossroads and Crossroads GPS spent a combined $175,420,435 on 33 general election campaigns, and did not support a single winning candidate. Clearly, not every one of those losses was a result of vicious primary battles.
Additionally, given Rove's history, he may not be the best messenger for a lecture on nasty primary fights.
Rove also complained that Mitt Romney was weakened by the Obama campaign's successful attack ads — but declined to explain why Crossroads' attacks were not nearly as effective.
After being crushed in an election that many Republicans thought they would win, it's clear that the GOP needs a serious "autopsy," as party chairman Reince Priebus put it. What's unclear is why, after his role in the disaster, Republicans would allow Karl Rove to be the pathologist.
Hat tip: The Huffington Post
Photo by National Constitution Center via Flickr.com