Karl Rove Still Can't Find An Actual Obamacare Victim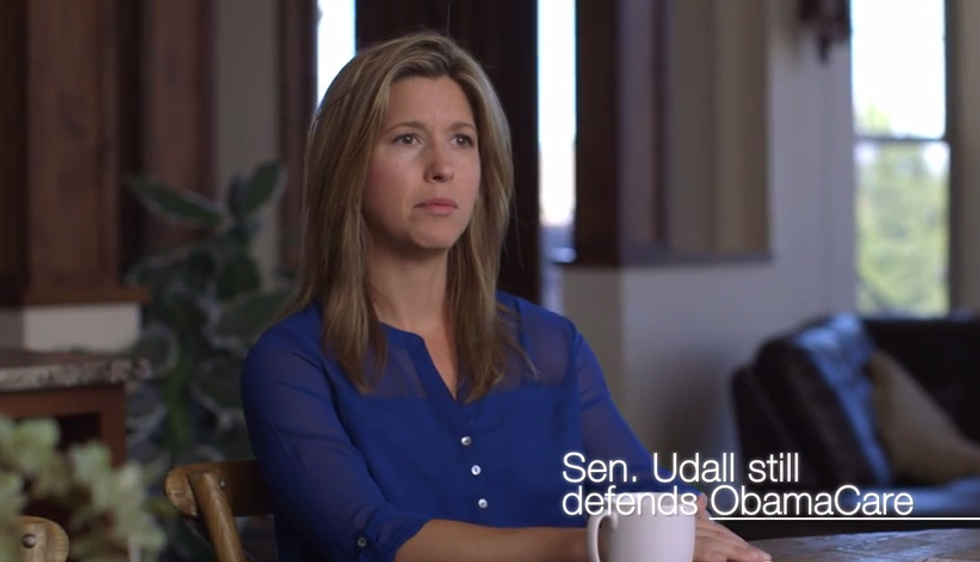 Politics is a constantly changing business, but there are still a few things you can count on in every election cycle: like Karl Rove's dark money group, Crossroads GPS, blowing its donors' money on misleading, ineffective attack ads.
Since President Barack Obama signed the Affordable Care Act into law in 2010, its opponents have spent over $400 million on television ads attacking it, with Crossroads leading the way. But despite Republicans' repeated assertions that Obamacare would be the issue that causes Americans to rise up against Democrats and throw them out of office, the torrent of attack ads has actually done little to sway public opinion against the law. In fact, according to a Brookings Institution study, anti-Obamacare ads may have actually increased ACA enrollments by raising awareness about the law and its benefits.
But still, conservative outside spenders are determined to take their anti-health care message directly to the voters. The latest example is a new ad from Crossroads GPS, in which a Colorado woman named Richelle McKim laments that Senator "Mark Udall's vote for Obamacare has hurt families in Colorado."
McKim recounts her husband's decision to start a new business, saying "We knew we needed to find health care. Because we were a single-income family, we couldn't afford our plan." Text then flashes across the screen, letting viewers know that "Richelle had to go back to work."
It seems like a perfect case to make to the suburban women who are likely to decide Senator Udall's tight re-election battle against Republican congressman Cory Gardner.
It also happens to be totally false.
As Denver television station KDVR reports, McKim has worked constantly over the past six years; from July 2008 through May 2010, she worked from home as the office manager for her husband's company (which, evidently, wasn't founded as a response to Obamacare). Since then, she has worked for Anadarko Petroleum and Noble Energy — which have donated $57,550 and $36,000 to Gardner's campaign, respectively.
By McKim's own admission, Obamacare didn't actually drive her back into the workforce, as the ad claims.
"It wasn't the Affordable Care Act," she told KDVR. "It was just a financial burden, having a single income for so long."
And, for good measure, McKim's husband used to forgo health insurance because he suffers from high blood pressure — a pre-existing condition that made his insurance more expensive until the ACA became law.
This is far from the first time that Obamacare opponents have been forced to stretch the truth, flatly lie, or just give up and use paid actors to tell a scare story. Indeed, it begs the question: If the Affordable Care Act is really such a disastrous boondoggle, why couldn't Crossroads — or the Koch brothers-backed Americans for Prosperity, or even House Republican Conference chair Cathy McMorris Rodgers — find an actual victim?
In this case, the fact that Obamacare has helped cut Colorado's uninsured rate by 6 percent might have something to do with it.
Screenshot: CrossroadsGPSChannel/YouTube
Want more political news and analysis? Sign up for our daily email newsletter!