Kavanaugh Flamed For Last-Minute Op-Ed Proclaiming Himself 'Impartial'
@FAWFULFAN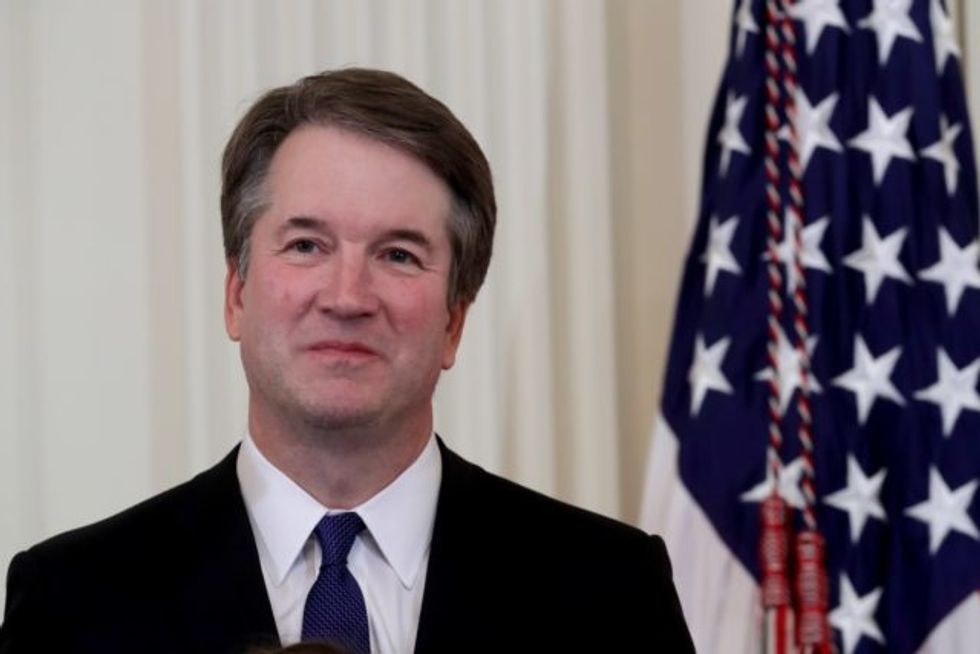 Reprinted with permission from AlterNet.
On Thursday, hours before the start of the vote to confirm him and amid a cloud of uncertainty and toxicity, Supreme Court nominee Brett Kavanaugh penned an op-ed in the Wall Street Journal titled "I Am an Independent, Impartial Judge."
In this piece, Kavanaugh — without even a hint of actually apologizing for his behavior — tries to address the accusations that he lashed out in a partisan manner at the hearing investigating the accusations of sexual assault against him, blaming the whole thing on a conspiracy of Democrats out to avenge Hillary Clinton's election loss. "I was very emotional last Thursday, more so than I have ever been," he writes, but adds, "I hope everyone can understand that I was there as a son, husband and dad," and that "Going forward, you can count on me to be … hardworking, even-keeled, open-minded, independent and dedicated to the Constitution and the public good."
If the reactions on the internet are any indication, the op-ed fell completely flat:
you don't write this unless you don't have the votes and/or realize your credibility has been shot https://t.co/RXPUCaQxbO via @WSJOpinion

— Jennifer Rubin (@JRubinBlogger) October 5, 2018
"Going forward you can count on me" to be different than I was at the hearing. This is just unreal. https://t.co/fGMFwPxOE9

— Sherrilyn Ifill (@Sifill_LDF) October 5, 2018
"The Supreme Court must never be viewed as a partisan institution," said the conductor of the train that already left the station. https://t.co/tDJ6GqrIIz

— Tim O'Brien (@TimOBrien) October 5, 2018
He called allegations of sexual assault against him "revenge on behalf of the Clintons" out loud, from a prewritten speech on a piece of paper, last week.https://t.co/PKILS3LWWO

— Ben Collins (@oneunderscore__) October 5, 2018
It's too late for this, Judge Kavanaugh.

You told us there exists a vast liberal conspiracy, led by Dem Senators, organizing fake charges against you. That's delusional.

You threatened us that "what comes around goes around". That's unacceptable.

— Chris Murphy (@ChrisMurphyCT) October 5, 2018
I AM AN INDEPENDENT IMPARTIAL JUDGE WHO GIVES INTERVIEWS TO FOX NEWS AND WRITES OP-EDS FOR THE WSJ'S RIGHT-WING OPINION PAGE

ALSO THE CLINTONS ARE OUT TO GET ME pic.twitter.com/h4re2EhLxl

— Judd Legum (@JuddLegum) October 5, 2018
I Am An Independent, Impartial Judge Who Merely Needed A Snickers

— Kevin M. Kruse (@KevinMKruse) October 5, 2018
"I am an independent, impartial Sith Lord" pic.twitter.com/zquCOMBfla

— Dante Atkins (@DanteAtkins) October 5, 2018
The fact that Kavanaugh made an openly political attack at his hearing has caused significant controversy, with hundreds of law professors signing an open letter urging the Senate not to confirm him, and even retired Supreme Court Justice John Paul Stevens, himself a Republican appointee, stating he believed Kavanaugh had disqualified himself.
Matthew Chapman is a video game designer, science fiction author, and political reporter from Austin, TX. Follow him on Twitter @fawfulfan.